Above, you can listen to the recent, great Lavie Tidhar interview on the Better Known from a couple of weeks ago!
Back in July, Lavie was also a guest on BBC Radio 4's Open Book show, in the "Ethics of Crime" episode. You can listen to that, too, below.
Lavie's latest novel is MAROR, which is published by Head of Zeus and out now. Here's the synopsis…
How do you build a nation?
It takes statesmen and soldiers, farmers and factory workers, of course. But it also takes thieves, prostitutes and policemen.
Nation-building demands sacrifice. And one man knows exactly where those bodies are buried: Cohen, a man who loves his country. A reasonable man for unreasonable times.
A car bomb in the back streets of Tel Aviv. A diamond robbery in Haifa. Civil war in Lebanon. Rebel fighters in the Colombian jungle. A double murder in Los Angeles.
How do they all connect? Only Cohen knows.
Maror is the story of a war for a country's soul – a dazzling spread of narrative gunshots across four decades and three continents.
It is a true story. All of these things happened.
The novel has been receiving a considerable number of great reviews, and here are just a few of them…
'Some write in ink, others in song, Tidhar writes in fire… MAROR is a kaleidoscopic masterpiece, immense in its sympathies, alarming in its irreverences and altogether exhilarating.' — Junot Díaz
'One of the boldest, most visionary writers I've ever read creates both a vivid political exploration and a riveting crime epic. It's like the Jewish Godfather!' — Silvia Moreno-Garcia
'MAROR blends the page-turning wit of a hard-boiled detective noir with the stirring intrigue of a multi-national political epic. An ambitious achievement that weaves a tapestry of both story and statement.' — Kevin Jared Hosein
'A masterpiece of the sacred and the profane … a literary triumph.' — Guardian
'A bloody beast of a book… MAROR is to Israeli history what Tarantino is to American movie culture' — Daily Mail
'Radiant with all the brutally elegant atmosphere of crime noir, and the richly nuanced complexity and style of Marlon James' A Brief History of Seven Killings, it's a genre-busting novel that will catch your breath … At once illuminating, thrilling and thought-provoking, this tale of corruption, killings, sacrifice and the souls that make up a nation is a symphonic feat of fiction.' — LoveReading
'Who can forget the savage, musical James Ellroy prose circa the L.A. Quartet books? Now we have a successor … Lavie Tidhar, a marvelous multi-genre author who never fails to delight, has now penned his noir opus. MAROR is a heady, nonstop brew of terror, violence, and mayhem, while also exuding swathes of coursing humanity.' — Read Listen Watch
'An unforgettably powerful saga … a sweeping portrayal of violence, corruption and chaos threaded through by veins of humanity… It is difficult to do justice to such a monumental work. So many aspects of MAROR attract superlatives but they fail to convey the range and breathtaking insight of this epic crime novel. A book for all lovers of great literature.' — Queensland Reviewers Collective
Lavie's next novel is NEOM, which is due to be published by Tachyon Publications, in November.
Today, Neom is a utopian dream — a megacity of the future yet to be built in the Saudi desert. In this deeply imaginative novel from the award-winning universe of Central Station, far-future Neom is already old. Sentient machines roam the desert searching for purpose, works of art can be more deadly than weapons, and the spark of a long-overdue revolution is in the wind. Only the rekindling of an impossible love affair may slow the inevitable sands of time.
The city known as Neom is many things to many beings, human or otherwise. It is is a tech wonderland for the rich and beautiful, an urban sprawl along the Red Sea, and a port of call between Earth and the stars.
In the desert, young orphan Elias has joined a caravan, hoping to earn his passage off-world. But the desert is full of mechanical artefacts, some unexplained and some unexploded. Recently, a wry, unnamed robot has unearthed one of the region's biggest mysteries: the vestiges of a golden man.
In Neom, childhood affection is rekindling between loyal shurta-officer Nasir and hardworking flower-seller Mariam. But Nasu, a deadly terrorartist, has come to the city with missing memories and unfinished business. Just one robot can change a city's destiny with a single rose — especially when that robot is in search of lost love.
Lavie Tidhar's newest lushly immersive novel, Neom, which includes a guide to the Central Station universe, is at turns gritty, comedic, transportive, and fascinatingly plausible.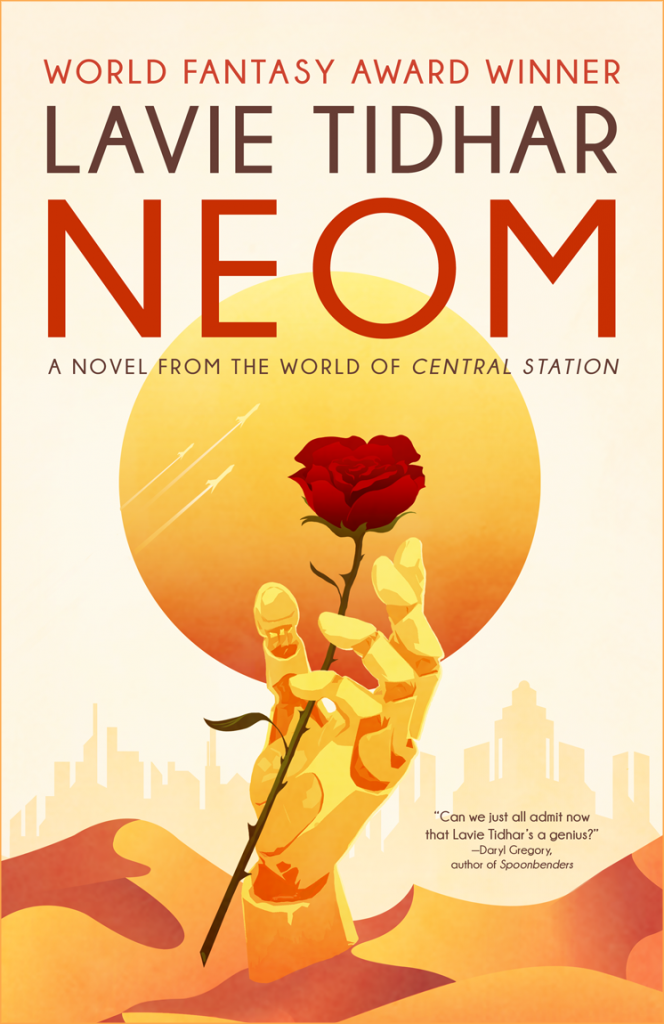 NEOM is also being met with a great amount of early praise. Here's just some of the pre-release reviews and responses…
'World Fantasy Award winner Tidhar takes readers back to the fascinating far-future world of 2016's CENTRAL STATION in this gentle narrative about self-fulfillment and one robot's quest to reunite with a lost love… Tidhar offers a heartfelt exploration of artificially intelligent beings' struggles to find existential meaning while being restrained by both coding and form. Fans of literary sci-fi are sure to be enchanted by the imaginative worldbuilding and tenderly wrought characters.' — Publishers Weekly
'… hauntingly beautiful… Written in a straightforward but luminous style… NEOM is a treasure… a compelling chapter in this future history that reflects so much about who we are and the basic things we yearn for.' — SciFi Mind
'Lavie Tidhar's NEOM is a stunning return to his world of CENTRAL STATION, twinning the fates of humans and robots alike at a futuristic city on the edge of the Red Sea.' — Green Man Review
'This was superb and I'm in awe of Tidhar's vision. He's conjured up a futuristic city that feels simultaneously ultramodern and also run down. The rich histories of the region and its cultures are seamlessly interwoven into the fabric of this fully-realized world.' — Speculative Shelf
'This is a book of hearts and of the heart, be it human or robot, and that is something that is universal, be it ourselves or in "the other". The "other", in Tidhar's work, is us, and we are the other. We are all us, and in NEOM, we feel for that other, in the personage of the robots, in the human characters, and we take them, and their stories, into us.' — File 770
'A new novel set in the same universe as the multi-award winning CENTRAL STATION. Tidhar is a superb author, so it really doesn't matter to me what he writes — I'll still happily read it.' — Civilian Reader
'Another downloading from Tidhar's fertile imagination. Science Fictional ideas and references spin off this in giddy profusion… As a writer Tidhar is frequently playful, allusive and self-referential… Tidhar has of late become fairly prolific. Perhaps he's made good use of lockdown. NEOM shows there has been no drop-off in quality.' — ParSec