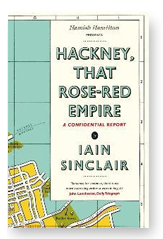 Iain Sinclair's new book Hackney, That Rose-Red Empire is being released by Hamish Hamilton in late February and Iain has a busy promotional schedule in the run up to publication.
We're delighted to announce that Hackney, That Rose-Red Empire has been chosen as the BBC Radio 4 Book of the Week and will be broadcast the week commencing February 16th. If you miss it going out, we'll post links to the "Listen Again" page as soon as they're available. As well as the Book of the Week, Iain is scheduled to make a number of other radio appearances during the next couple of months including Start the Week on Radio 4, The Verb Live on Radio 3 and Up All Night on Radio 5.  Resonance FM are scheduling a number of programmes featuring the book and further radio interviews and features are to be confirmed – details here as we get them.
There'll be plenty of print coverage for Hackney, That Rose-Red Empire too… the publisher reports that this book has been one of their most requested titles in recent years, so there will be plenty of review coverage. Additionally interviews with Iain are due to appear in The Observer, The Guardian (G2), Time Out, Metro, The London Paper, Scotland on Sunday and The Morning Star. There'll magazine coverage too – and, of course, the story that grew out of Hackney Library banning Iain's book launch continues to be newsworthy.
Iain has a number of events, talks, appearances and signings scheduled too in support of the publication of Hackney, That Rose-Red Empire.  Below is the list as it currently stands. We'll try and supply specific details as and when we have them, but we recommend you contact the various venues to confirm the details …
Thursday, 12th February — event at The Wapping Bookshop
Thursday, 19th February — Iain taking part in Cambridge Union debate about the Olympics
Saturday, 21st February — bus tour of Hackney organised by Sketch events team
Monday, 23rd February — event at the Royal Society of Literature
Friday, 27th February — Private view of exhibition about Hackney at the Danielle Arnaud gallery
Saturday, 28th February — event at the LSE Space for Thought Literary weekend
Wednesday, 4th March — event at Pages of Hackney bookshop
Thursday, 5th March — event at Museum of London, Docklands
Wednesday, 11th March — event at the LRB Bookshop
Thursday, 12th March — event at the Stoke Newington Bookshop
Saturday 14th and Sunday 15th of March — screening of films about Hackney curated by Iain at The Rio Cinema, Dalston
Tuesday, 17th March — event in the Purcell Room, South Bank Centre
Thursday, 19th March — event at the Broadway Bookshop
Saturday, 21st March — event on St Augustine's Tower, Hackney as part of The London Word Festival
Thursday, 26th March — event at The Bishopsgate Institute in association with The Newham Bookshop