We announced some early details regarding Iain Sinclair's upcoming book tour, but there have since been some additional dates and events added to the schedule. Celebrating the release of Iain's much-anticipated new book, AMERICAN SMOKE, there are plenty of opportunities to learn more about the book and also hear the author speak on the topic. AMERICAN SMOKE is due to be published in the UK in November 2013 (Hamish Hamilton) and in the US in April 2014 (Farrar Strauss).
First up, we want to draw your attention to some recent coverage. The mainstream British has been filled with praise for AMERICAN SMOKE. The Saturday Telegraph magazine featured an interview with the author, 'Iain Sinclair on walking, markets and his impossible challenge'. Also on Saturday, reviews of AMERICAN SMOKE appeared in the Financial Times – 'In AMERICAN SMOKE his voice is still urgent; it still has things to tell us. If we know what's good for us, we'll listen.' – and also in The Times (sadly, behind the pay-wall). We understand that there are many more reviews on the way, from across the media. The Telegraph also ran a review, in which AMERICAN SMOKE is described as a 'wonderful' book, one the reviewer 'loved'. A review in The Guardian states that, while reading the book, 'the US wafts away, as grippingly haunted as Sinclair's prose.'
And there's still more to come: Esquire will run a piece by Iain in their December issue, about Kill Your Darlings film. Dazed and Confused's December will feature an interview with Iain, as will the Big Issue and The Hackney Citizen.
The London Review Bookshop is offering three wonderful special editions of AMERICAN SMOKE (one of which is pictured, below) – any one of these is a must for Sinclair and Beat Generation aficionados everywhere. Although, be quick – stock is selling out fast.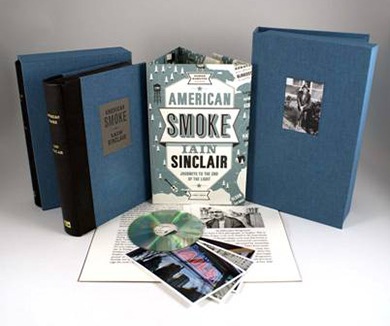 And finally, to re-cap, here are the rest of the dates for Sinclair's tour:
Wednesday November 6th (today!) — Royal Society of Literature
Thursday November 7th — Iain Sinclair and Gary Walkow present Beat at the Whitechapel Gallery
Friday November 8th — LAUNCH of American Smoke at the Sea Cadets Building in Stoke Newington
Wednesday November 20th — ICA
Thursday November 21st — LRB Bookshop
Thursday November 28th — Topping and Company Bath
Wednesday December 4th — Broadway Bookshop event
Wednesday January 8th — Central St Martins