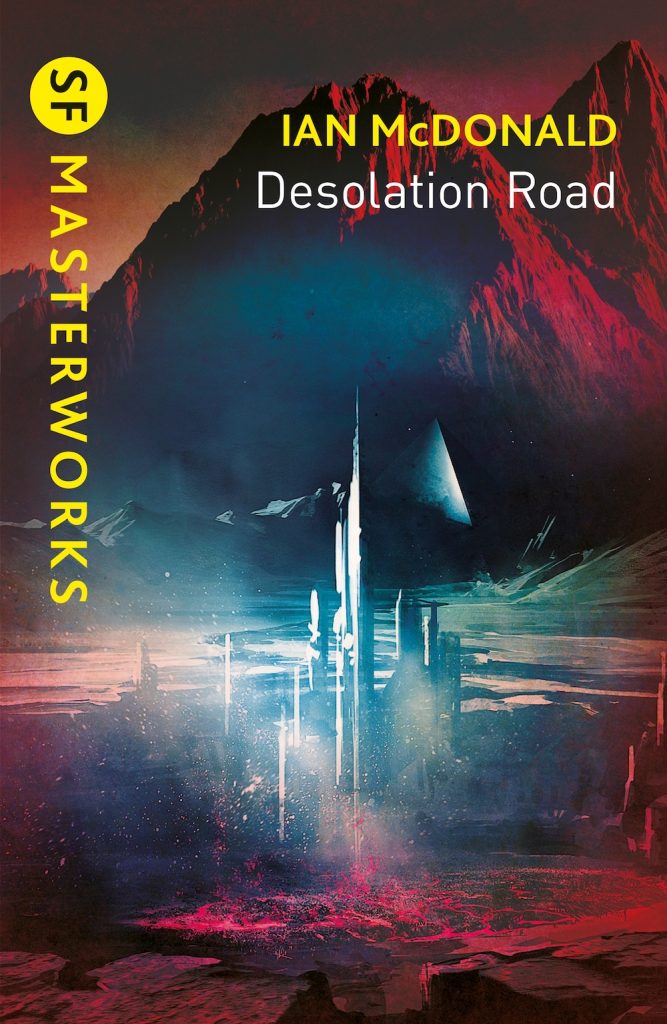 Today, Ian McDonald's DESOLATION ROAD joins the ranks of Gollancz's SF Masterworks! The first novel in Ian McDonald's Mars duology, which also includes ARES EXPRESS, it was originally published in 1988 and has remained an acclaimed favourite. Here's the synopsis…
It all started thirty years ago on Mars. By the time it was finished, the town of Desolation Road had been witness to every abnormality yet seen on the Red Planet. From Adam Black's Wonderful Travelling Chautauqua and Educational 'Stravaganza, to the Astounding Tatterdemalion Air Bazaar, nowhere else boasts such sights for the wandering lucky traveller.
Its inhabitants are just as storied. From Dr. Alimantando — founder and resident genius — to the Babooshka, a barren grandmother with a child grown in a fruit jar; from Rajendra Das, mechanical hobo whose way with machines bordered on the mystic, to the Gallacelli brothers, identical triplets who fell in love with – and married – the same woman.
There's nowhere quite like Desolation Road. Once you go there, you may never be the same again.
DESOLATION ROAD joins RIVER OF GODS, Ian's other SF Masterwork title.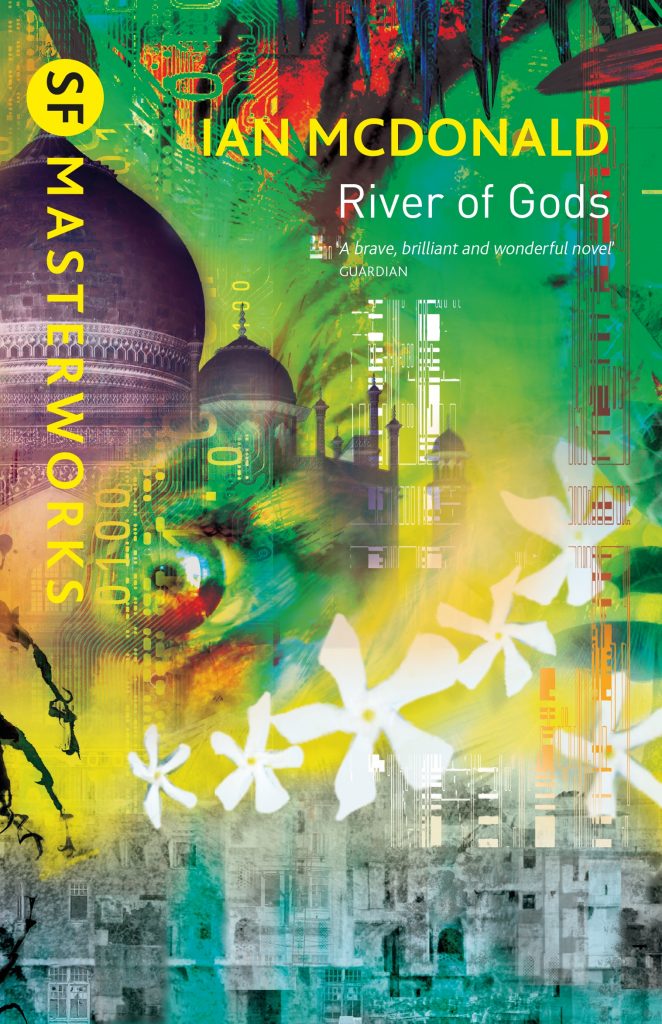 Here are just a few reviews that DESOLATION ROAD has received since it was first published…
'Ian McDonald's DESOLATION ROAD is one of my most personally influential novels. It's an epic tale of the terraforming of Mars, whose sweep captures the birth and death of mythologies, economics, art, revolution, politics… Desolation Road pays homage to David Byrne's Catherine Wheel, to Ray Bradbury's entire canon and to Jack Vance, blending all these disparate creators in a way that surprises, delights, then surprises and delights again… Pyr Books has done us all the service of bringing this remarkable volume back into print after too long a hiatus.' — Boing Boing
'There's a fair bit of science fiction that feels like fantasy, and vice versa, but DESOLATION ROAD is the only book I know that holds this particular balance… It was McDonald's first novel, it absolutely bowled me over when it came out, and while I have read everything he's published since, and admire all of it and like most of it, this remains my favourite of his books because it's so unusual. It's also some of the most beautiful prose imaginable… If you ever want to demonstrate how different science fiction can be, what an incredible range and sweep of things are published with a little spaceship on the spine, DESOLATION ROAD is a shining datapoint, because it isn't like anything else and yet it is coming from a knowledge of what the genre can do and can be and making something new out of it.' — Tor.com
'This is the kind of novel I long to find yet seldom do. DESOLATION ROAD is a rara avis… Extraordinary and more than that!' — Philip José Farmer
'Flavoured with a voice that blends the delightful prose of Jack Vance with the idiosyncratic stylings of Cordwainer Smith, this novel is, most of all, about the dusty town of Desolation Road in the middle of the red Martian desert. Episodic in scope, it would also work as short stories. An elderly couple get lost in the infinite space of their garden, a baby growing in a jar is stolen and replaced with a mango, a man called The Hand plays electric guitar for the clouds and starts the first rain for one hundred and fifty thousand years.' — SF Site
'DESOLATION ROAD is a rich, rewarding novel that occupies territory of its own in science fiction. Like Bradbury's The Martian Chronicles and Gabriel Garcia Marquez's One Hundred Years of Solitude, it utilizes untamed creativity for literary purpose, wholly succeeding in telling an imagined history that directly comments on the real world with characters as genuine and colorful as those we meet in our daily lives. The fact the story takes place on a Mars where machines come to life, time can be twisted, and the air can crackle with purple and blue static makes no difference; the realism is all there beneath the sparkling surface… if you are looking for the literary side or something wildly unique in the genre, this is it.' — Speculiction
DESOLATION ROAD and ARES EXPRESS are published in North America by JABberwocky.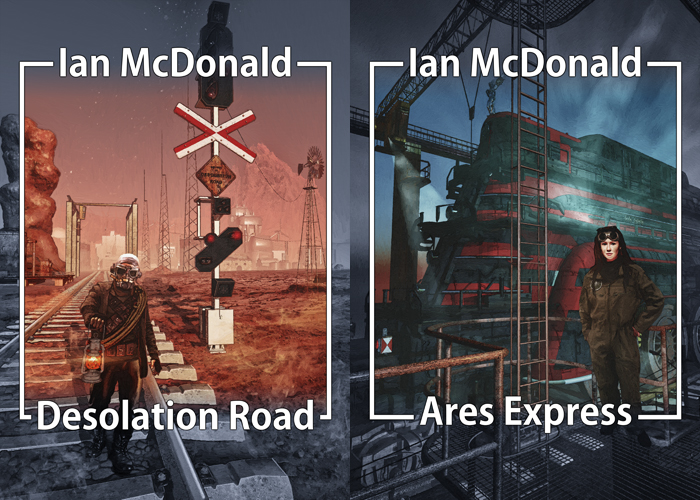 Ian's latest series, Luna, is published by Gollancz in the UK, Tor Books in North America, and in a growing number of translated editions around the world.
Gollancz also publishes Ian's NECROVILLE, BRASYL, CYBERABAD DAYS and THE DERVISH HOUSE in the UK.