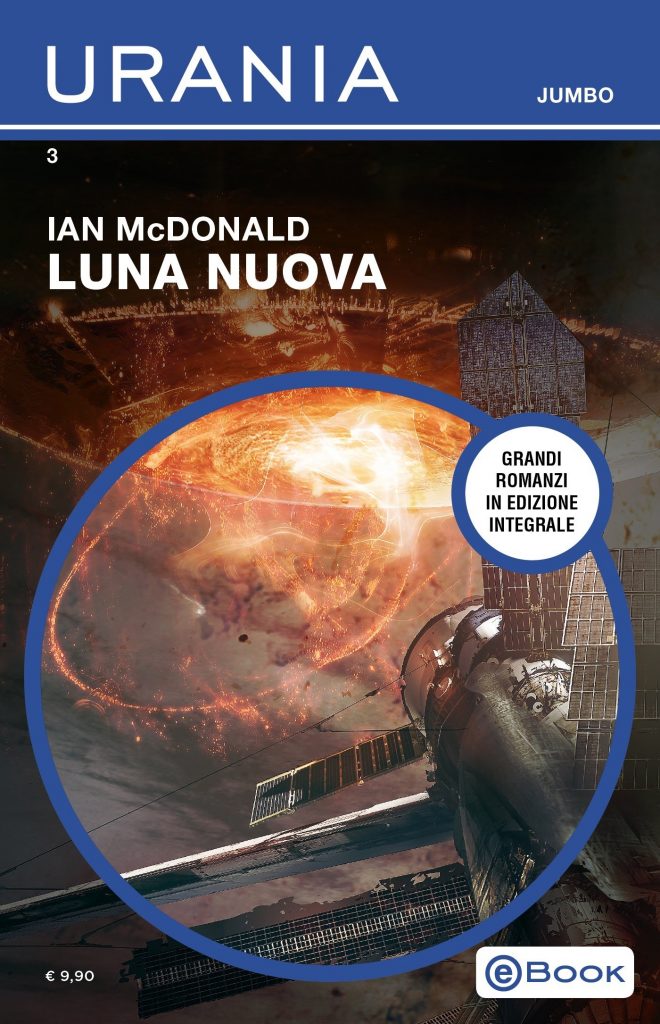 LUNA: NEW MOON by Ian McDonald, the first novel in the critically-acclaimed Luna series, is now available in Italy! Published in eBook by Urania/Mondadori as LUNA NUOVA, here's the synopsis…
Anno 2110. Il nostro satellite è stato colonizzato e industrializzato, e cinque potenti famiglie, i "Cinque Draghi", detengono il potere sulle preziose risorse che vengono estratte ed esportate sulla Terra: l'elio-3, il carbonio, il ghiaccio e i metalli rari. Ma il modello di governo ha riportato la società spaziale al feudalesimo, perciò ciascuno deve combattere per conquistare il proprio posto. Adriana Corta, a capo di uno dei "Cinque Draghi", ci era riuscita sottraendo il controllo dell'elio-3 alla Mackenzie Metal Corporation. Adesso, ormai anziana, deve difendere la florida azienda di famiglia da tutti i nemici che si è fatta negli anni. Per sopravvivere, però, dovranno essere i suoi cinque figli a scendere in campo contro i numerosi avversari. E per difendersi da loro stessi…
The series is published in the UK by Gollancz, in the US by Tor Books, and widely in translation — the second novel is WOLF MOON, and the upcoming third novel is MOON RISING. Here's the English-language synopsis for NEW MOON…
The scions of a falling house must navigate a world of corporate warfare to maintain their family's status in the Moon's vicious political atmosphere.
The Moon wants to kill you.
Maybe it will kill you when the per diem for your allotted food, water, and air runs out, just before you hit paydirt. Maybe it will kill you when you are trapped between the reigning corporations — the Five Dragons — in a foolish gamble against a futuristic feudal society. On the Moon, you must fight for every inch you want to gain. And that is just what Adriana Corta did.
As the leader of the Moon's newest "dragon," Adriana has wrested control of the Moon's Helium-3 industry from the Mackenzie Metal corporation and fought to earn her family's new status. Now, in the twilight of her life, Adriana finds her corporation — Corta Helio — confronted by the many enemies she made during her meteoric rise. If the Corta family is to survive, Adriana's five children must defend their mother's empire from her many enemies… and each other.