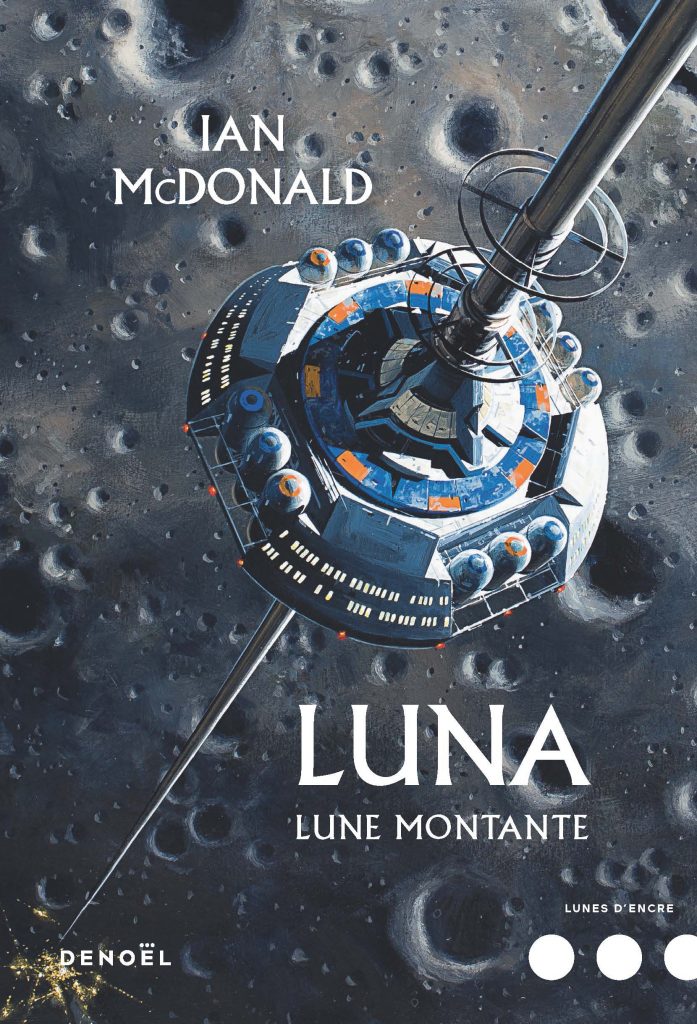 The third novel in Ian McDonald's acclaimed Luna series — MOON RISING — is due to be published in France later this month! Published as LUNE MONTANTE by Denoël, here's the synopsis…
Lucas Corta, que tout le monde croyait mort, a réussi l'impossible : survivre, lui, le natif de la Lune, à un long séjour sur la Terre. Revenu en orbite pour se venger, il a triomphé. Désormais la Lune lui appartient. Mais il a également beaucoup perdu, à commencer par son fils Lucasinho, plongé dans le coma et atteint de lésions cérébrales irréversibles. Sans compter que les Mackenzie rescapés n'ont pas dit leur dernier mot et espèrent bien rendre à Lucas la monnaie de sa pièce. Les Sun, quant à eux, fourbissent toujours leurs armes pour éliminer tous leurs concurrents. Plus que jamais, sur la Lune, la guerre entre les Cinq Dragons fait rage.
Denoël has also published the first two books in the series: NOUVELLE LUNE and LUNE DU LOUP (in addition to a few of Ian's other novels).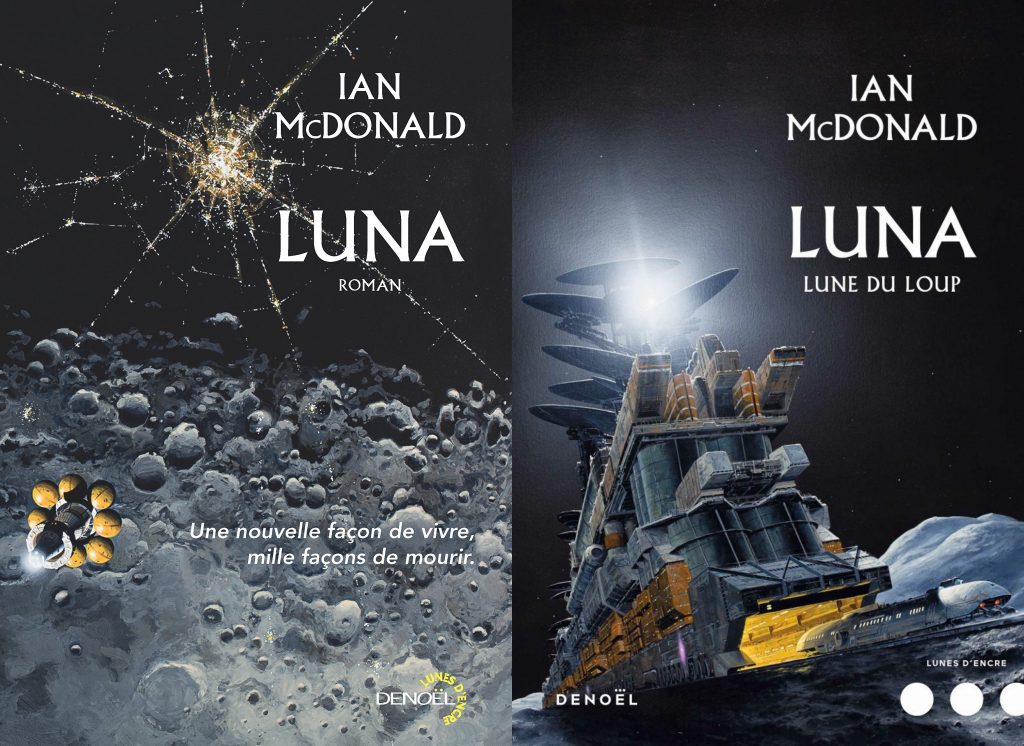 Ian's Luna series is published in the UK by Gollancz, in North America by Tor Books, and is available in a growing number of translated editions. Here's the English-language synopsis for MOON RISING…
A hundred years in the future, a war wages between the Five Dragons — five families that control the Moon's leading industrial companies. Each clan does everything in their power to claw their way to the top of the food chain — marriages of convenience, corporate espionage, kidnapping, and mass assassinations.
Through ingenious political manipulation and sheer force of will, Lucas Cortas rises from the ashes of corporate defeat and seizes control of the Moon. The only person who can stop him is a brilliant lunar lawyer, his sister, Ariel.
Witness the Dragons' final battle for absolute sovereignty in Ian McDonald's heart-stopping finale to the Luna trilogy.
'McDonald concludes his Luna space opera trilogy in triumphant style… The political intrigue never feels too abstract or removed from 21st-century Earth. Readers will appreciate the care McDonald takes with both worldbuilding and characterization, and will enjoy little touches such as giving an assassin the job title of Corporate Conflict Resolution Officer… fans of the prior books will find this wrap-up rewarding.' — Publishers Weekly
'… cinematic set-pieces… so much fun to read… these entertaining, and intelligent novels, capped off by the very satisfying Luna: MOON RISING, have been about establishing a society, a community, a family that looks to the future, that lives and prospers in an environment that must always be treated with respect.' — Locus
'The Luna trilogy is a masterpiece of worldbuilding. Ian McDonald has created an incredibly developed, complex and astonishingly plausible future for the Moon… What stands out, though, are its threads of gorgeous storytelling… as a whole, this is an extraordinary trilogy. Ian McDonald always writes beautifully. I love what he has to say. I'll always remember his vision of the Moon, which at times is horrifying and violent and yet at others is so heartwarming and wondrous.' — For Winter Nights