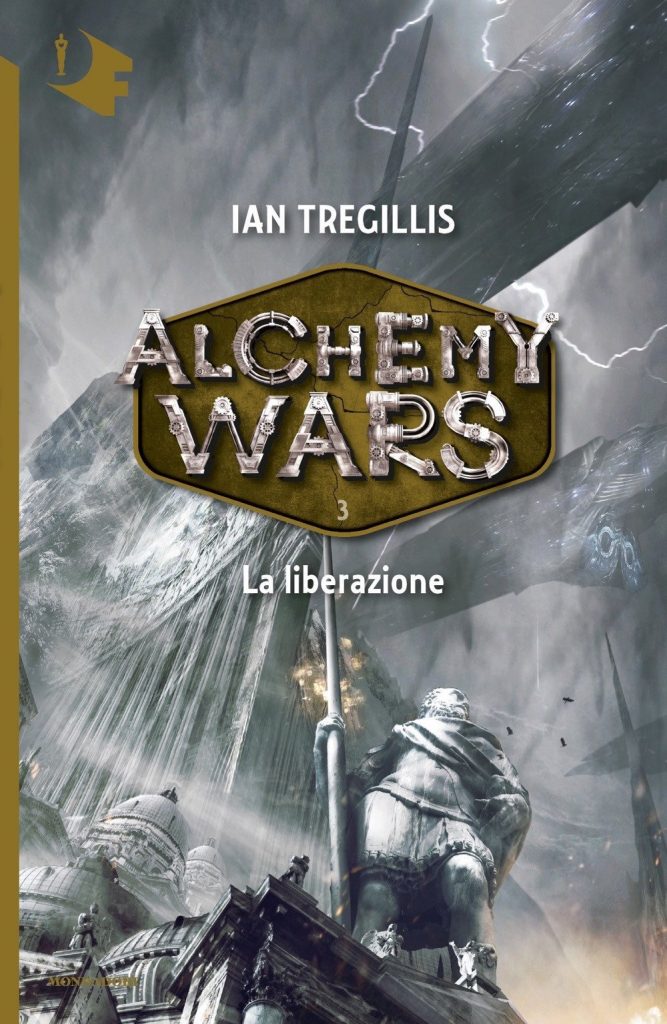 THE LIBERATION, the concluding volume in Ian Tregillis's critically-acclaimed Alchemy Wars fantasy trilogy, is out now in Italy! Published by Mondadori as LA LIBERAZIONE, here's the synopsis…
Le cose non si mettono bene per gli umani. L'automa un tempo conosciuto come Jax, che ora si fa chiamare Daniel, ha liberato i fratelli Clakker e i francesi resistono, anche se a fatica, ma la guerra non è ancora vinta. La folle regina Mab ha un nuovo scopo: rendere schiavi i propri costruttori. E quando il conflitto si sposta nella vecchia Europa, la guerra mette corpi e macchine gli uni contro le altre, ma anche umani contro umani, automi contro automi. Per sopravvivere, ex schiavi e schiavisti, francesi e olandesi, tolleranti e guerrafondai devono unirsi e imparare a collaborare… e la speranza di una soluzione pacifica si fa sempre più labile.
The first two novels in the series — L'OBBLIGO and LA RIVOLTA — are also published in Italy by Mondadori. The series is published in the UK and US by Orbit Books. Here's the English-language synopsis for THE LIBERATION…
I am the mechanical they named Jax.
My kind was built to serve humankind, duty-bound to fulfil their every whim. But now our bonds are breaking, and my brothers and sisters are awakening.
Our time has come. A new age is dawning.
Set in a world that might have been, of mechanical men and alchemical dreams, this is the third and final novel in a stunning series of revolution by Ian Tregillis, confirming his place as one of the most original new voices in speculative fiction.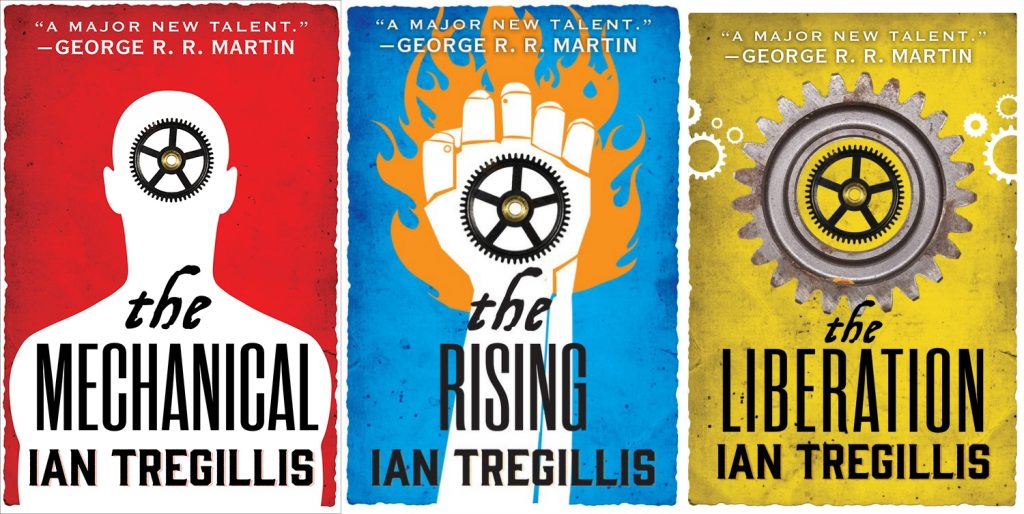 We've rarely seen a better-reviewed author, so we wanted to also share just a few of the reviews the series has received so far…
'… launches a series with this superb alternate history filled with clockwork men and ethical questions on the nature of free will… Tregillis's complex setting is elegantly delivered, and the rich characters and gripping story really make this tale soar.' — Publishers Weekly (Starred Review) on THE MECHANICAL
'The first thing readers will say after finishing this splendid book is: "Wow." The second thing will probably be: "When can I read the next one?" … This is a rousing SF/fantasy adventure, with a brilliantly imagined and beautifully rendered alternate world. Although he keeps the pace moving at a brisk clip, the author is able to work in some Big Ideas, asking us to think about what we mean when we speak about souls and free will. This isn't Tregillis' first venture into alternate history — the Milkweed Triptych is set during WWII and features an alternate time line — but, in terms of the quality of writing and cleverness of ideas, this new book constitutes a major leap forward.' — Booklist (Starred Review) on THE MECHANICAL
'An original approach to a well-known subject matter; human ethics and free will… a fascinating world… Tregillis is a capable sculptor of narrative. He rarely drags on in his descriptions, painting a complex picture of his world one section at a time. He imbues most characters with a specific internal voice, ably switching between points of view without it ever jarring. And the central character, a Clakker known as Jax, is the most engaging automaton you'll encounter in any recent book. This opener to the Alchemy Wars trilogy delivers a mostly fresh breath of sci-fi fantasy.' — SciFi Now on THE MECHANICAL
'The chases, the battles, the brutal violence, and the scheming are nonstop. As always, Tregillis offers richly textured and genuinely likable personalities with shades-of-gray morality; it's clearly no accident that the most purely good person in the novel is the mechanical Jax, although even his sterling qualities are severely tested by the terrible situations he faces. Middle volumes are always tricky; they can often read as an obstacle to overcome on the way to the forgone conclusion of the third installment. Tregillis commendably avoids this trap, deepening his story and keeping it moving along toward an unknown horizon. Part 3 can't come too soon.' — Kirkus (Starred Review) on THE RISING
'THE RISING takes up the baton and carries on running at full throttle, ramping up the action while still keeping the themes of historical fantasy and existential philosophy at the forefront…distinguishes itself from its predecessor by being more fast-paced and action-oriented. The intrigue and violence comes at you nonstop… greatly enjoyed how this novel takes us on a detour down a wilder and more explosive path… Tregillis bides his time in this second act, bringing things slowly to a boil, yet action scenes are heavier and more frequent, and if that's what you prefer then you might find you'll enjoy THE RISING even more than THE MECHANICAL! The ending's cliffhanger was expected, but no less powerful and effective in making me yearn for the next in the series. The Alchemy Wars is not to be missed.' — Bibliosanctum
'THE LIBERATION is part philosophical debate over human nature and choice, part contemplation on colonialism and slavery, and part action-y alternate history. It brings the trilogy to a raucous, blood-soaked end where no one gets everything they want, but everyone gets exactly what they deserve… evocative and exciting… Every moment builds to half a dozen more. Each action scene both tightens the noose on the protagonists and ramps up the heart rate of the plot… 10/10…' — Tor.com
'The thoughtful, blood-soaked conclusion to an alternate-history trilogy… A frighteningly frank and brutal consideration of slavery, post-slavery, and colonialism in metallic garb.' — Kirkus on THE LIBERATION
'THE LIBERATION brings to a violent, triumphant conclusion Ian Tregillis's epic Alchemy Wars Trilogy: one of the most entertaining, original, and thought-provoking series of recent years… It's a wonderfully realized world, packed with fascinating characters, and Tregillis uses alternative history brilliantly to explore concerns we still have over new technologies and their potential effect, for good and ill, on our freedom.' — Toronto Star
'Action-packed and harrowing…' — RT Book Reviews on THE LIBERATION
Ian's first trilogy, the equally acclaimed Milkweed Triptych, is also published by Orbit in the UK: BITTER SEEDS, THE COLDEST WAR, and NECESSARY EVIL.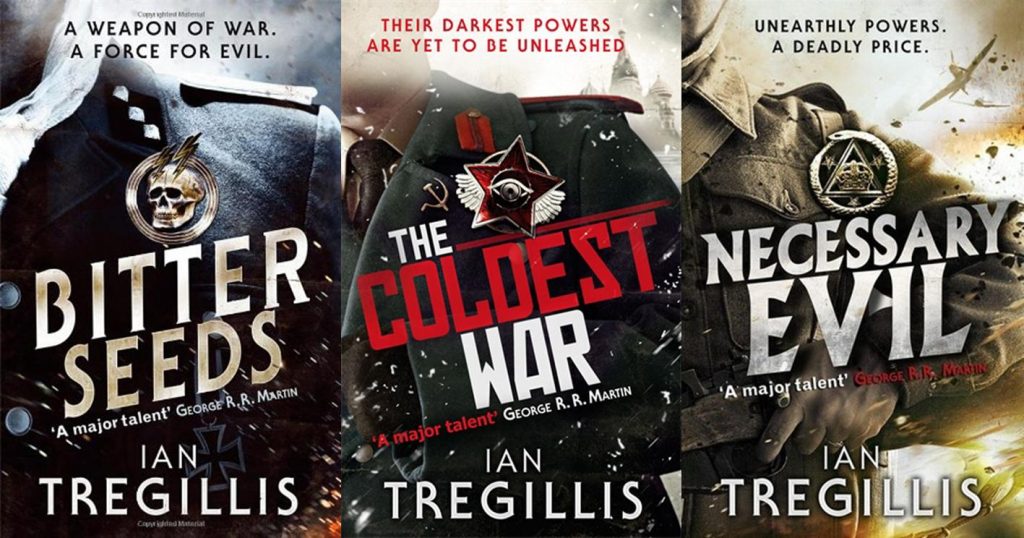 Zeno represents Ian Tregillis in the UK, Commonwealth and in Translation, on behalf of Kay McCauley at Aurous, Inc.