In case you missed it, Aliette de Bodard took part in this year's TorCon 2021! Specifically, the author contributed to the 'Conjuring the Diaspora: Myths, Legends, and Classics Reimagined' panel (which you can watch above), and also a 'Cooking the Books' segment (below).
Aliette's latest book is FIREHEART TIGER, an acclaimed fantasy novella published by Tor.com. Here's the synopsis…
Fire burns bright and has a long memory….
Quiet, thoughtful princess Thanh was sent away as a hostage to the powerful faraway country of Ephteria as a child. Now she's returned to her mother's imperial court, haunted not only by memories of her first romance, but by worrying magical echoes of a fire that devastated Ephteria's royal palace.
Thanh's new role as a diplomat places her once again in the path of her first love, the powerful and magnetic Eldris of Ephteria, who knows exactly what she wants: romance from Thanh and much more from Thanh's home. Eldris won't take no for an answer, on either front. But the fire that burned down one palace is tempting Thanh with the possibility of making her own dangerous decisions.
Can Thanh find the freedom to shape her country's fate — and her own?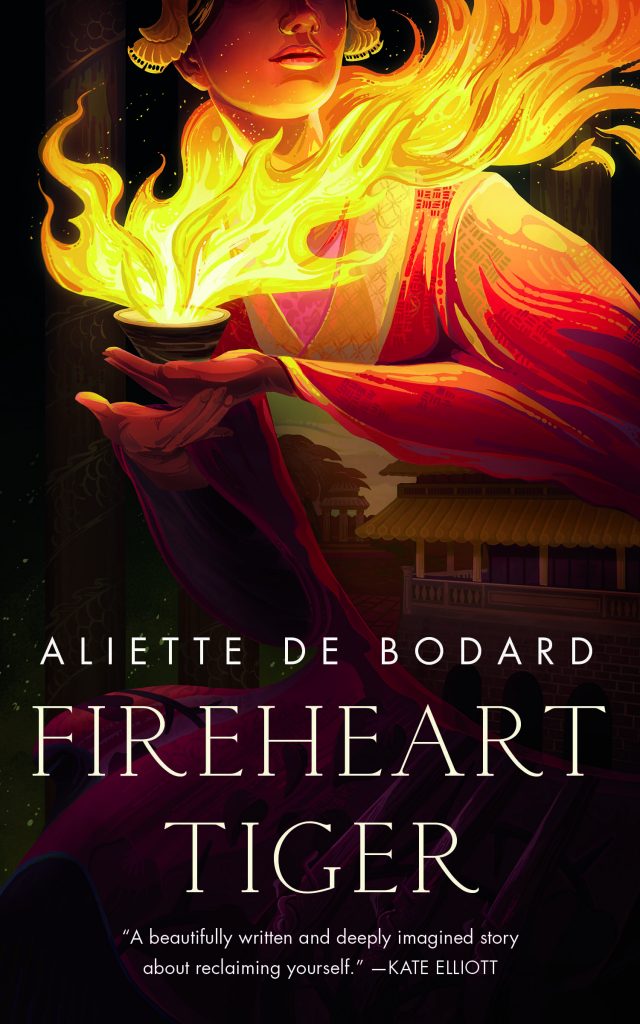 Here are just a handful of the reviews FIREHEART TIGER has received so far…
'[A] high-stakes lesbian love triangle in this tightly plotted fantasy novella… convincingly combines sex, politics, and betrayal. This is an ideal pick for fantasy fans longing for non-European settings.' — Publishers Weekly
'FIREHEART TIGER… is a delicate novella with threads of imperial politics, magical beings, queer romance and the psychology of trauma. It's a bit of a miracle to feel as if you've read a six-book fantasy series in so few pages. This book is elegant and hypnotic as the flame of a candle, and I'll be thinking for some time about the shadows it throws into relief.' — New York Times Book Review
'A fascinating story filled with strong female characters and lush prose, the relationships woven around Thanh evolve into themes of reclaiming the self and recognizing that love can hide the truth about people… a story of love, power, and what burns within. Highly recommended.' — Library Journal (Starred Review)
'De Bodard…, as she so often does, packs the world-building and emotional punch of an epic into a shockingly slim novella. This touching romance with the delicate negotiations of a small country's survival against an imperial adversary would be a lovely place to start with de Bodard's work, and fans will find more of what they've come to love about her stories.' — Booklist