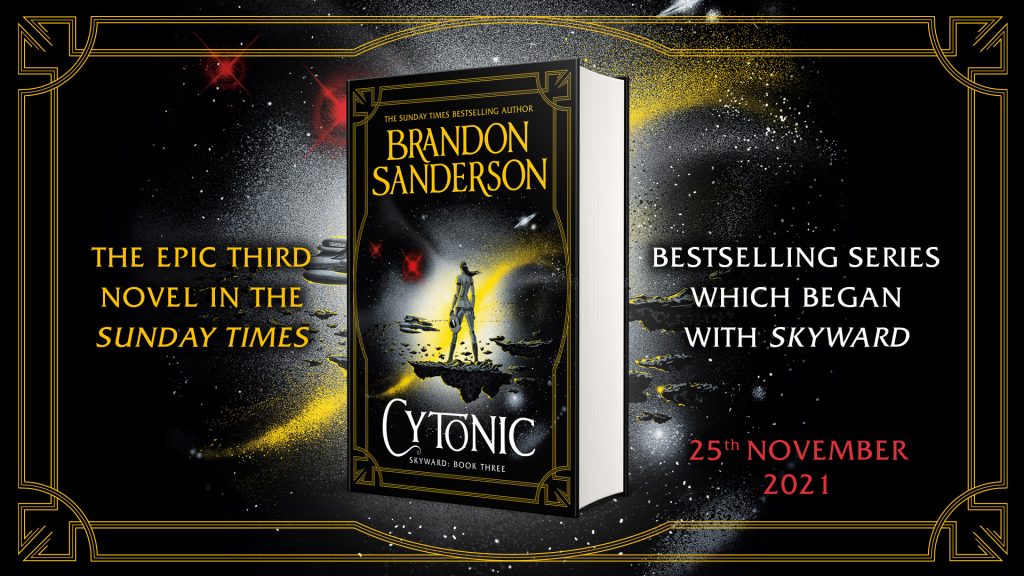 In case you missed it yesterday: the cover and details for Brandon Sanderson's third Skyward series novel, CYTONIC have been unveiled! Due to be published in the UK by Gollancz, on November 25th, here's the synopsis…
Spensa's life as a Defiant Defense Force pilot has been far from ordinary.
She proved herself one of the best starfighters in the human enclave of Detritus and she saved her people from extermination at the hands of the Krell – the enigmatic alien species that has been holding them captive for decades. What's more, she travelled light-years from home as a spy to infiltrate the Superiority, where she learned of the galaxy beyond her small, desolate planet home. Now, the Superiority – the governing galactic alliance bent on dominating all human life – has started a galaxy-wide war. And Spensa has seen the weapons they plan to use to end it: the Delvers. Ancient, mysterious alien forces that can wipe out entire planetary systems in an instant.
Spensa knows that no matter how many pilots the DDF has, there is no defeating this predator.
Except that Spensa is Cytonic. She faced down a Delver and saw something eerily familiar about it. And maybe, if she's able to figure out what she is, she could be more than just another pilot in this unfolding war. She could save the galaxy. The only way she can discover what she really is, though, is to leave behind all she knows and enter the Nowhere. A place from which few ever return.
To have courage means facing fear. And this mission is terrifying.
The first two novels in the series are also published in the UK by Gollancz, and are out now: SKYWARD and STARSIGHT.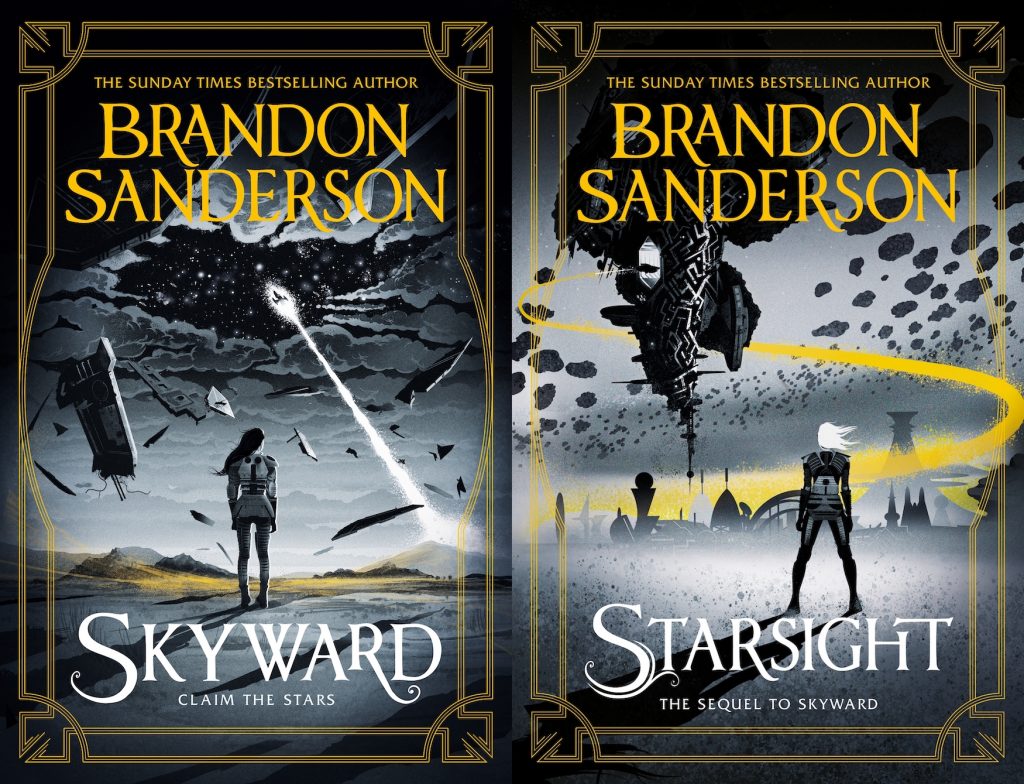 Here are just a few of the reviews the series has received so far…
'Sanderson plainly had a ball with this nonstop, highflying opener, and readers will too.' — Kirkus, Starred Review on SKYWARD
'With this action-packed trilogy opener, Sanderson offers up a resourceful, fearless heroine and a memorable cast—including a strangely humorous, mushroom-obsessed robot—set against the backdrop of a desperate conflict. As the pulse-pounding story intensifies and reveals its secrets, a cliffhanger ending sets things up for the next installment.' — Publishers Weekly, Starred Review on SKYWARD
'SKYWARD is possibly the most captivating, inspirational, and aspirational book that Brandon Sanderson has ever written […] It's always a pleasure spending time inside Brandon's mind as he creates a new playground of rules and takes his characters for a ride through unchartered territories.' — Fantasy Book Review
'Readers will enjoy his hallmark cinematic writing style, with plenty of strong visuals throughout the story, along with humor that some will love, and others will love to hate […] we say SKYWARD is an adventure and a half that you won't want to miss. Even hardcore Cosmere fans will enjoy the special mix of fantasy and sci-fi that unfolds as you watch Spensa learn what it means to be truly brave.' — Tor.com
'SKYWARD is an almost perfect space opera, a genre marked by simple yet compelling plot lines, precise and ingenuous world-building and complex, empathetic relationships and character development […] It is replete with non-stop action, amazing writing and great characters.' — Aspen Daily News
'SKYWARD contains a lot of heart that teaches us to never back down in the face of adversity.' — Fantasy Faction
'Spensa's habitual over-the-top recklessness adds a rousing spark, and the author folds in plenty of banter as well as a colorful supporting cast.' — Kirkus on STARSIGHT
'STARSIGHT offers fun times just as Skyward did, with more worldbuilding, some favorite returning characters from Skyward, some amazing new characters and settings, and a ramped-up storyline.' — Tor.com
'[A] unique and engaging novel. STARSIGHT took a sharp turn in a new direction early on, and Sanderson throws in several game-changer developments throughout the novel, keeping both Spensa and the reader on their toes […] I'm searching for a way to teleport myself into the future and get a copy of the next book in this series now rather than in 2021.' — Fantasy Literature
'STARSIGHT is an exploration of the other, and a way to reconcile with it. It is a story of fear, of facing that fear and growing stronger for the staring down of it. It is a tale of friendship, loyalty and sacrifice. And it is beautiful.' — Booknest
'The worldbuilding is of the standard I've come to expect from Brandon Sanderson, which is to say that it's excellent.' — The Fantasy Hive on STARSIGHT
Zeno represents Brandon Sanderson in the UK and Commonwealth, on behalf of the JABberwocky Literary Agency in New York.