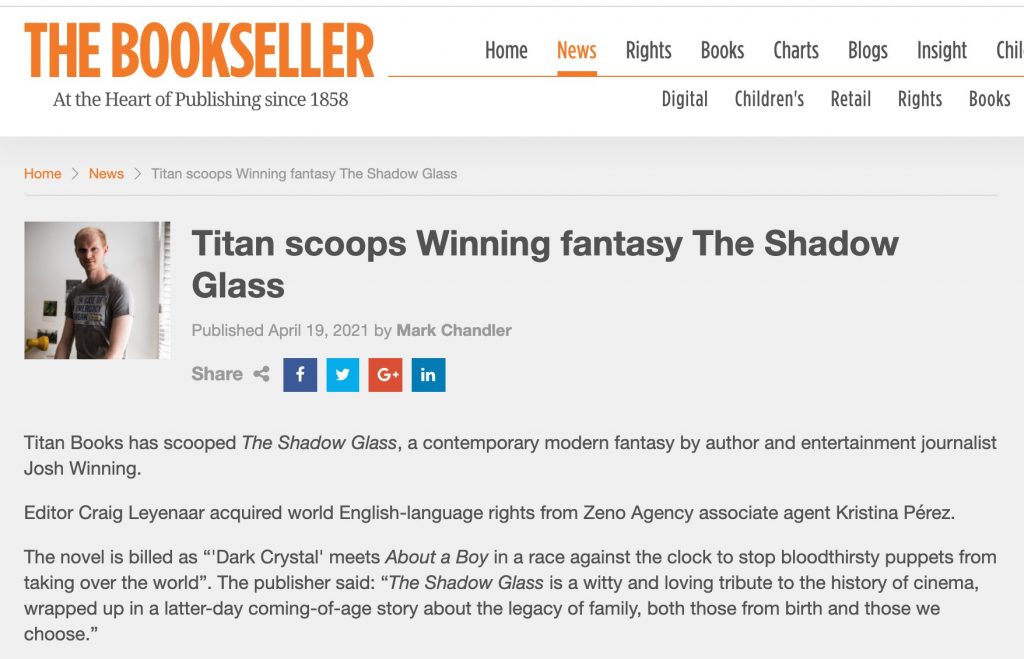 In case you missed the news from Bookseller earlier in the week: Titan Books has acquired World English rights to Josh Winning's THE SHADOW GLASS from Zeno Associate Agent Kristina Pérez!
The novel is pitched as 'Dark Crystal meets About a Boy in a race against the clock to stop bloodthirsty puppets from taking over the world', and has been described as 'a witty and loving tribute to the history of cinema, wrapped up in a latter-day coming-of-age story about the legacy of family'. It is due to be published in March 2022.
Titan Editor Craig Leyenaar had this to say about the novel:
'I absolutely adored THE SHADOW GLASS from the first page, filled with nods and winks to classic fantasy films where the ordinary becomes the extraordinary and the everyman becomes the hero. Josh's love for film shines through each page of this dark adventure that will have you cheering (or clapping if you were in a cinema) by the end.'
The author said of the deal: 'Titan Books is the perfect geeky home for THE SHADOW GLASS. I've been a fan of their books for years and am thrilled to be joining their roster of fantastic authors.'
Congrats, Josh! We'll share more information here as and when we have it (full synopsis, cover, etc.). Watch this space!