A few weeks ago, Lavie Tidhar was invited to take part in an online event by Chevaliers Books, to discuss his latest, acclaimed novel BY FORCE ALONE. Fellow Zeno client Ian McDonald joined him for the discussion, and you can watch the video above.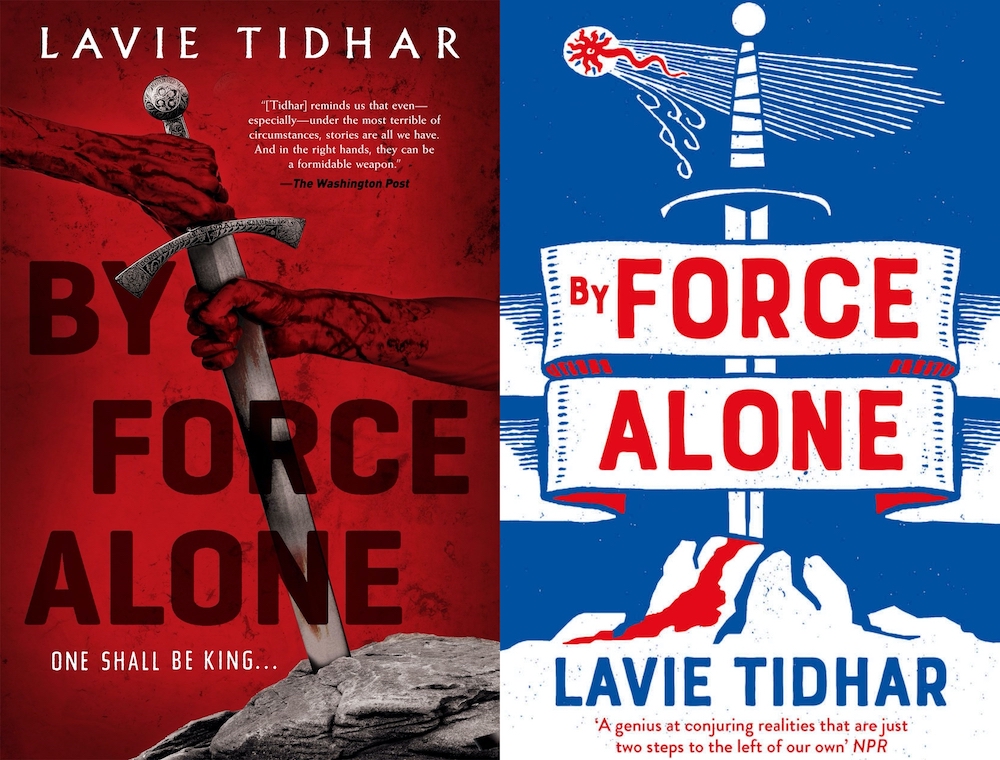 BY FORCE ALONE is out now, published by Tor Books in North America and Head of Zeus in the UK. Here's the synopsis…
Everyone thinks they know the story of King Arthur and his knights of the Round Table.
The fact is they don't know sh*t.
Arthur? An over-promoted gangster.
Merlin? An eldritch parasite.
Excalibur? A shady deal with a watery arms dealer.
Britain? A clogged sewer that Rome abandoned just as soon as it could.
A savage and cutting epic fantasy, equally poetic and profane, By Force Alone is a magical adventure and a subversive masterwork.
Here's just a small selection taken from the great reviews the novel has received so far…
'Tidhar saturates this epic adventure with profanity, dark humor, sword-sharp twists, and unexpected moments of pathos. Readers who hold King Arthur dear to their hearts will be gratified by Tidhar's attention to detail amidst the innovation. This dark, imaginative take on a classic is sure to impress.' — Publishers Weekly
'Sometimes while reading a Lavie Tidhar novel, there comes a point when you feel like he's grabbed the wheel, grinning as he drives you aggressively into oncoming traffic and somehow pulls off moves that by all rights ought to be fatal… BY FORCE ALONE – a phrase that recurs like a mantra throughout the narrative, reminding us that power is never really a matter of heritage or destiny – serves as a reminder that Arthur is a moveable feast, infinitely adaptable even to the era of Brexit and Trump. If Tidhar's version seems pretty bleak, even as its endless inventiveness makes it undeniably exhilarating, that may simply be a reflection of where we all find ourselves these days.' — Locus (Gary K. Wolfe)
'There are no parfit gentil knights in Lavie Tidhar's Arthurian epic fantasy… It is a vicious, beautiful, profane and wickedly funny reimagining of the rise and fall of King Arthur without the chivalry, divine right or holy quests… This kind of retelling offers a wealth of opportunity to examine aspects of the familiar story in a completely new light, and is both exciting and enormously satisfying to read… The prose style is half of what makes the book so powerful. Tidhar is both clean and poetic, elegantly sparse but deeply evocative. Every phrase is load-bearing. The profanity serves its purpose. He switches between point-of-view characters and authorial voice seamlessly, using short almost-choppy sentences to give a sense of inevitable forward movement, events lensing into one another. The frequent references to Greek philosophy in the narration both serve to underline the post-Roman intellectual landscape of the time and to create a kind of distance between the reader and the text, which increases that slightly dreamy sense of inexorable direction. This story is going to happen; the terrible ending is going to occur, and we — and the characters — are swept along with it.' — Washington Post
'Lavie Tidhar's BY FORCE ALONE gives us an Arthur for the Brexit era: A tyrant in lieu of a king, brute violence in lieu of gallant feats, undisguised venality in lieu of chivalric ideals. This is the Matter of Britain become the Matter with Britain… For all the bleakness and cynicism of his story, Tidhar's profligate invention makes BY FORCE ALONE a joy… Lavie Tidhar's joke on the Matter of Britain is a great one. And if the laughter catches in your throat, that just means you've been paying attention to the book, and to the world.' — Tor.com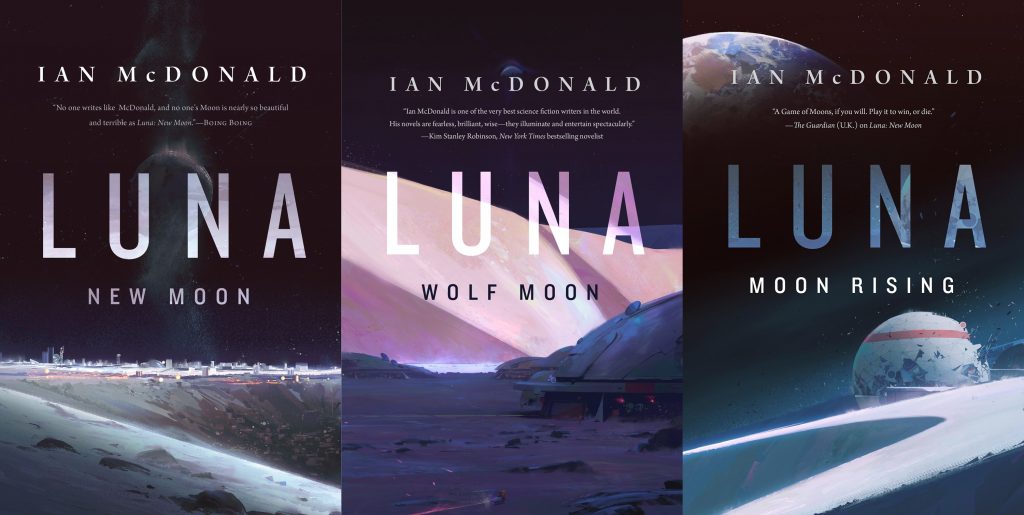 Ian McDonald's latest series, Luna, is also out now and published by Tor Books in North America. The series is published in the UK by Gollancz (covers below). Here's the synopsis for book one, NEW MOON…
The scions of a falling house must navigate a world of corporate warfare to maintain their family's status in the Moon's vicious political atmosphere.
The Moon wants to kill you.
Maybe it will kill you when the per diem for your allotted food, water, and air runs out, just before you hit paydirt. Maybe it will kill you when you are trapped between the reigning corporations-the Five Dragons-in a foolish gamble against a futuristic feudal society. On the Moon, you must fight for every inch you want to gain. And that is just what Adriana Corta did.
As the leader of the Moon's newest "dragon," Adriana has wrested control of the Moon's Helium-3 industry from the Mackenzie Metal corporation and fought to earn her family's new status. Now, in the twilight of her life, Adriana finds her corporation-Corta Helio-confronted by the many enemies she made during her meteoric rise. If the Corta family is to survive, Adriana's five children must defend their mother's empire from her many enemies… and each other.