Today, we wanted to share with you a recent interviews with Nick Martell, in case you missed it. Nick was interviewed by Middle Fantasy to mark the release of the second novel in his epic, acclaimed Legacy of the Mercenary Kings fantasy series. The first two books — THE KINGDOM OF LIARS and THE TWO-FACED QUEEN — are out now, published by Gollancz in the UK. Here's the synopsis for the first book, in case it had escaped your notice…
Michael was branded a traitor and his family exiled from courtly life after his father, David Kingman, murdered the king's nine-year-old son.
Now he survives by conning, cheating and duelling minor royals in a weak attempt to strike back at the world that abandoned him and his family, sure all the while that his father must be innocent… and aware that some powerful secret lurks in the hot white emptiness of his mind.
So when the opportunity arrives to return to court, via the most dangerous of the King's royal council, Michael takes it, hoping for clues to unlock his hidden past. Instead, he's going to find a royal family spiralling into a self-serving dictatorship, as beyond the walls gun-wielding rebels clash against magically trained militia.
But if he can find his way to the truth, he could completely reverse the injustices which rule the Hollows… if Michael and his family can survive long enough to see it…
The third book, THE VOYAGE OF THE FORGOTTEN, is due to be published in May 2022.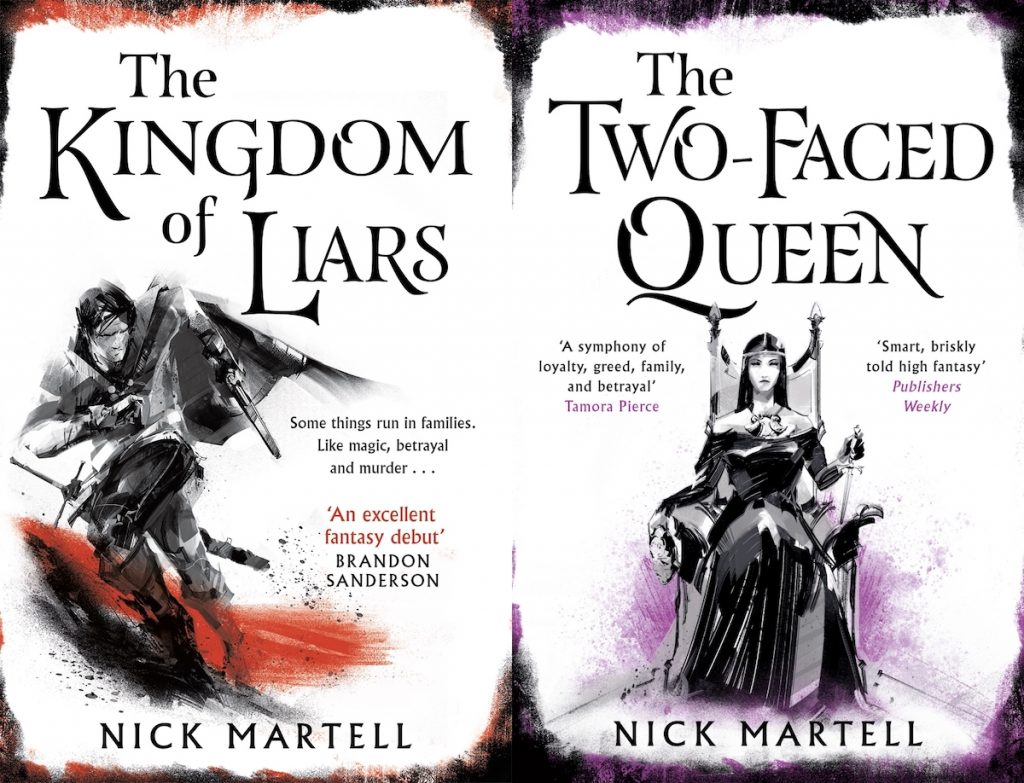 Here are just a few of the reviews the series has received so far…
'An excellent fantasy debut, with engaging worldbuilding and a good mix between action and character. I thoroughly enjoyed the novel, and look forward to following Nick's sure-to-be lengthy writing career.' — Brandon Sanderson on THE KINGDOM OF LIARS
'A symphony of loyalty, greed, family, and betrayal set in an innovative culture!' — Tamora Pierce on THE KINGDOM OF LIARS
'… impressive and highly ambitious epic fantasy debut… Martell's portrayal of his protagonist's growth, from a cocksure chancer to a mature adult sobered by his discoveries, is just as impressive as the twisty plot.' — Guardian
'THE KINGDOM OF LIARS is a tale of family, loyalty and leaving a legacy that none shall forget. This is certainly a book that you won't be able to put down, and will linger with you long after you've read the last page.' — Fantasy Hive
'Martell's taut, clever debut tells of rebellion and regicide in a world where the use of magic comes at the cost of one's memories… Though the abundance of characters becomes overwhelming at times, their political maneuvers and varied motivations form a satisfying web. This smart, briskly told high fantasy entertains all the way until the unexpected end.' — Publishers Weekly on THE KINGDOM OF LIARS
'Simply put, this series is a masterclass in grand-scale storytelling. The future of epic fantasy is here—and this saga is it.' — Kirkus on THE TWO-FACED QUEEN
'In an ominous start to THE TWO-FACED QUEEN, Michael Kingman is presumed guilty of murdering the king, and is only alive because the Orbis Mercenary company claimed him as one of their own at the conclusion of The Kingdom of Liars (2020). Michael has information but is desperately seeking evidence regarding Prince Davey's death a decade earlier to prove his family's innocence. He's also reconnecting with his mother after her stay in an asylum, and is dealing with recovered memories he had lost to a dark fabrication, learning how his nullification fabrications work. There are complications, though: the sudden appearance of his grandfather with a band of refugees; the return of a serial killer whom Michael's mentor, Dark, had defeated years before; a hired assassin with an unclear target; and a Recorder who is convinced that the Kingman family's history of protecting Hollow and the royal family is overstated. As Michael's own knowledge expands, Martell weaves in hints about the broader world, offering the possibility of future books in this inventive fantasy setting.' — Booklist
'THE TWO-FACED QUEEN delivers everything an awesome sequel should, far surpassing the first while expanding on the world in surprising and often gut-wrenching ways. Make sure it's on your radars!' — Jeremy Szal
'For readers who love the intrigue and widening scope of epic fantasy like Sanderson's Mistborn and Week's The Black Prism, this is your next must-read fantasy series.' — Broken Binding on THE TWO-FACED QUEEN
Zeno represents Nick Martell in the UK and Commonwealth, on behalf of the JABberwocky Literary Agency in New York.