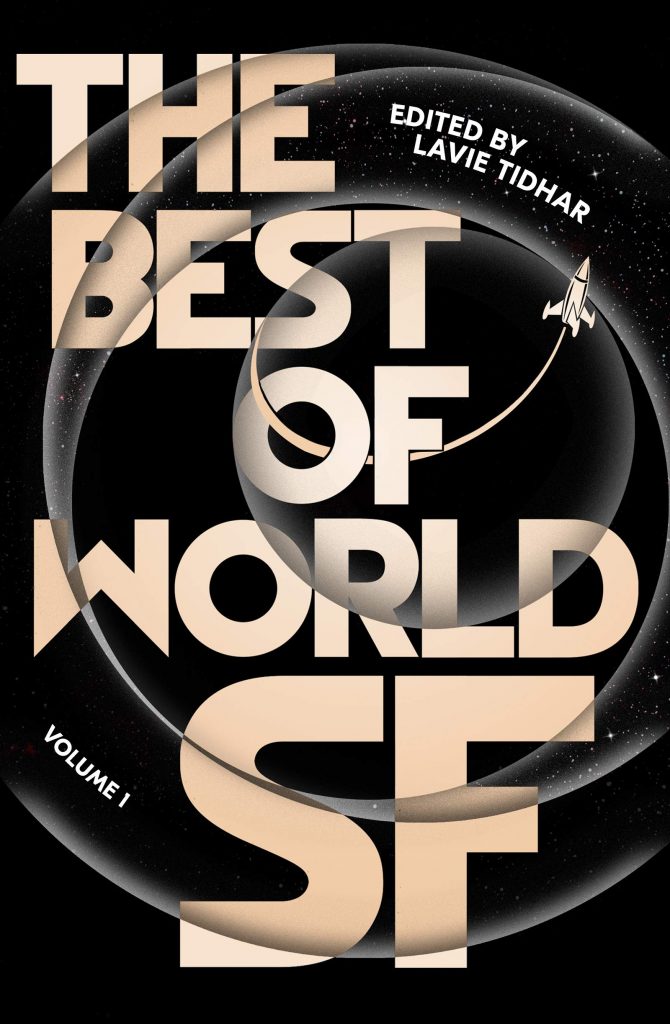 In case you missed it, THE BEST OF WORLD SF, VOLUME 1 is out now in North America! Published by Head of Zeus, the critically-acclaimed collection is edited by Lavie Tidhar, and contains 26 stories by authors from around the world. Here's the synopsis…
Twenty-six new short stories representing the state of the art in international science fiction.
The future is coming. It knows no bounds, and neither should science fiction.
They say the more things change the more they stay the same. But over the last hundred years, science fiction has changed. Vibrant new generations of writers have sprung up across the globe, proving the old adage false. From Ghana to India, from Mexico to France, from Singapore to Cuba, they draw on their unique backgrounds and culture, changing the face of the genre one story at a time.
Prepare yourself for a journey through the wildest reaches of the imagination, to visions of Earth as it might be and the far corners of the universe. Along the way, you will meet robots and monsters, adventurers and time travellers, rogues and royalty.
In The Best of World SF, award-winning author Lavie Tidhar acts as guide and companion to a world of stories, from never-before-seen originals to award winners, from twenty-three countries and seven languages. Because the future is coming and it belongs to us all.
Here's the table of contents:
'Immersion' by Aliette de Bodard
'Debtless' by Chen Qiufan

(trans. from Chinese by Blake Stone-Banks)

'Fandom for Robots' by Vina Jie-Min Prasad
'Virtual Snapshots' by Tlotlo Tsamaase
'What The Dead Man Said' by Chinelo Onwualu
'Delhi' by Vandana Singh
'The Wheel of Samsara' by Han Song

(trans. from Chinese by the author)

'Xingzhou' by Yi-Sheng Ng
'Prayer' by Taiyo Fujii

(trans. from Japanese by Kamil Spychalski)

'The Green Ship' by Francesco Verso

(trans. from Italian by Michael Colbert)

'Eyes of the Crocodile' by Malena Salazar Maciá

(trans. from Spanish by Toshiya Kamei)

'Bootblack' by Tade Thompson
'The Emptiness in the Heart of all Things' by Fabio Fernandes
'The Sun From Both Sides' by R.S.A. Garcia
'Dump' by Cristina Jurado

(trans. from Spanish by Steve Redwood)

'Rue Chair' by Gerardo Horacio Porcayo

(trans. from Spanish by the author)

'His Master's Voice' by Hannu Rajaniemi
'Benjamin Schneider's Little Greys' by Nir Yaniv

(trans. from Hebrew by Lavie Tidhar)

'The Cryptid' by Emil H. Petersen

(trans. from Icelandic by the author)

'The Bank of Burkina Faso' by

Ekaterina Sedia

'An Incomplete Guide…' by

Kuzhali Manickavel

'The Old Man with The Third Hand' by

Kofi Nyameye

'The Green' by

Lauren Beukes

'The Last Voyage of Skidbladnir' by

Karin Tidbeck

'Prime Meridian' by

Silvia Moreno-Garcia

'If At First You Don't Succeed' by

Zen Cho
If you'd like to sample some of the anthology, check out the following links…
Here, too, are just a few of the great reviews the collection has received…
'Rare and wonderful' — The Times
'This excellent anthology proves editor Tidhar's assertion that science fiction should no longer be thought of as "white, male, and American" with 26 exemplary stories from 21 countries… Worthwhile both as a survey of international sci-fi and on a story-by-story level, this wonderful anthology should be a hit with any sci-fi fan.' — Publishers Weekly (Starred Review)
'Vital and exciting, THE BEST OF WORLD SF blows the blast panels off the dusty, well-worn tropes of popular science fiction and lets in a dazzling burst of lunar light.' — Foreword Review
'There is not a poor story here… nice balance between light and harder stories… IMMERSION by Aliette de Bodard reads like hard Sci Fi but digs a little deeper… As a group, the stories on offer within THE BEST OF WORLD SF Volume 1 are so strong… This is a great introduction to what the rest of the world has to offer.' — SF Book Reviews
'Stories like these are the ones you sometimes want to foist upon readers who claim not to like SF, and The Best of World SF: Volume 1 reminds us that such stories can come from anywhere these days, if only we get to see them. I look forward to future volumes.' — Locus (Gary K. Wolfe)
'In addition to being an award-winning sci-fi writer, Israeli-born UK-based Lavie Tidhar is also a tireless champion of international sci-fi… an excellent, lovingly curated collection that is also uniformly well translated.' — Financial Times
'Now this book exists, it feels absurd it didn't exist sooner… hefty, beautifully presented collection… an excellent samples and delight in itself… fizzes with great ideas and wonderful writing.' — SFX (5*)
'[Tidhar] is really a pioneer… He was looking at writers from Malaysia, from Africa, from China, from Japan when no one was really doing that. You might get some stories here and there from other parts of the world. But the way that he constructed this global structure of science fiction and looked at science fiction not as a monoculture but as a vibrant sphere for people to speak from all over the world, and the promotion he gave that over the long term and pushing it on and on in an independent space, is exciting to see and inspiring.' — Silvia Moreno-Garcia