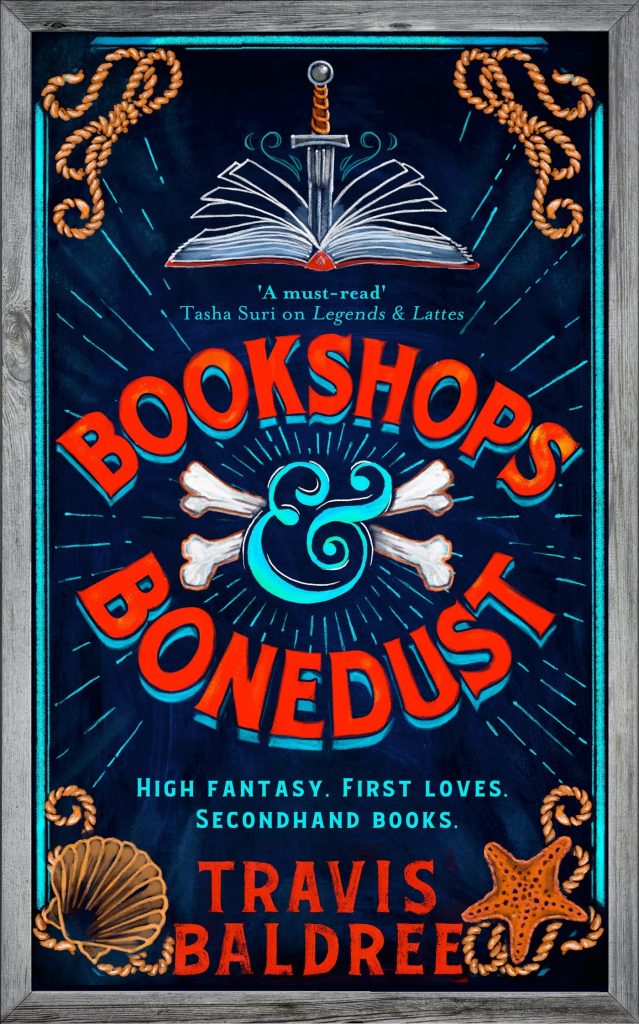 In case you missed the news, we wanted to just wanted to share that Travis Baldree's highly-anticipated new novel, BOOKSHOPS & BONEDUST is due to be published in the UK by Tor Books, on November 9th! The cover is above, and here's the synopsis…
First loves. Second-hand books. Epic adventures.
Viv's career with the renowned mercenary company Rackam's Ravens isn't going as planned. Wounded during the hunt for a powerful necromancer, she's packed off against her will to recuperate in the sleepy beach town of Murk – so far from the action that she worries she'll never be able to return to it. What's a thwarted soldier of fortune to do?
Spending her hours at a struggling bookshop in the company of its foul-mouthed proprietor is the last thing Viv would have predicted. Even though it may be exactly what she needs. Still, adventure isn't far away. A suspicious traveller in grey, a gnome with a chip on her shoulder, a summer fling and an improbable number of skeletons prove Murk to be more eventful than Viv could have ever expected.
Sometimes, right things happen at the wrong time. Sometimes, what we need isn't what we seek. And sometimes, we find ourselves in the stories we experience together.
Set twenty years before the events of Legends & Lattes, Bookshops & Bonedust is a standalone cosy fantasy by BookTok sensation Travis Baldree about the power of good bookshops, great friends and the unexpected choices along the way.
Fans of the best-selling, critically-acclaimed LEGENDS & LATTES are sure to love this prequel. The book will also be published in North America, by Tor Books, on November 7th.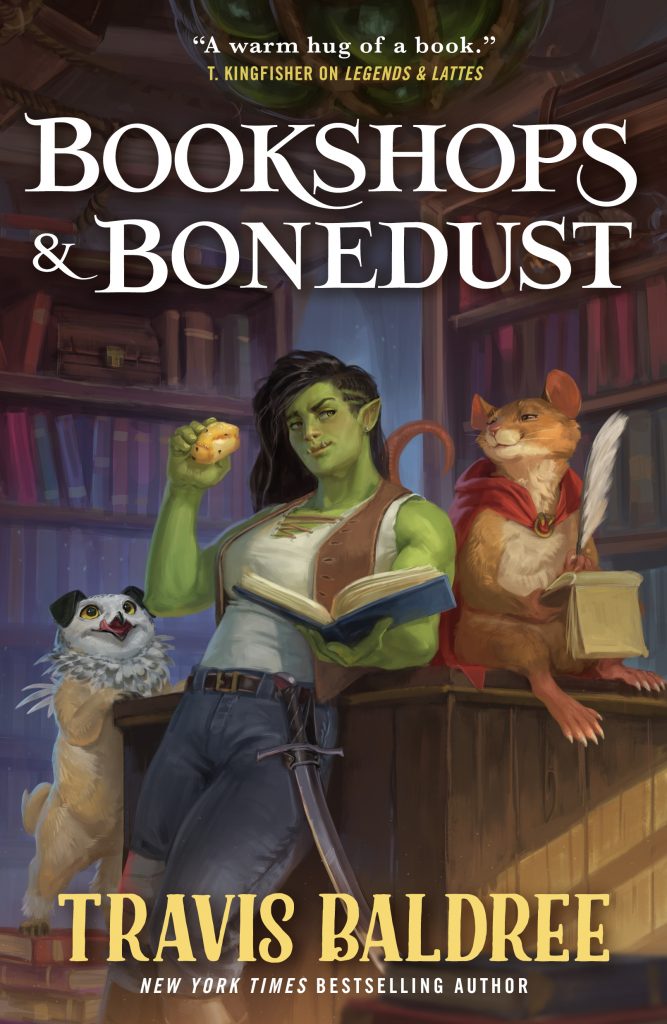 LEGENDS & LATTES is out now, published by Tor Books in the UK and North America.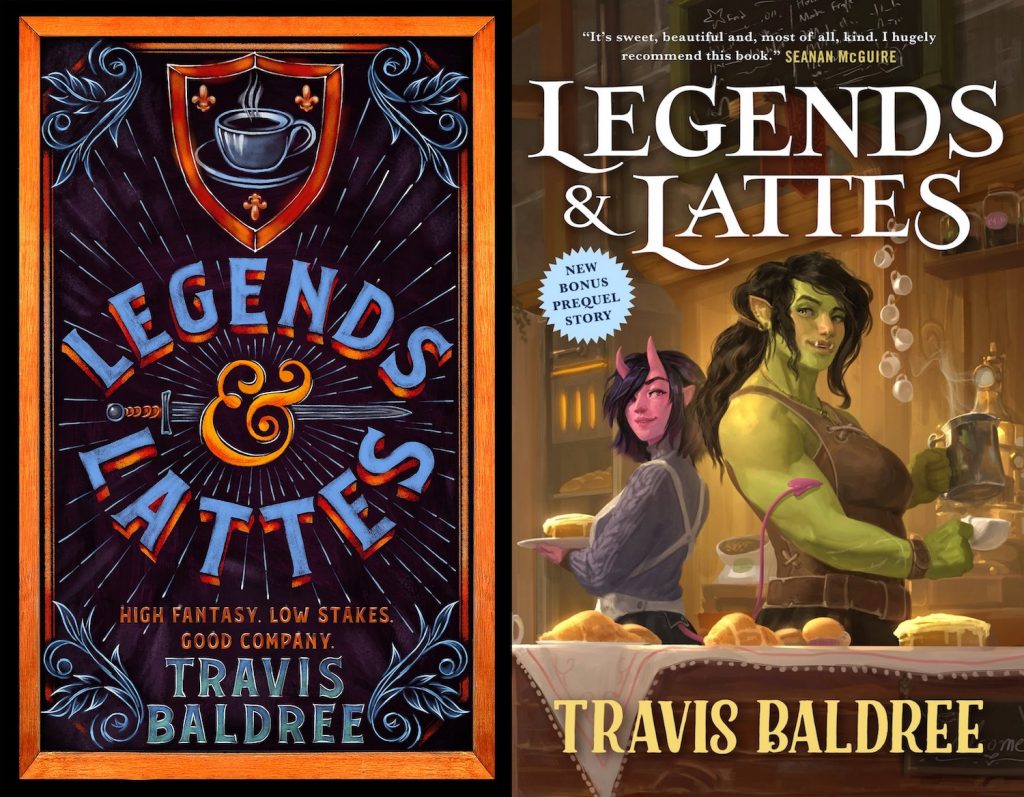 Here are just a few of the great reviews Travis's work has received so far…
'What I love about Travis Baldree is that set against an epic world of adventure, he writes about the small victories that make life worthwhile. BOOKSHOPS & BONEDUST does this and it is glorious' — Ben Aaronovitch
'Well, damn, he's done it again. BOOKSHOPS & BONEDUST is hilarious, heartwarming, and wholesome as heck. If you loved the first you'll almost certainly love this perfectly executed prequel even more, as the stakes are higher and the scones are hotter still!' — Nicholas Eames
'This is a story about following your dreams, even when they take you away from who you thought you had to be. It's sweet, beautiful and, most of all, kind. I hugely recommend this book.' — Seanan McGuire, New York Times bestselling author of Every Heart A Doorway
'A gentle little cozy set against an epic fantasy backdrop… This charming outing will please anyone who's ever wished to spend time in a fantasy world without all the quests and battles.' — Publishers Weekly
'This slice-of-life cozy fantasy novel has everything you've been searching for.' — Buzzfeed
'A stunningly-well done story at every level' — Fantasy Faction
'If you like fantasy but you're tired of reading about wars and general intensity, this is the book for you… Cozy fantasy at its best.' — Literary Hub
'I loved LEGENDS & LATTES and I have literally nothing bad to say about it… a warm hug on a cold day. Written with care and attention, Baldree's delicate touch and vibrant characters make this story shine… Books have their own kind of magic. LEGENDS & LATTES was positively enchanting.' — Bookworm Blues
'LEGENDS & LATTES isn't just a cosy, slice-of-life fantasy, it is a hug after a long day, it's that first bite of chocolate you've been desperately craving or that first sip of coffee, it's pyjamas and blankets and everything else which brings comfort and warmth. This is a tale so simple yet so wholesome and adorable, it has made me see just how versatile the fantasy genre can be… Believe the hype… this book deserves all the praise… Baldree delivers a tale to soothe the soul, a tale which had me smiling and crying with happiness from beginning to end.' — Fantasy Hive
'Baldree's book is beautiful and uplifting, a soothing tonic in our troubled times. Escape into its pages and you won't ever want to leave.' — T. L. Huchu, author of The Library of the Dead