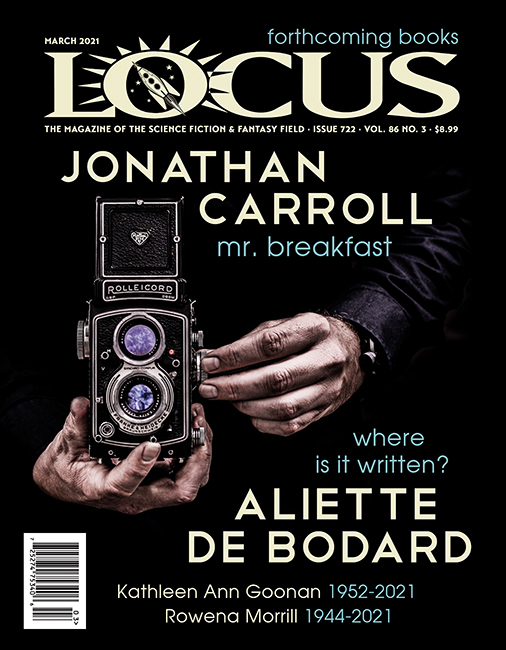 Just a very quick post to draw your attention to the latest issue of Locus Magazine: Jonathan Carroll and Aliette de Bodard are the lead interviews! The issue is out now.
In addition to his published work, and publishing in the time of COVID, Jonathan Carroll discusses his latest novel: MR. BREAKFAST, which has already been published in Italy and Poland…
It's a kind of a combination of Borges's 'Garden of Forking Paths' and that film Sliding Doors. In so many cases, so many people's lives would have been profoundly different if they'd taken a little step to the left or to the right. We don't think about that, because we're so fixed on right now and this moment…
Aliette de Bodard discusses her published work — which includes, most recently, FIREHEART TIGER (Tor.com) — and also the importance of parent-child relationships in fiction, and the desire to break the moulds of certain story tropes and frameworks.
Now I think, 'You know what? Where is it written that a story has to work that way?' I read a book that suggested putting 'Where is it written?' in front of everything you think is a given. If you can pull it off, you can do anything.
The March 2021 issue of Locus Magazine is out now.