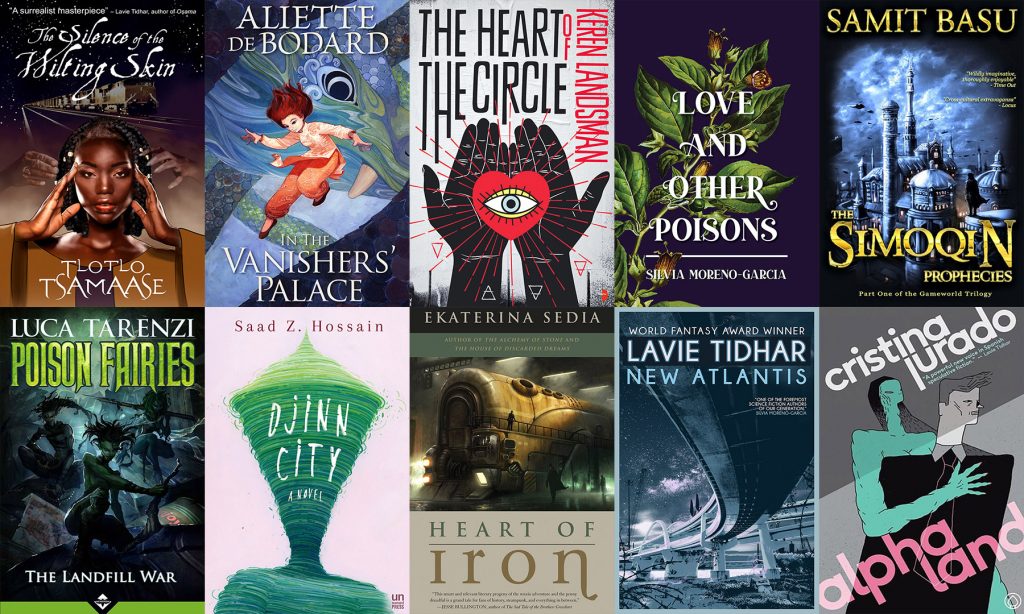 In case you missed its announcement yesterday: Lavie Tidhar has launched The World SF 3 Bundle! Curated by Lavie, it not only helps highlight SFF talent from around the world, but proceeds also go to a good cause. Here's what Lavie had to say about the bundle…
I'm delighted to be launching a third World SF bundle in what I can only hope is by now an annual tradition. In the midst of some extraordinary turmoil across the globe, it takes writers from all corners of the Earth to weave profound new truths out of fantasies and paint new futures out of difficult pasts and turbulent presents.
The writers here come from Botswana and Bangladesh; Russia, Italy and France; Mexico, Spain, Israel and India. They are all of them fantastic, and I couldn't be happier sharing their work with you.
It shouldn't need saying, and yet it does: Black Lives Matter. I couldn't think of a better match for this bundle than to partner up with the African Speculative Fiction Society and associated Nommo Awards for our chosen charity. The ASFS is an organization of African writers, editors, comic and graphic artists and filmmakers in the fields of speculative fiction. As spokesperson (and fantastic author) Chinelo Onwualu says on the society site, it's there to "provide a place where writers, readers, and scholars can come together to find information, connect with each other, and act as watchdogs for their collective interests."
For StoryBundle, you decide what price you want to pay. For $5 (or more, if you're feeling generous), you'll get the basic bundle of four books in any ebook format—WORLDWIDE…
The Silence of the Wilting Skin by Tlotlo Tsamaase
Love and Other Poisons by Silvia Moreno-Garcia
IN THE VANISHERS' PALACE by Aliette de Bodard (the critically-acclaimed novella!)
The Heart of the Circle by Keren Landsman
If you pay at least the bonus price of just $15, you get all four of the regular books, plus six additional books…
The Simoqin Prophecies by Samit Basu
Djinn City by Saad Z. Hossain
Poison Fairies by Luca Tarenzi
NEW ATLANTIS by Lavie Tidhar (with a gorgeous cover by Sarah Anne Langton)
Alphaland by Cristina Jurado
Heart of Iron by Ekaterina Sedia
This bundle is available only for a limited time via StoryBundle — where you can also find more information about each of the titles included in the two bundle tiers. It allows easy reading on computers, smartphones, and tablets as well as Kindle and other eReaders via file transfer, email, and other methods. You get multiple DRM-free formats (.epub, .mobi) for all books.
The bundle will be available until August 1st.