Lavie Tidhar's award-winning, critically-acclaimed novel A MAN LIES DREAMING is out today in Japan! Published by 竹書房 (Takeshobo) as 黒き微睡みの囚人, here's the synopsis…
私立探偵ウルフ。ドイツで総統になるはずだった男。
作家ショーマー。アウシュヴィッツで総統の夢を見る男。
かつてウルフはドイツで有力な政治家だった。
しかし、"大転落"と呼ばれる政変が起こり、
権力を失った彼は、ロンドンに逃れ私立探偵をしていた。
ユダヤ人嫌いのウルフだが、金のためにユダヤ人女性の行方を探すことになり、
さらに娼婦連続殺人事件にも巻き込まれてしまう。
そして調査を進めるうちにウルフは
元同志たちが暗躍するイギリスの暗部へと足を踏み入れる。
時間と場所を隔てた別の世界。
アウシュヴィッツで、作家が夢を見ていた。
自分から、ユダヤ人から、すべてを奪ったあの男の夢を。
夢の中では男は私立探偵をしていた――。
ひとから想像力を奪うことはできない。
だが、すべてを奪われ想像力だけが残されたとき、それはひとに何をもたらすのか。
ホロコーストを新たな視点で描いた、歴史改変奇想ノワール。
A MAN LIES DREAMING, which won the Jerwood Fiction Uncovered Award, is published in the UK by Hodder (where it is currently on sale in eBook), and in the US by Melville House. The novel has also been published in a number of translated editions. Here's the English-language synopsis…
Deep in the heart of history's most infamous concentration camp, a man lies dreaming. His name is Shomer, and before the war he was a pulp fiction author. Now, to escape the brutal reality of life in Auschwitz, Shomer spends his nights imagining another world – a world where a disgraced former dictator now known only as Wolf ekes out a miserable existence as a low-rent PI in London's grimiest streets.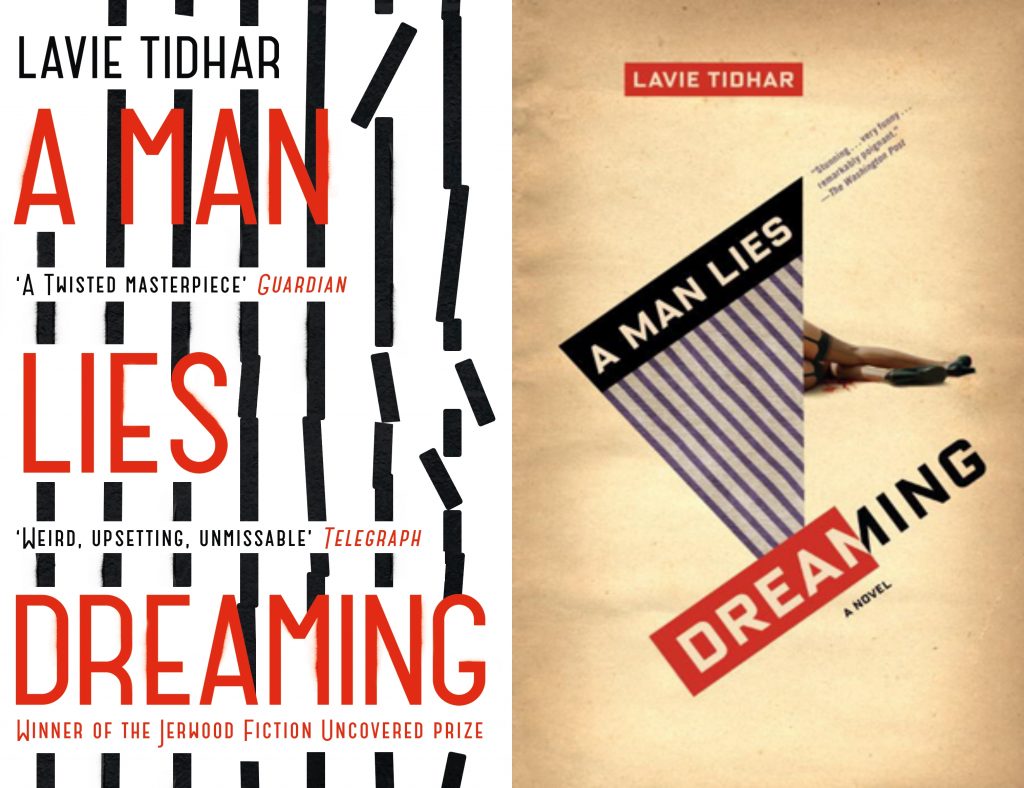 Here, too, is just a small selection of the critical acclaim the novel has received since it was first published in 2014…
'Wild, noir-infused alternative history from genre-bender Tidhar… A wholly original Holocaust story: as outlandish as it is poignant.' — Kirkus (Starred Review)
'Set during the election of a demagogue who battens on the fears of an underemployed populace threatened by thousands of foreign-born refugees, A MAN LIES DREAMING feels disturbingly prescient. Tidhar holds up a mirror not just to Wolf, but to ourselves. In doing so, he reminds us that even — especially — under the most terrible of circumstances, stories are all we have. And in the right hands, they can be a formidable weapon.' — Washington Post
'This is a shocking book as well as a rather brilliant one… Tidhar's novel treats its grim theme not as a comedy, although there is plenty of caustic humour, but instead as a pulp-noir tale of seamy city streets, gumshoes and lowlifes… Tidhar gets the outre tone just right… Tidhar, who cut his teeth in the world of genre SF, understands how eloquent pulp can be… Like Tarantino, Tidhar may find that some people don't take him seriously. But the joke's on them. Seriousness is the least of it: A MAN LIES DREAMING is a twisted masterpiece.' — Guardian
'Everything in this genre-bender works; intriguing historical characters are worked into expertly managed plots, and the visceral noir atmosphere is juxtaposed nicely against the drawing-room world of London's political scene.' — Booklist (Starred Review)
'A Chandler-esque mystery… a jarring tale of a grim, gray alternative world… Seldom will readers come across fantasy as well conceived and well written as this exceptional novel.' — Library Journal (Starred Review)
'…savagely funny… A MAN LIES DREAMING, by the Israeli-born novelist Lavie Tidhar, has not been published with the fanfare bestowed on Martin Amis's The Zone of Interest or Howard Jacobson's J, but it is their equal for savage humour… Those who enjoy laughter in the dark will relish Tidhar's parade of mordant ironies… This novel is weird, upsetting, unmissable.' 5* — Telegraph
'When Tidhar writes of the Holocaust it is with brutal accuracy and a deep sensitivity… it's poetic and terrible… Many will find elements of this story deeply disturbing, not the least of which is a possible sympathy to Wolf… To top it all of course is Tidhar's voice itself — at times humorous, at times grim but never frivolous and always taught and controlled… As with his previous novels, Tidhar knows how to say a great deal in very little. There is eloquence and gravitas in the sparseness and brevity of noir fiction when it is good, and Tidhar's is quite incredible.' — Tor.com
'No one can accuse Lavie Tidhar of being risk-averse… Tidhar reveals – as he did earlier in OSAMA and to some extent in THE VIOLENT CENTURY – that he's really less interested in the mechanistic ''what-ifs'' of conventional alternate history than he is in the interpenetration of real and in­vented histories, or perhaps more grandiosely in the interpenetration of art and life – even the often-demeaned art of sensational fiction or (as in the case of THE VIOLENT CENTURY) comic books. This is what makes him such an interesting writer, and what makes A MAN LIES DREAMING quite a bit more complex than it at first appears… the novel is not without a fair amount of humor, and that might well be the boldest risk Tidhar is taking here…' — Locus
Lavie's latest novels are UNHOLY LAND and CENTRAL STATION (published by Tachyon Publications) and his first book for younger readers, CANDY (published by Scholastic).