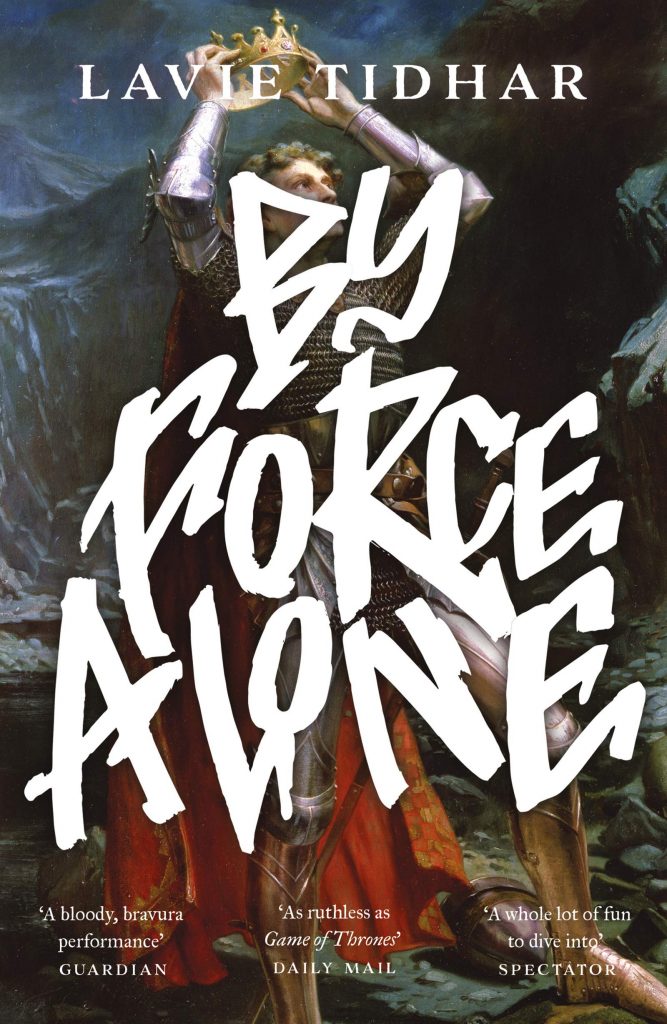 Lavie Tidhar's critically-acclaimed BY FORCE ALONE — a gritty, superb retelling of the King Arthur myth — is out today in a new UK paperback edition! Published by Head of Zeus, here's the synopsis…
There is a legend…
Britannia, AD 535
The Romans have gone. While their libraries smoulder, roads decay and cities crumble, men with swords pick over civilisation's carcass, slaughtering and being slaughtered in turn.
This is the story of just such a man. Like the others, he had a sword. He slew until slain. Unlike the others, we remember him. We remember King Arthur.
This is the story of a land neither green nor pleasant. An eldritch isle of deep forest and dark fell haunted by swaithes, boggarts and tod-lowries, Robin-Goodfellows and Jenny Greenteeths, and predators of rarer appetite yet.
This is the story of a legend forged from a pack of self-serving, turd-gilding, weasel-worded lies told to justify foul deeds and ill-gotten gains.
This is the story – viscerally entertaining, ominously subversive and poetically profane – of a Dark Age myth that shaped a nation.
Here are just a few of the (many) great reviews the novel has received so far…
'Uther is a chancer and a shagger… [Arthur] is ruthless in pursuit of power… His Lancelot… is a ninja warrior, his Guinevere a killer — the writer is clearly having fun… Tidhar never lands direct political punches… but the very tone and shape of the book are a reminder that we need to treat national myths with caution… this is a novel that demands your attention and proves that sometimes when a writer has the audacity to revisit stories that others would avoid for fear of over-familiarity, they can steal the power of the oldest tales.' — SFX (4.5*/5)
'The novel is a bloody, bravura performance, which Tidhar pulls off with graphic imagery and modern vernacular… a salutary antidote to the more romantic glossings of recent modern fantasy.' — Guardian
'Tidhar's previous work is filled to the brim with new and interesting takes on history and myth, and the results are always mesmerising. And of course, he's taken something that's been done way too many times and found a way to make it look new and interesting while still keeping its classic appeal… some truly staggering writing… if you're looking for a new take on King Arthur and chums, then check this out.' — Starburst
'Sometimes while reading a Lavie Tidhar novel, there comes a point when you feel like he's grabbed the wheel, grinning as he drives you aggressively into oncoming traffic and somehow pulls off moves that by all rights ought to be fatal… BY FORCE ALONE – a phrase that recurs like a mantra throughout the narrative, reminding us that power is never really a matter of heritage or destiny – serves as a reminder that Arthur is a moveable feast, infinitely adaptable even to the era of Brexit and Trump. If Tidhar's version seems pretty bleak, even as its endless inventiveness makes it undeniably exhilarating, that may simply be a reflection of where we all find ourselves these days.' — Locus (Gary K. Wolfe)
'Tidhar saturates this epic adventure with profanity, dark humor, sword-sharp twists, and unexpected moments of pathos. Readers who hold King Arthur dear to their hearts will be gratified by Tidhar's attention to detail amidst the innovation. This dark, imaginative take on a classic is sure to impress.' — Publishers Weekly
'… with his latest novel, BY FORCE ALONE, Tidhar takes a mythology the English hold dear, the legend of King Arthur, and goes to town with it… BY FORCE ALONE is a jolt of pure entertainment, a brilliant, revisionist blend of magic, crime syndicates and Kung-fu knights.' — Locus (Ian Mond)
'Lavie Tidhar's BY FORCE ALONE gives us an Arthur for the Brexit era: A tyrant in lieu of a king, brute violence in lieu of gallant feats, undisguised venality in lieu of chivalric ideals. This is the Matter of Britain become the Matter with Britain… For all the bleakness and cynicism of his story, Tidhar's profligate invention makes BY FORCE ALONE a joy… Lavie Tidhar's joke on the Matter of Britain is a great one. And if the laughter catches in your throat, that just means you've been paying attention to the book, and to the world.' — Tor.com
'BY FORCE ALONE is a joyous rush of a novel, sweeping up everything from grimdark to gangster films to kung fu to Russian science fiction in its wake, and somehow pulling them together into a coherent whole that critiques Britain's toxic self-image and the lineage of the Fantasy genre itself… BY FORCE ALONE shows the power and playfulness of Tidhar's imagination, as he uses pop culture to make us confront grim political reality, all whilst having a whale of a time. It is this that makes him one of today's most essential and unpredictable writers.' — Fantasy Hive
'[An] extraordinary and vivid retelling of our national myth. Gritty revisionism is supercharged by the supernatural… rich and breakneck narrative… As eclectic as the Sword In The Stone and as ruthless as A Game Of Thrones, this retelling of the whole Arthurian Legend stands alongside the very best.' — Daily Mail
'Tidhar's latest fantasy is a ferocious and often very funny reinvention of the King Arthur myth, taking in references from Tolkien to Brexit.' — I News
'BY FORCE ALONE does … bold things with genre, rewriting the King Arthur legend through a mash up of horror, fantasy, history and black comedy. The narrative voice is deadly serious but there's a strong undercurrent of gleefulness to the profanity, violence and otherworldly magic that makes BY FORCE ALONE a whole lot of fun to dive into.' — Spectator (Five Unmissable Summer Reads)
'Drawing on everything from wushu movies to The Wire by way of Tarkovsky and Tarantino, BY FORCE ALONE is wild, surprising and entertaining, and a hugely immersive read.' — M.R. Carey
'A twisted Arthur retelling mixing the historical and the magical with a very modern eye. Brutal and vicious, funny, Peaky Blinders of the Round Table.' — Adrian Tchaikovsky
'Profane, hilarious, brutal… kills as both sheer entertainment and canny political statement. To my fellow writers: the Arthurian Revision category is now closed. Take your ball and go home.' — Daryl Gregory
'Tidhar turns King Arthur's court into a gangster's paradise, full of wheelings and dealings, and true grit. If the tale didn't go down like this, it should have.' — Silvia Moreno-Garcia
The novel is published in North America by Tor Books (hardcover edition out now, paperback due in May).