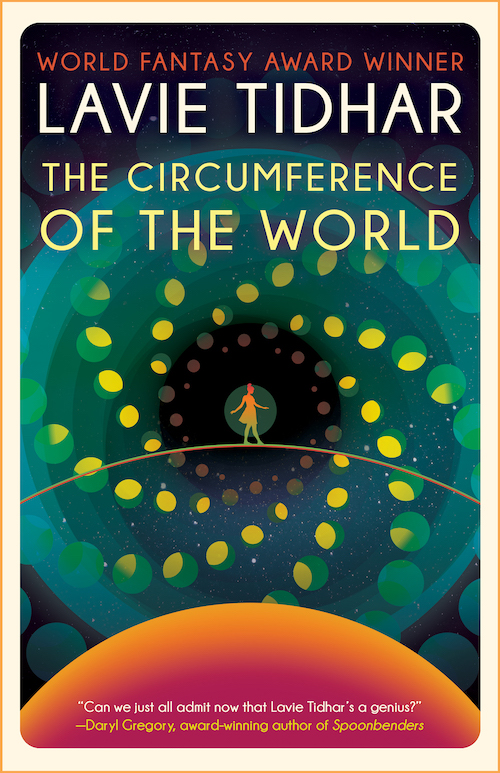 To celebrate the upcoming release of THE CIRCUMFERENCE OF THE WORLD, Lavie Tidhar is going on a UK book tour! Before we get to the dates, though, here's the synopsis for the novel:
Caught between realities, a mathematician, a book dealer, and a mobster desperately seek a notorious book that disappears upon being read. Only the author, a rakish sci-fi writer, knows whether his popular novel is truthful or a hoax. In a story that is cosmic, inventive, and sly, multi-award-winning author Lavie Tidhar (Central Station) travels from the emergence of life to the very ends of the universe.
Delia Welegtabit discovered two things during her childhood on a South Pacific island: her love for mathematics and a novel that isn't supposed to exist. But the elusive book proves unexpectedly dangerous. Oskar Lens, a science fiction-obsessed mobster in the midst of an existential crisis, will stop at nothing to find the novel. After Delia's husband Levi goes missing, she seeks help from Daniel Chase, a young, face-blind book dealer.
The infamous novel Lode Stars was written by the infamous Eugene Charles Hartley: legendary pulp science-fiction writer and founder of the Church of the All-Seeing Eyes. In Hartley's novel, a doppelganger of Delia searches for her missing father in a strange star system. But is any of Lode Stars real? Was Hartley a cynical conman on a quest for wealth and immortality, creating a religion he did not believe in? Or was he a visionary who truly discovered the secrets of the universe?
And here are the tour dates (some event links aren't yet available)…
August 19th — 2.30-3:30pm — Twickenham Library, Garfield Road, Twickenham, TW1 3JT — tickets £3.
September 5th — 6.00pm-7.30pm — Hammersmith Library, Shepherds Bush Rd, London W6 7AT
September 10th — 2:00-3:00pm — ReadFest 2023: An Afternoon with Lavie Tidhar, followed by signing event — Barking Learning Centre, 2 Town Square Barking Learning Centre, Barking IG11 7NB (Also available Online

)

September 12th — 6:30pm — Croydon Central Library, Katharine Street, Croydon, CR9 1ET
September 13th — 6:30-7:30pm — Aberdeenshire Libraries in Scotland, virtual event
September 14th — Charing Cross Library, 4-6 Charing Cross Road, London WC2H 0HP
September 16th — 3:00pm — The Regency Bookshop in Surbiton/Kingston Tudor Drive Libraries
September 21st — 6:30-7:30pm — Havering Hornchurch Library, 44 North St, Hornchurch, RM11 1TB — followed by book signing
October 3rd – Los Angeles Public Library, virtual event
October 10th — London's Super Relaxed Fantasy Club Bookseller, All Good Bookshop on Turnpike Lane
THE CIRCUMFERENCE OF THE WORLD is due to be published by Tachyon Publications, on September 5th.