The audiobook edition of Lavie Tidhar's acclaimed NEOM is out now! Published by Dreamscape, and narrated by Rasha Zamamiri, here's the synopsis…
Today, Neom is a utopian dream — a megacity of the future yet to be built in the Saudi desert. In this deeply imaginative novel from the award-winning universe of Central Station, far-future Neom is already old. Sentient machines roam the desert searching for purpose, works of art can be more deadly than weapons, and the spark of a long-overdue revolution is in the wind. Only the rekindling of an impossible love affair may slow the inevitable sands of time.
The city known as Neom is many things to many beings, human or otherwise. It is a tech wonderland for the rich and beautiful, an urban sprawl along the Red Sea, and a port of call between Earth and the stars.
In the desert, young orphan Elias has joined a caravan, hoping to earn his passage off-world. But the desert is full of mechanical artefacts, some unexplained and some unexploded. Recently, a wry, unnamed robot has unearthed one of the region's biggest mysteries: the vestiges of a golden man.
In Neom, childhood affection is rekindling between loyal shurta-officer Nasir and hardworking flower-seller Mariam. But Nasu, a deadly terrorartist, has come to the city with missing memories and unfinished business. Just one robot can change a city's destiny with a single rose — especially when that robot is in search of lost love.
Lavie Tidhar's newest lushly immersive novel, Neom, which includes a guide to the Central Station universe, is at turns gritty, comedic, transportive, and fascinatingly plausible.
Set in the same world as the award-winning CENTRAL STATION, NEOM is published by Tachyon Publications.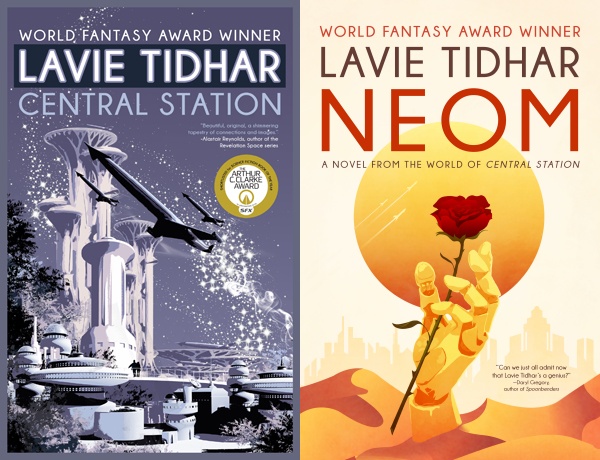 Here are just a few of the great reviews NEOM has received so far…
'World Fantasy Award winner Tidhar takes readers back to the fascinating far-future world of 2016's CENTRAL STATION in this gentle narrative about self-fulfillment and one robot's quest to reunite with a lost love… Tidhar offers a heartfelt exploration of artificially intelligent beings' struggles to find existential meaning while being restrained by both coding and form. Fans of literary sci-fi are sure to be enchanted by the imaginative worldbuilding and tenderly wrought characters.' — Publishers Weekly
'Tidhar's narrative takes on a gentle, ruminative air, and while that helps establish the atmosphere of a convincing, lived-in city, veteran SF readers will also find plenty of playful and affectionate Easter eggs… Neom easily joins the list of SF cities we'd like to visit.' — Locus
'[A] delight­ful jour­ney through a fan­ta­sy of out­er space and a future Mid­dle East. Tidhar's world con­tains lik­able char­ac­ters who work togeth­er (some­times acci­den­tal­ly, some­times begrudg­ing­ly) to tell a sto­ry full of adven­ture, mys­tery, hope, and love… Tid­har writes sci­ence fic­tion with real-world par­al­lels and comedic tim­ing, if also a bit of a ten­den­cy toward hope­ful romanticism… NEOM is a won­der­ful read for any lover of sci­ence fic­tion. For some­one who has not yet vis­it­ed the world of CENTRAL STATION — Tidhar's nov­el from 2016 — it is easy to catch on to the col­lo­qui­alisms and cus­toms of the sto­ry uni­verse. But after read­ing NEOM, new Tid­har fans will sure­ly want to go back for more.' — Jewish Book Council
'Extraordinary and compassionate.' – Foreword (starred review)
'… hauntingly beautiful… Written in a straightforward but luminous style… NEOM is a treasure… a compelling chapter in this future history that reflects so much about who we are and the basic things we yearn for.' — SciFi Mind
'This is Tidhar at his best: the crazily proliferating imagination, the textures, the ideas, the dazzling storytelling. A brilliant portrait of community and its possibilities.' — Adam Roberts, author of Purgatory Mount
Lavie's latest novel is MAROR, published by Head of Zeus (out now).