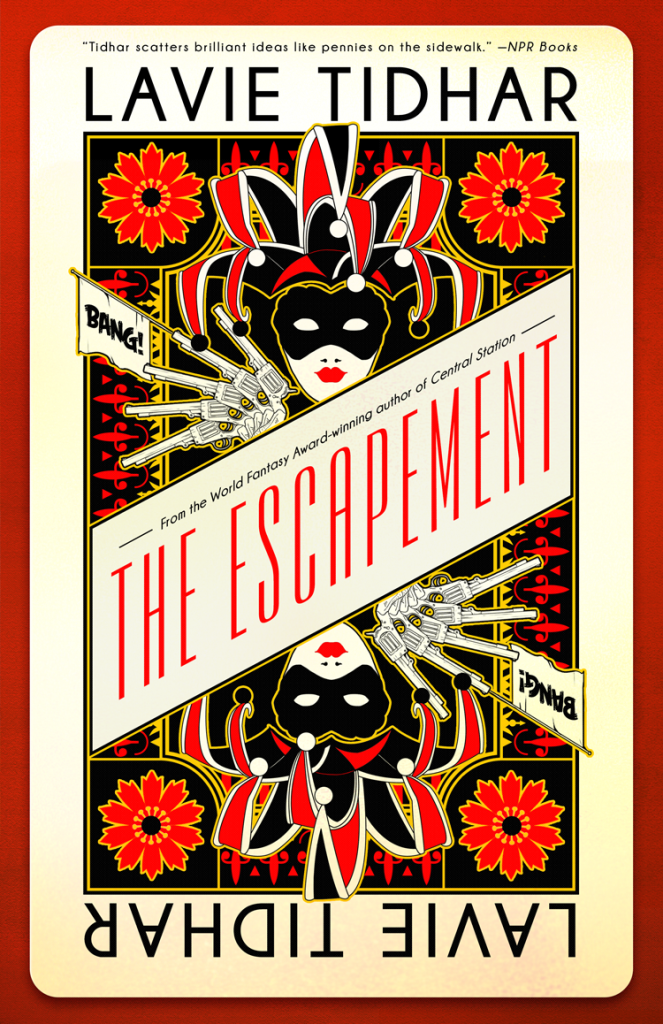 Lavie Tidhar's latest novel, THE ESCAPEMENT is available everywhere from tomorrow! Published last week in North America, fans in Europe can now get their hands on the author's latest adventure. Published by Tachyon Publications, here's the synopsis…
In this dazzling new novel evoking Westerns, surrealism, epic fantasy, mythology, and circus extravaganzas, World Fantasy Award winner Lavie Tidhar (Central Station) has created an incomparable dreamscape of dark comedy, heartbreak, hope, and adventure. Chronicling a lone man's quest in parallel worlds, The Escapement offers the archetypal darkness of Stephen King's The Gunslinger within the dark whimsy of a child's imagination.
Into the Escapement rides the Stranger, a lone gunman on a quest to rescue his son in a strange parallel reality. But it is easy to lose one's way on an endlessly shifting, unpredictable landscape. Especially in a place full of dangerous mirror-images of a child's beloved things: lawless heroes, giants made of stone, downtrodden clowns, spectacular symbol storms, and an endless war between gods and shadowy beings.
As the Stranger has learned, the Escapement is a dreamscape of deep mysteries, unlikely allies, and unwinnable battles. Yet the flower the he seeks still lies beyond the Mountains of Darkness. Time is running out as the Stranger journeys deeper into the secret heart of an unimaginable world.
In his most compelling work to date, Lavie Tidhar has delivered a multicolored tapestry of dazzling imagery. The Escapement is an epic, wildly original chronicle of the extraordinary lengths to which one will go for love.
Want to give the book a try before you buy? Check out this excerpt, over on Tor.com.
Tachyon Publications has also published Lavie's award winning novels CENTRAL STATION, UNHOLY LAND, and THE VIOLENT CENTURY.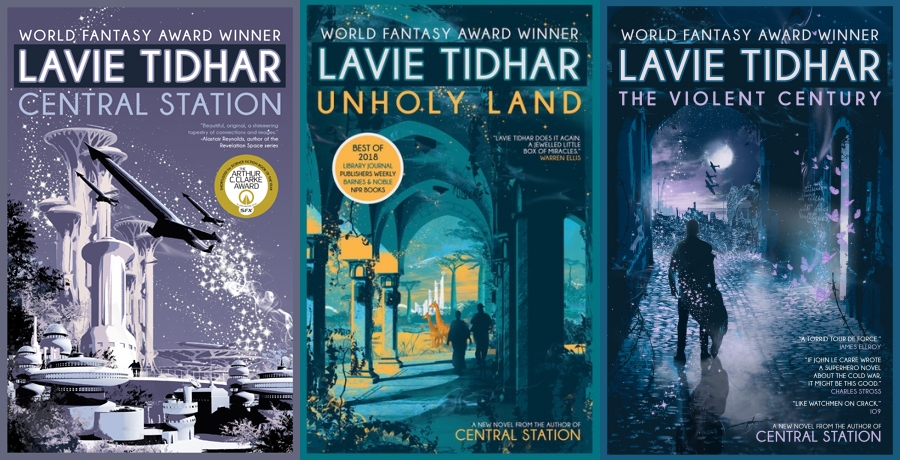 Here are just a few of the great reviews THE ESCAPEMENT has received so far…
A delightfully cacophonous novel, teeming with character… Tidhar's latest offering transports readers to a liminal otherworld of spaghetti Western pastiche… The author draws from an eclectic mix of sources to create a dazzling story that is more than the sum of its parts, and much of the fun of reading it comes from recognizing its homages.' — Kirkus
'[F]uriously inventive and wildly eclectic… Among the most visual and even cinematic of Tidhar's novels… it's also, in the end, a surprisingly touching reminder of how such quests can begin in heartache.' — Locus (Gary K. Wolfe)
'Dazzling… Those who enter THE ESCAPEMENT should strap themselves in for horrors and wonders galore. Filled with contorted fairy tales, myths, and familiar stories, Lavie Tidhar's latest novel is both a fantastical diversion and a moving articulation of deep parental love.' — Foreword
'To say THE ESCAPEMENT is unique sells it way short. It's part weird western and part quest; half dream and half epic adventure tale set in a memorable Daliesque landscape. Tidhar lets his imagination run wild in this vivid book, all told in spare, beautiful prose. Also, there are clowns. Lots of clowns.' — Richard Kadrey, bestselling author of the Sandman Slim series
'THE ESCAPEMENT is absorbing, bizarre, haunting, and compelling. Lavie Tidhar continues to shatter the boundaries of literary and genre fiction with a novel that is equal parts horrifying dreamscape and an affecting meditation on parental love. There are a lot of books out there, but this is an experience.' — David Liss, author of The Peculiarities
'The Man With No Name travels through an impossibly alien world peopled by brutalized clowns, superhuman bounty hunters, and titanic monsters indifferent to human suffering—although being a Lavie Tidhar book, there's a step beyond the main story that I'll avoid revealing. A blurb from me being at worst harmless, I will comment for the record that 'Tidhar's brand of surreal pulp continues to be one of the few truly distinctive voices in genre fiction.' — Daniel Polansky
'Can we just all admit now that Lavie Tidhar's a genius? He's written another brilliant book-a beautiful fever dream that somehow manages to be laugh-out-loud funny, psychedelically weird, and deeply moving.' — Daryl Gregory
'With THE ESCAPEMENT, Lavie Tidhar fearlessly crests the wave of the New New Weird with a wild, decadent hybrid of The Dark Tower and Carnivale. A vivid beach read, if the beach was made of greasepaint and gunpowder.' — Catherynne M. Valente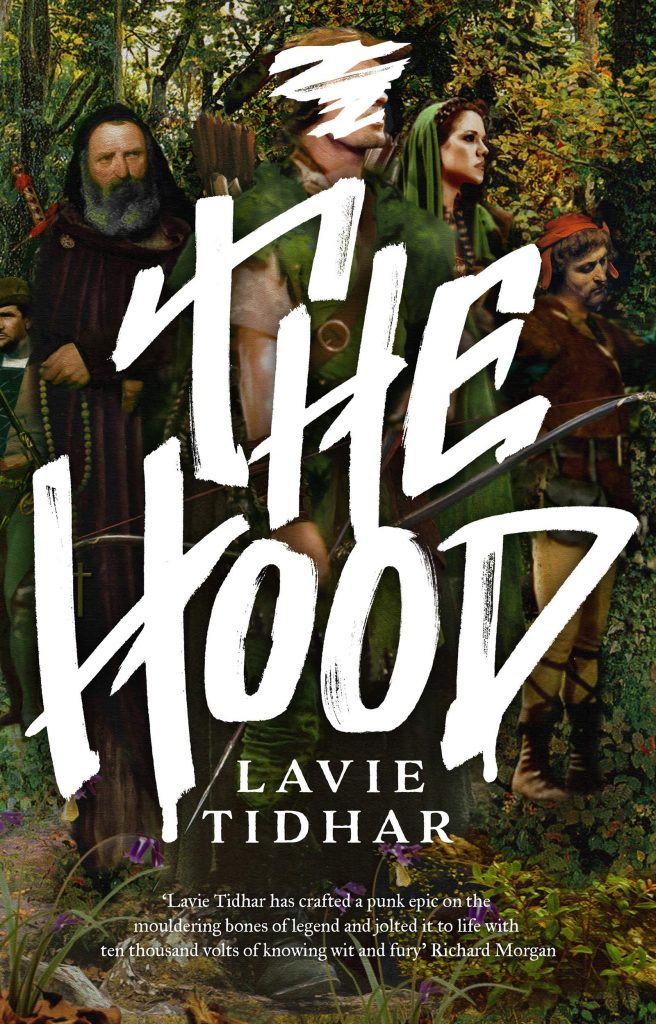 In further great news, there's not long to wait for Lavie's next novel: THE HOOD is due to be published by Head of Zeus next week (October 13th)! The second novel in the author's Anti-Matter of Britain Quartet ('a viscerally entertaining, ominously subversive and poetically profane remixing of the myths and legends that shaped our nation'), here's the synopsis…
God bless you, England, on this glorious Year of Our Lord, 1145.
Don't cross the Templars. Everybody knows that. But Will Scarlett, back from the crusades, hopped up on khat and cider, did. Stabbed thrice in the belly but somehow still alive, he's heading home to Nottingham.
And things are not right in Nottingham.
It's the wood, you see. Sherwood. Ice-age ancient, impenetrable, hiding a dark and secret heart. As the ancient sages say, If you go into the woods today, you may not come out tomorrow, and the person who comes out may not be you…
The Hood is Lavie Tidhar's narcotic remix of an ancient English myth, a tale knotted from legends lost to time, shredded and restitched for each passing century. A tale for today.