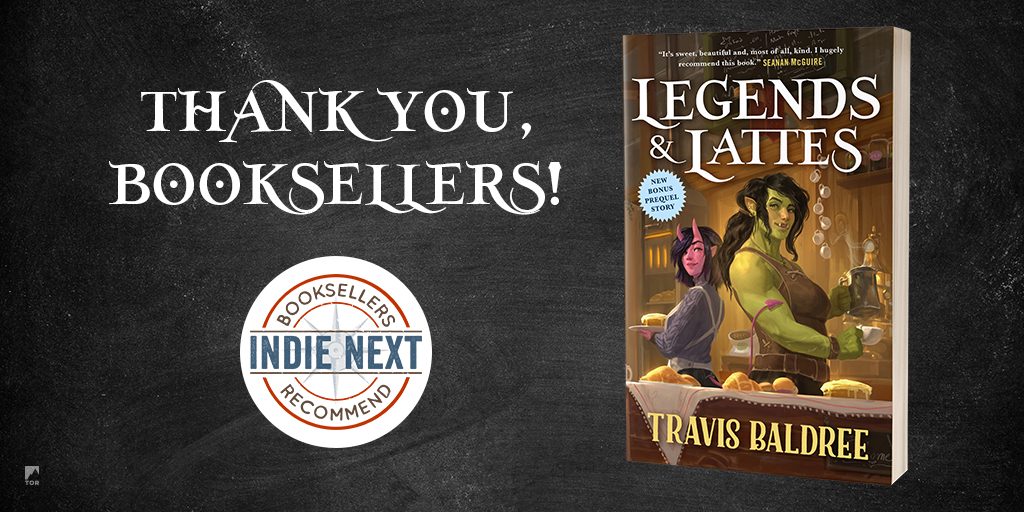 We're very happy to report that Travis Baldree's acclaimed debut fantasy, LEGENDS & LATTES has been selected as an Indie Next List recommended read for November!
The novel will be published by Tor Books in North America and in the UK — on November 8th and 10th, respectively.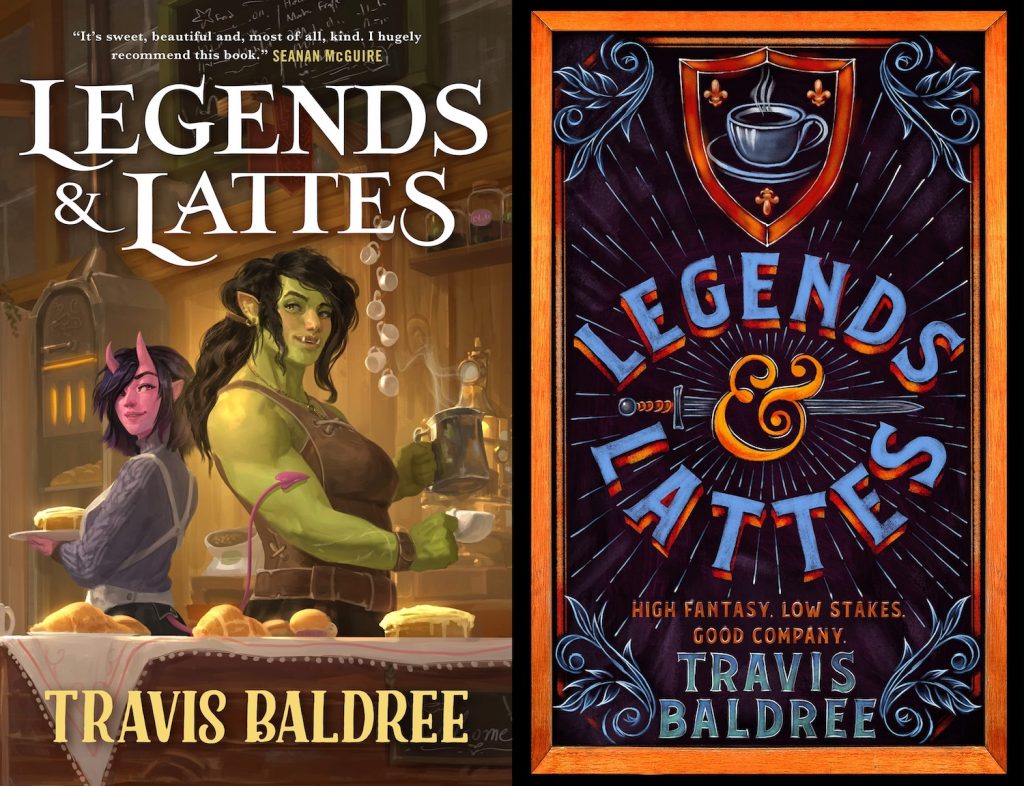 Here's the synopsis…
Come take a load off at Viv's cafe, the first & only coffee shop in Thune. Grand opening!
Worn out after decades of packing steel and raising hell, Viv, the orc barbarian, cashes out of the warrior's life with one final score. A forgotten legend, a fabled artifact, and an unreasonable amount of hope lead her to the streets of Thune, where she plans to open the first coffee shop the city has ever seen.
However, her dreams of a fresh start filling mugs instead of swinging swords are hardly a sure bet. Old frenemies and Thune's shady underbelly may just upset her plans. To finally build something that will last, Viv will need some new partners, and a different kind of resolve.
The new, North American paperback edition will include a very special, never-before-seen bonus story: PAGES TO FILL.
The novel has been enjoying a veritable flood of praise in the run up to its publication. Here are just a few of the great reviews the novel has received so far…
'This is a story about following your dreams, even when they take you away from who you thought you had to be. It's sweet, beautiful and, most of all, kind. I hugely recommend this book.' — Seanan McGuire, New York Times bestselling author of Every Heart A Doorway
'LEGENDS & LATTES is a uniquely beautiful book. Its cast of endearing characters have no interest at all in killing one another. There is no Great Evil, no bloody battles, and yet the pillars of great fantasy — resilience, fellowship, and a desire to make the world a better place — are all here. It's wonderfully wholesome, and I hope heralds the rise of a 'slice-of-life' sub-genre in modern fantasy.' — Nicholas Eames, author of Kings of the Wyld
"Take a break from epic battles and saving the world. LEGENDS & LATTES is a low-stakes fantasy that delivers exactly what's advertised: a wholesome, cozy novel that feels like a warm hug. This is my new comfort read.' — Genevieve Gornichec, author of The Witch's Heart

'LEGENDS & LATTES is a big-hearted story about the small things in life. A lovingly written ode to the genre, it is a must-read for every D&D player who has ever wondered what happens after "happily ever after."' — Cassandra Khaw, USA Today bestselling author
'A stunningly-well done story at every level' — Fantasy Faction
'I loved LEGENDS & LATTES and I have literally nothing bad to say about it… a warm hug on a cold day. Written with care and attention, Baldree's delicate touch and vibrant characters make this story shine… Books have their own kind of magic. LEGENDS & LATTES was positively enchanting.' — Bookworm Blues
'LEGENDS & LATTES reads like a fresh cup of coffee. The novel radiates the same sort of rich warmth you feel in your belly after a sip of a freshly brewed latte. That feeling sticks throughout, making for a refreshing and cozy tale worth your time… If you're into cozy fantasy, or you just want a break from the epic subgenre, LEGENDS & LATTES is for you.' — Quill to Live
'A story of friendship and found family that is nothing less than heartwarming.' — Novel Approach
'Deserves the hype' — FanFiAddict