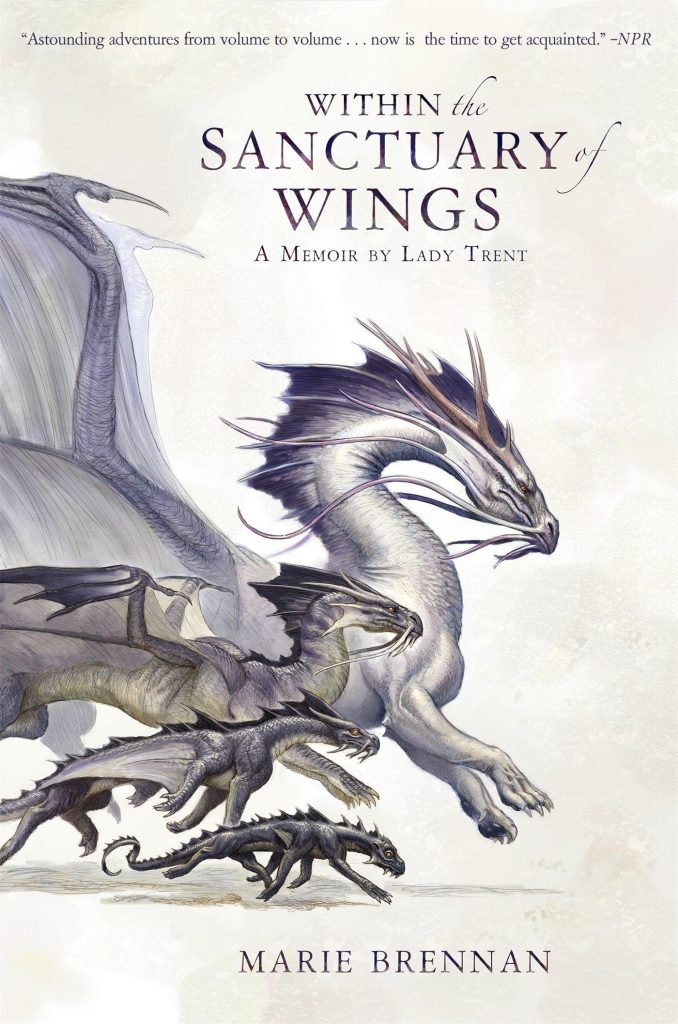 The final volume in Marie Brennan's fan-favourite, critically-acclaimed Memoirs of Lady Trent is out today! Published in the UK by Titan Books, here's the synopsis for WITHIN THE SANCTUARY OF WINGS…
The conclusion to the thrilling memoirs of Lady Isabella Trent and her legacy of dragon evolutionary research and anthropological adventures
After nearly five decades (and, indeed, the same number of volumes), one might think they were well-acquainted with the Lady Isabella Trent — dragon naturalist, scandalous explorer, and perhaps as infamous for her company and feats of daring as she is famous for her discoveries and additions to the scientific field.
And yet–after her initial adventure in the mountains of Vystrana, and her exploits in the depths of war-torn Eriga, to the high seas aboard The Basilisk, and then to the inhospitable deserts of Akhia — the Lady Trent has captivated hearts along with fierce minds. This concluding volume will finally reveal the truths behind her most notorious adventure — scaling the tallest peak in the world, buried behind the territory of Scirland's enemies — and what she discovered there, within the Sanctuary of Wings.
Here are just a couple of the early reviews the novel has received…
'Brennan delights with this fifth and final memoir… Lady Trent is the perfect heroine for this history-flavored fantasy romp.' — Publishers Weekly
'A thoroughly absorbing conclusion to this refreshingly different and consistently intriguing pentalogy.' — Kirkus (Starred Review)
The first four novels in the series are also published in the UK by Titan: A NATURAL HISTORY OF DRAGONS, THE TROPIC OF SERPENTS, VOYAGE OF THE BASILISK and IN THE LABYRINTH OF DRAKES. The first novel in the series is currently part of Amazon UK's Kindle Monthly Deal.

Titan recently re-issued Brennan's Onyx Court urban fantasy series in the UK: MIDNIGHT NEVER COME, IN ASHES LIE, A STAR SHALL FALL, and WITH FATE CONSPIRE.

Zeno represents Marie Brennan in the UK and Commonwealth, on behalf of the JABberwocky Literary Agency in New York.