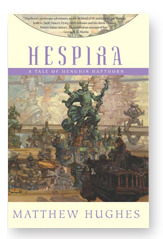 I finally got round to adding a Zeno author page for Matthew Hughes (sorry it took so long, Matt!), but my timing is fortuitous, for I bring news of a wondrous Matthew Hughes related give-away – one which I am seriously wanting to win all for myself!
To celebrate the release of the third of Night Shade Books' Hengis Hapthorn novels, HESPIRA, the publisher  are giving away two complete sets of these books in a competition over at Fantasy Book Critic. There are other wonderful items in the prize fund too – not least *slipcased editions* of Subterranean's SONGS OF A DYING EARTH (signed by all the contributors) in which Matt has a story, plus TEMPLATE and POSTSCRIPTS 15 both published by PS Publishing (again, these are signed copies).
To enter follow this link to Fantasy Book Critic and follow the instructions. the competition closes on February 24, 2010 – 11:59AM PST.
Good luck!