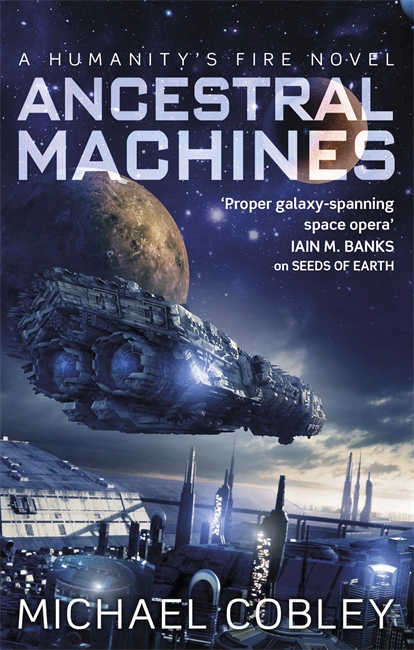 Michael Cobley's fourth novel in his critically-acclaimed Humanity's Fire series is out today in the UK, in mass-market paperback! Published by Orbit Books, ANCESTRAL MACHINES is a stand-alone story. Here's the synopsis…
The Warcage is a feat of unprecedented stellar engineering: two hundred worlds harnessed to an artificial sun. Built to travel through space as a monument to peace between alien species, its voracious rulers have turned it into a nightmarish wasteland, capturing new planets for slaves and resources, then discarding the old.
Now, when a verdant agri-world is pulled out of its orbit and a deal goes bad, it is up to the captain of a smuggling ship to journey into the Warcage and rescue his crew.
The novel is also published in the US by Orbit Books. The first three novels in the series, a connected trilogy, are also published by Orbit Books (in the UK and US): SEEDS OF EARTH, THE ORPHANED WORLDS, and THE ASCENDANT STARS.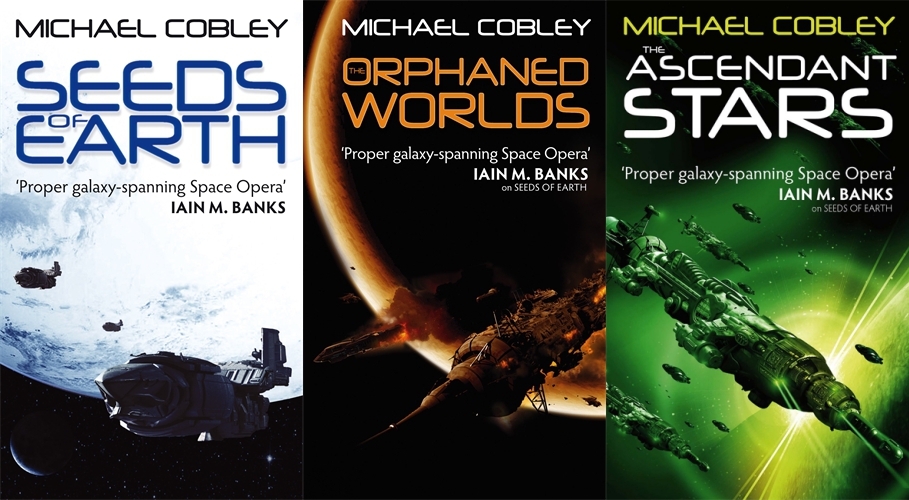 Here's just a small selection of reviews the series has received…
'There's a grand tradition within SF of galaxy-wide, aeon-spanning scenarios, with escalating magnitudes of scale and concomitant ramping up of narrative tension, and Michael Cobley's Humanity's Fire series is the latest example… Cobley excels at presenting his thoroughly lived-in future with a slew of technological marvels and an engaging cast of characters.' — Guardian on ANCESTRAL MACHINES
'Cobley wastes no time in flaunting his honed, merciless skills… Cobley is taking the techniques pioneered by van Vogt, Charles Harness and other bold visionaries and ramping them up for a purely twenty-first-century kind of SF that others such as Paul McAuley, Iain Banks and Ken MacLeod have hitherto essayed… Cobley takes all these characters, plus others, and pushes them along a non-stop, unrelenting, madcap set of adventures. The brio and joy of this storytelling is contagious. Here is a space opera which unashamedly honors the roots of the genre while expanding the remit of the mode… A predominant feature of Cobley's storytelling is an exuberant humor, a kind of high spirits that is exactly the opposite of so much of the ultra-serious gravitas seen in other space operas… If you want a rousing space adventure full of sense of wonder that is also ideationally challenging, then you need look no further than ANCESTRAL MACHINES.'  —  Locus
'If you want some solid sci-fi with cracking, fully-rounded characters backed up with solid prose alongside dialogue in fairly dark future, then Michael's Humanity's Fire series has probably already been on your radar for quite some time… a book that has cracking action, quirky humour as well as people that you really care about. Back this up with a cracking overall arc makes this perhaps the best book set in this world for me. Magic.' — Falcata Times on ANCESTRAL MACHINES
'An absolute cracker of a space opera, fast-paced despite being over 400 pages… the larger scale exciting the imagination, the personal scale keeping it nicely relatable, with characters we genuinely care about.'  —  Forbidden Planet on ANCESTRAL MACHINES
'Cobley's debut, first published in the U.K. in 2009, is a well-constructed space opera with a sense of vast scope, populated with an array of beautifully differentiated intelligences both organic and artificial… this is a thick and satisfying 10-course meal of starchy pageantry, meaty characters, bitter losses, and sweet romance.' — Publishers Weekly on SEEDS OF EARTH
'The story is huge, complex and moves between its varied cast with assured purpose… a tightly plotted, action packed epic that leaves you wanting more.' — SciFi Now on SEEDS OF EARTH
'Fast and exciting… an excellent middle book in the trilogy, expanding on SEEDS OF EARTH and setting everything in place for a thrilling conclusion.' — Waterstone's Book Quarterly on THE ORPHANED WORLDS
'Cobley writes energetic space opera, rarely dallying with sentiment and mostly assaulting the reader with exotic locations and sudden skirmishes. There are joyous moments of invention but overall there's too much going on… Fortunately, as the saga progresses, THE ORPHANED WORLDS begins knotting some of the threads together – it still feels like an over-shaken can of fizzy diet Banks…' — SFX
'THE ASCENDANT STARS is the culminating book in the Humanity's Fire trilogy, a space opera of mind-bending depth and scope which sets complexly thought-out alien races and chilling cyborg armies against humans riven by competing political philosophies and agendas. The result is a marvellously readable examination of people under extreme stress, a convincing depiction of startlingly alien aliens, and a mature political analysis often lacking in the genre. Cobley expertly juggles multiple plot-lines and brings them to thematically satisfying conclusions while providing the landmark trilogy with a thrilling finale.' — Guardian