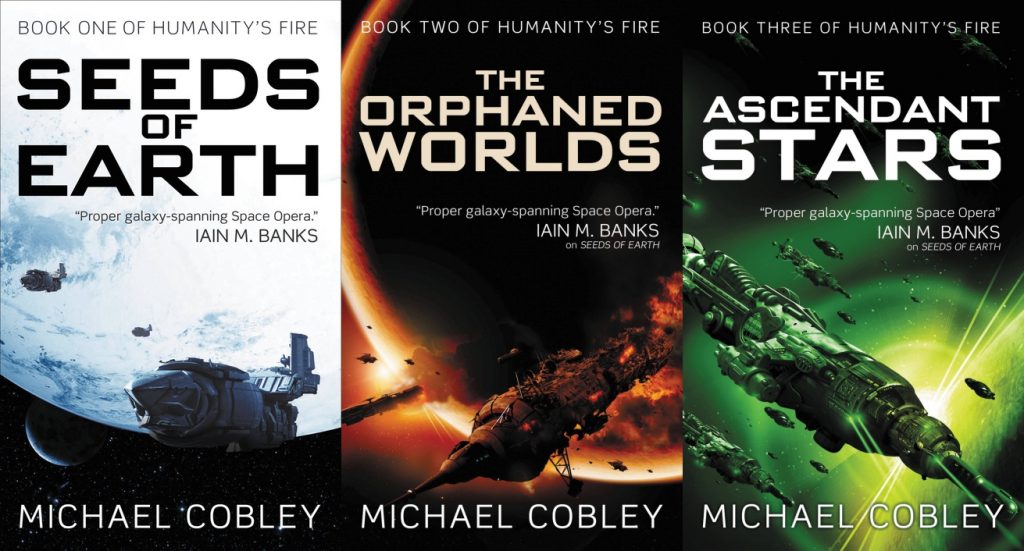 The first three novels in Michael Cobley's critically-acclaimed Humanity's Fire series are currently on sale in the US! The novels — SEEDS OF EARTH, THE ORPHANED WORLDS and THE ASCENDANT STARS — are included in Barnes & Noble's 2-for-3 paperback sale. The sale will continue until September 5th.
The three novels are published by Orbit Books in the US (and UK). Here's the synopsis for SEEDS OF EARTH…
Merciless. Relentless. Unstoppable.
The first intelligent species to encounter mankind attacked without warning. Merciless. Relentless. Unstoppable. With little hope of halting the invasion, Earth's last roll of the dice was to dispatch three colony ships, seeds of Earth, to different parts of the galaxy. The human race would live on… somewhere.
150 years later, the planet Darien hosts a thriving human settlement, which enjoys a peaceful relationship with an indigenous race, the scholarly Uvovo. But there are secrets buried on Darien's forest moon. Secrets that go back to an apocalyptic battle fought between ancient races at the dawn of galactic civilization. Unknown to its colonists, Darien is about to become the focus of an intergalactic power struggle where the true stakes are beyond their comprehension. And what choices will the Uvovo make when their true nature is revealed and the skies grow dark with the enemy?
Here are some of the great reviews the novels have received…
'There's a grand tradition within SF of galaxy-wide, aeon-spanning scenarios, with escalating magnitudes of scale and concomitant ramping up of narrative tension, and Michael Cobley's Humanity's Fire series is the latest example… Cobley excels at presenting his thoroughly lived-in future with a slew of technological marvels and an engaging cast of characters.' — Guardian
'Cobley's debut, first published in the U.K. in 2009, is a well-constructed space opera with a sense of vast scope, populated with an array of beautifully differentiated intelligences both organic and artificial… this is a thick and satisfying 10-course meal of starchy pageantry, meaty characters, bitter losses, and sweet romance.' — Publishers Weekly on SEEDS OF EARTH
'The story is huge, complex and moves between its varied cast with assured purpose… a tightly plotted, action packed epic that leaves you wanting more.' — SciFi Now on SEEDS OF EARTH
'Cobley writes energetic space opera, rarely dallying with sentiment and mostly assaulting the reader with exotic locations and sudden skirmishes. There are joyous moments of invention but overall there's too much going on… Fortunately, as the saga progresses, THE ORPHANED WORLDS begins knotting some of the threads together – it still feels like an over-shaken can of fizzy diet Banks…' — SFX
'Fast and exciting… an excellent middle book in the trilogy, expanding on SEEDS OF EARTH and setting everything in place for a thrilling conclusion.' — Waterstone's Book Quaterly on THE ORPHANED WORLDS
'THE ASCENDANT STARS is the culminating book in the Humanity's Fire trilogy, a space opera of mind-bending depth and scope which sets complexly thought-out alien races and chilling cyborg armies against humans riven by competing political philosophies and agendas. The result is a marvellously readable examination of people under extreme stress, a convincing depiction of startlingly alien aliens, and a mature political analysis often lacking in the genre. Cobley expertly juggles multiple plot-lines and brings them to thematically satisfying conclusions while providing the landmark trilogy with a thrilling finale.' — Guardian
The fourth, stand-alone novel in the series, ANCESTRAL MACHINES, was published earlier this year, also by Orbit Books.
Michael's first trilogy, the grimdark fantasy Shadowkings series, is available in eBook.