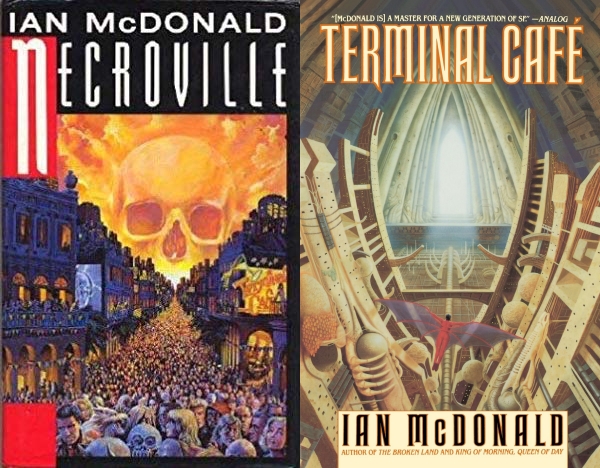 This month marks quite the amazing milestone: Ian McDonald's NECROVILLE was first published 25 years ago! The novel was published in 1994 by Gollancz (UK), and by Spectra (US) as TERMINAL CAFÉ. Both of the first covers are above. Here's the synopsis…
In the Los Angeles ghetto of Necroville, the yearly celebration of the Night of the Dead – where the dead are resurrected through the miracle of nanotechnology and live their second lives as non-citizens – becomes a journey of discovery and revelation for five individuals on the run from their pasts.
With his customary flair for making the bizarre both credible and fascinating, McDonald tosses aside the line of demarcation between living and dead in a story that confronts the central quandary of human existence: the essence of non-being.
The novel is still available in the UK, published by Gollancz.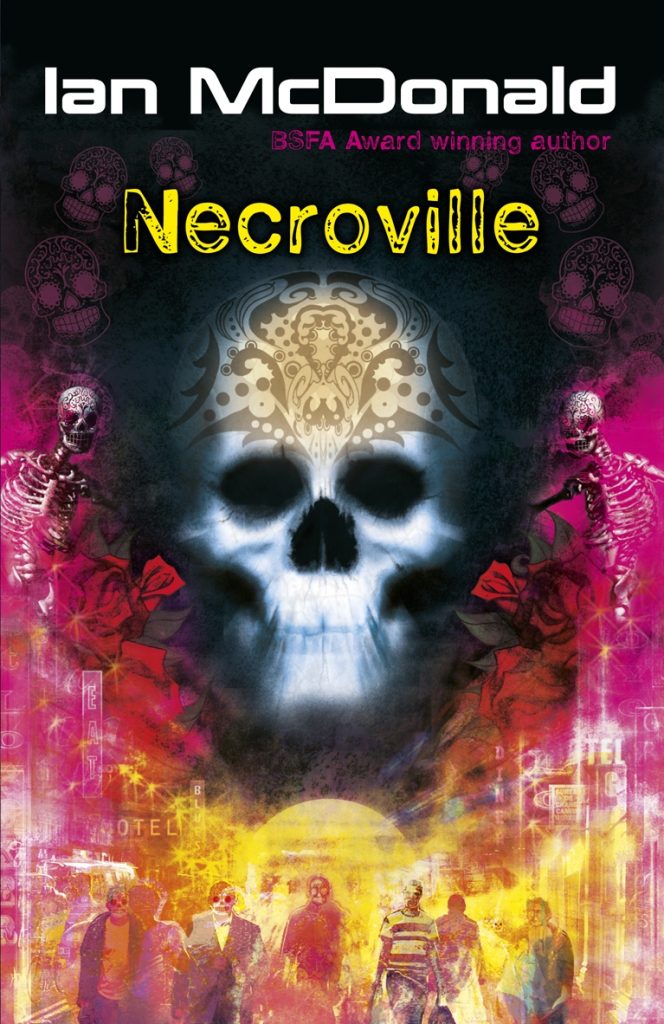 The BSFA Award-nominated novel was met with some great reviews when it was first published. Unfortunately, because the internet wasn't a thing, yet, it makes it a little difficult to find good pull-quotes. We do have a few, though…
'McDonald's lush prose paints a vivid and credible Armageddon. World-building SF that's punk, funky, and frightening: a fantastic acid trip to the end of the world.' — Kirkus
'McDonald, who won the Philip K. Dick Award for KING OF THE MORNING QUEEN OF THE DAY, reveals the workings of his bizarre society through the exploits of five friends as they search for the meaning of life in the Necroville at Los Angeles on the Night of the Dead. Sorting through five points of view requires some patience, but it is well rewarded. In the best science fiction tradition, McDonald provokes reexamination of current societal standards through the prism of another time and place.' — Publishers Weekly
'McDonald revels in the creation of brilliantly described near-futures and lushly exotic settings, and has more ideas in a book than most writers dream up in a lifetime. Here death is no more: the dead are reborn thanks to nanotechnology in Jesus-tanks and decanted into "techtoplastic" bodies. Drug-designer Santiago Columbar invites his friends to join him in the Terminal café in the suburb of LA known as Necroville, and in the resulting free-wheeling, mind-spinning novel we follow the friends as they travel to meet him, encountering genetically engineered dinosaurs, undead prostitutes, werewolves and an invasion of Earth by resurrected space workers. In Necroville, decay sits next to fabulous invention, terrible privation next to limitless possibility. The book…offers a graphic dystopian vision.' — Guardian
For those who prefer their books delivered as audiobooks, the novel is also available via Audible, narrated by Christopher Ragland.
The novel has also been published in translation in a number of territories, including Germany where it is published by Heyne.