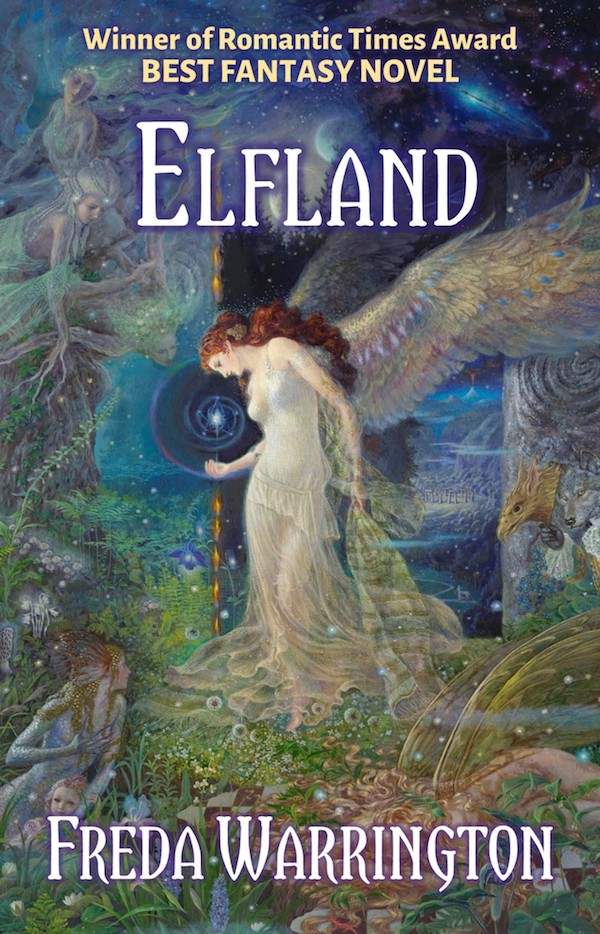 We're very happy to report that the first two novels in Freda Warrington's Aetherial Tales fantasy series are available again as eBooks! Published in the UK and US via JABberwocky's eBook Program, here are some more details…
The first novel in the series is ELFLAND, first published in 2009. Here's the synopsis…
Rosie Fox is a daughter of Aetherials, an ancient race from the Spiral — the innermost realm of the Otherworld — who live secretly among us. Yet she and her kind are bereft of their origins, because on Earth, in a beautiful village named Cloudcroft, the Great Gates between worlds stand sealed.
Her parents, Auberon and Jessica, are the warm heart of her loving family. But on the hill lives the mysterious, aloof Lawrence Wilder, Gatekeeper to the inner realms. Tortured by private demons, he is beset by trouble on all sides; his wife has vanished and his sons Jon and Sam are bitter and damaged. Lawrence is duty-bound to throw open the Gates for the Night of the Summer Stars, a ritual granting Aetherials connection to their mystical heritage. But when he bars the Gates — haunted by fears of a deadly menace within the Spiral — he defies tradition and enrages the Aetherial community. What will become of them, starved of their essential life force? Is Lawrence betraying them — or protecting them?
Growing up amid this turmoil, Rosie and her brothers, along with Sam and Jon Wilder, resign themselves to living as humans. Yet they know their elders have denied them their birth right, harbouring dark secrets in a conspiracy of silence.
When Sam is imprisoned for an all-too-human crime, age-old wounds sunder the two families… yet Rosie is drawn into his web, even as she fears the passions awoken in her by the dangerous Wilder clan. Torn between duty and desire, between worlds, Rosie unwittingly precipitates a tragedy that compels her to journey into the Otherworld, where unknown terrors await. Accompanied by the one man most perilous to her, she must learn hard lessons about life and love in order to understand her Aetherial nature… and her role in the terrifying conflict to come.
Here are some links for ordering the eBook…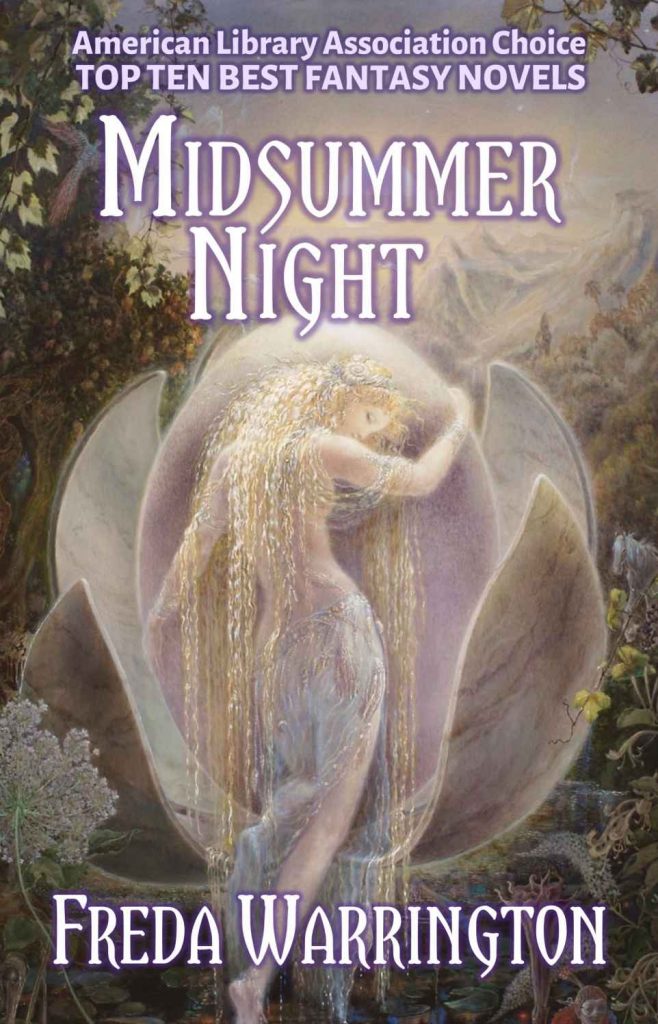 First published in 2010, here's the synopsis for MIDSUMMER NIGHT…
A century may not be enough to undo the terrible consequences of one fateful night's mischief.
Decades ago, at the remote Cairndonan estate on a storm-lashed coastline where the veil between our world and the Aetherial realm is thin, Juliana Flagg's uncle – a young man called Adam – vanished in mysterious circumstances. Now Dame Juliana, a visionary artist, has inherited Cairndonan where she sculpts and runs a summer art school. However, all is not well, as she is plagued by ghosts, money troubles and her sinister ex-husband.
A young athlete named Gill arrives to rent a cottage on the estate, in order to escape her own problems; a monstrous betrayal and an accident have destroyed her Olympic hopes. Now all Gill wants is solitude, but soon she's entangled with the mischievous, flamboyant artist Peta, the creepy manservant Ned Badger and other residents of the great house – not least Juliana herself.
One day Gill wanders into a strange village called Boundry that appears on no map. There she meets the seductive Rufus and his equally attractive but silent, brooding companion, Leith. The encounter leaves her unsettled. Soon after, during a violent storm, Leith comes through the portal in a state of distress and begs shelter at Gill's cottage. Though he can explain nothing of his past, his innocence and charm capture her heart. But Leith becomes the focus of increasingly vicious arguments among the estate's residents. Who is he – and who is the charismatic, cruel Rufus who claims to be his brother? Are these two young men as innocent as they seem – or are they poised to visit vengeance, death and heartbreak upon the human world?
Gill, aided by Peta, stumbles into ever-greater danger as she tries to untangle the mysteries of Cairndonan's past. But only when Dame Juliana finally dares to reveal Midsummer Night – the sinister, haunted sculpture to which she's devoted years of her life – will the full storm break loose at last.
Here are some links for ordering the eBook…
The third novel in the series, GRAIL OF THE SUMMER STARS, will also be available via JABberwocky, and we'll be sure to share information on that as soon as we can. Here are just a few of the reviews these novels have received…
'A glittering treasure trove and a stunning read for Warrington's multitude of fans.' — Tanith Lee
'Sensuous and intense – buy it, read it, love it.' — Melanie Rawn
'ELFLAND is an absorbing and gripping journey into a world where the otherworldly shivers alongside us, unseen… Sensitive characterisation and evocative scene-setting draw you into the tale; you won't want to leave it.' — Storm Constantine
'A heady cocktail of urban fantasy and wild romance, invigorating and intoxicating. Warrington's writing has lyrical beauty, and her characters are a delight to discover.' — Justina Robson, author of GLORIOUS ANGELS
'Romantic in every sense, richly imagined and richly told, ELFLAND is a complex fantasy of the heart, the faerie heart; and it's a delight. Immediately engaging and intensely satisfying, this is a class act from a fine writer.' — Chaz Brenchley
'Warrington doesn't miss a beat with this sinister, ghostly tale of some of the darker aspects of the Aetherial world and its denizens' dealings with humanity.' — Publishers Weekly
'Each book is a stand-alone volume and an absolute delight.' — Charles de Lint
'With its elegant but not over-the-top flowery prose, immersive setting, well-developed characters, natural dialogue and mystery-filled plot, it has left me eager for more Aetherial Tales.' — Fantasy Café
'A powerful sense of wild landscape and strong characterization, plus a resonance of ancient magic, make MIDSUMMER NIGHT a truly compelling read.' — Liz Williams
'Delicate as gossamer, rich as darkest chocolate, MIDSUMMER NIGHT is a delicious, delectable, ravishing concoction of a book that fills the senses and satisfies the dreaming mind.' — Kari Sperring, author of LIVING WITH GHOSTS
Freda is also the author of the acclaimed Blood Wine series, published in the UK and North America by Titan Books: A TASTE OF BLOOD WINE, A DANCE IN BLOOD VELVET, THE DARK BLOOD OF POPPIES, and THE DARK ARTS OF BLOOD.
The Aetherial Tales, Blood Wine, Blackbird, Jewelfire and Dark Cathedral novels are also available as audiobooks, from Audible.