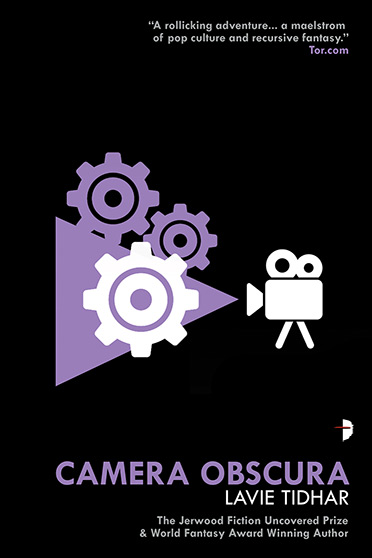 Today, Angry Robot Books release the new edition of Lavie Tidhar's critically-acclaimed CAMERA OBSCURA! It is the second novel in the Bookman Histories steampunk series. Here's the synopsis…
In the last decade of a 19th century unlike our own, Milady de Winter is called to the scene of an impossible crime. A gruesome murder on the Rue Morgue sets her against a ghostly serial killer, and on a voyage that leads from the catacombs of Paris to the wonders of the New World – where new horrors lie in wait.
In Camera Obscura, World Fantasy Award winner Lavie Tidhar combines the Victorian penny dreadful with exploitation cinema to create a wide-screen thriller of redemption: complete with mad scientists, secret societies, Shaolin monks and figures liberally borrowed from the literature of the era – as only he can.
Extra! Extra! Read all about it! For the first time, the 2016 edition also includes 'Titanic', a short story from the Lost Files of the Bookman Histories.
The new edition was also released in the US, on Tuesday. Angry Robot re-issued the first novel, THE BOOKMAN, back in June; the final novel in the series, THE GREAT GAME, is due to be re-issued in October 2016. CAMERA OBSCURA was nominated for both the Sidewise and Airship Awards, when it was first released. Here's just a small selection of reviews the novel has received…
'A rollicking adventure…a maelstrom of pop culture and recursive fantasy.' — Tor.com
'The reader certainly suffers along with the character. At the same time, the characters never cease to be fascinating and I found myself intrigued by the settings, which become characters in themselves. From the underwater squid-like dwellings of Scab to the Little China of Paris, each location is richly detailed, dripping with nuances and characters which bring it to life. It's easy to feel 'there' along with Milady throughout her journey.' — SF Signal
'Superb.' — Fantasy Book Critic
'Achieves moments of surprising depth and beauty, with real insights into human history and psychology as well as the immense and varied wealth of writing in the last half of the 19th century. It's a virtuoso performance.' — Locus Magazine
Lavie is also the author of the World Fantasy Award-winning OSAMA (PS Publishing), the Jerwood Fiction Uncovered Award-winning A MAN LIES DREAMING (Hodder UK/Melville House US), and the critically-acclaimed THE VIOLENT CENTURY (Hodder UK/Thomas Dunne US) and CENTRAL STATION (Tachyon Publications).