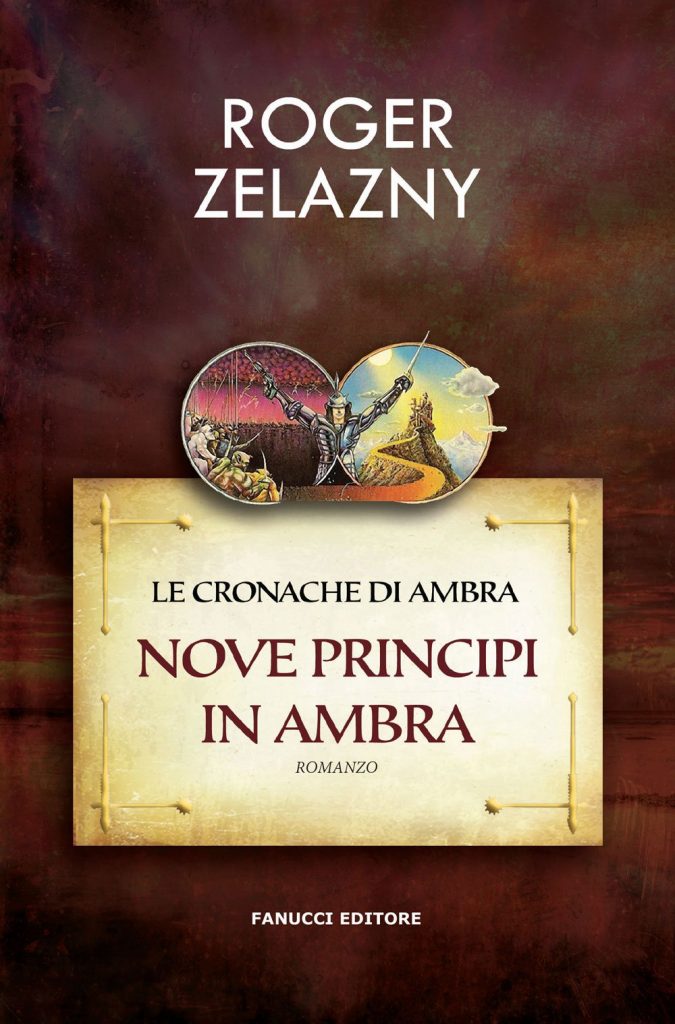 A new paperback edition of NINE PRINCES IN AMBER is available now. The first in Roger Zelazny's classic Chronicles of Amber fantasy series, it's published by Fanucci as NOVE PRINCIPI IN AMBRA. Here's the synopsis…
Chi è l'uomo che giace ferito in un letto d'ospedale? Conosce il suo passato? Sa qual è il destino a lui riservato in un mondo lontano, che un tempo gli apparteneva? Esiliato per secoli nel mondo delle Ombre, il principe Corwin sta per fare ritorno ad Ambra, il mondo perfetto e al contempo sinistro, l'universo dal quale tutti gli altri sono stati generati, per l'ultimo, disperato tentativo di riconquistare ¡1 trono che un tempo gli spettava. Dalla foresta di Arden fino alla Scala per Arbma che sale dal mare, macchiata dal sangue di eroi caduti, il dominio di Eric, Random, Bleys, Caine e degli altri principi distende sui popoli una coltre di oppressione. È su di loro che Corwin dovrà avere la meglio, ma il suo cammino è ostacolato da entità sfuggenti, inquietanti, inimmaginabili, forze insondabili forgiate nel fuoco del terrore, le uniche in grado di resistere all'impeto del principe e alla sua furia sovrumana. Il primo capitolo di un viaggio fantastico ed eroico, l'epopea della riconquista di un mondo e della propria eredità.
The first five novels in the series are available in Italy in eBook format, too. NINE PRINCES IN AMBER was first published in 1970, and has since been made published widely in translation. Here's the English-language synopsis…
Awakening in an Earth hospital unable to remember who he is or where he came from, Corwin is amazed to learn that he is one of the sons of Oberon, King of Amber, and is the rightful successor to the crown in a parallel world.
Amber, the one real world, wherein all others, including our own Earth, are but Shadows. Amber burns in Corwin's blood. Exiled on Shadow Earth for centuries, the prince is about to return to Amber to make a mad and desperate rush upon the throne. From Arden to the blood-slippery Stairway into the Sea, the air is electrified with the powers of Eric, Random, Bleys, Caine, and all the princes of Amber whom Corwin must overcome. Yet, his savage path is blocked and guarded by eerie structures beyond imagining; impossible realities forged by demonic assassins and staggering horrors to challenge the might of Corwin's superhuman fury.
Zeno represents Roger Zelazny in Translation, on behalf of the Zelazny Estate.