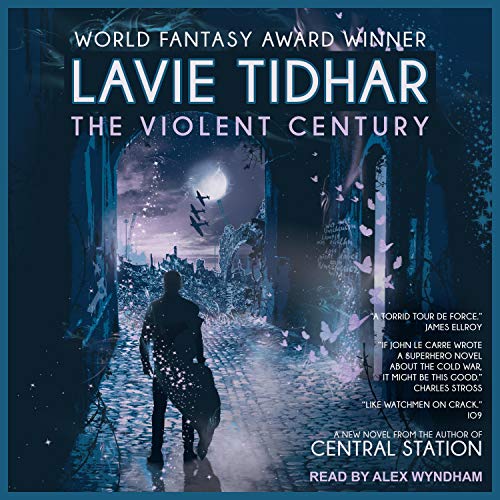 There are new North American audiobook editions of Lavie Tidhar's acclaimed novels THE VIOLENT CENTURY and A MAN LIES DREAMING available now! Published by Tantor Media, here are some details…
Published in print and eBook by Tachyon Publications, THE VIOLENT CENTURY is a superb reimagining of history if superheroes had been employed by global governments since World War II. The audiobook is narrated by Alex Wyndham. Here's the synopsis…
A bold experiment has mutated a small fraction of humanity. Nations race to harness the gifted, putting them to increasingly dark ends. At the dawn of global war, flashy American superheroes square off against sinister Germans and dissolute Russians. Increasingly depraved scientists conduct despicable research in the name of victory.
British agents Fogg and Oblivion, recalled to the Retirement Bureau, have kept a treacherous secret for over forty years. But all heroes must choose when to join the fray, and to whom their allegiance is owed—even for just one perfect summer's day.
'A brilliantly etched phantasmagoric reconfiguring of that most sizzling of eras – the twilight 20th…  This book has it all:  time travel, political intrigue, hellacious history…  You've got superheroes in the guise of regular humans, you've got World War II … THE VIOLENT CENTURY is a torrid tour de force!' — James Ellroy
'Vintage Lavie, and also I think his most fully accomplished novel yet. Nobody rides that fast-rolling wave separating schlocky pulp and serious literary sensibilities so deftly as Tidhar. He manages to make serious points about the benighted twentieth-century and its obsession with 'supermen' without ever letting the narrative slacken or the adventure pale. If Nietzche had written an X-Men storyline whilst high on mescaline, it might have read something like THE VIOLENT CENTURY.' — Adam Roberts, author of Jack Glass
'Tidhar folds up history, translating fiction into reality and back, presenting it to the reader like a closely guarded secret… THE VIOLENT CENTURY ruminates on the concept of the superhero—a term which never appears in the novel—by pondering the question of heroism itself… a brilliant novel of ideas.' — Barnes & Noble Sci-Fi & Fantasy Blog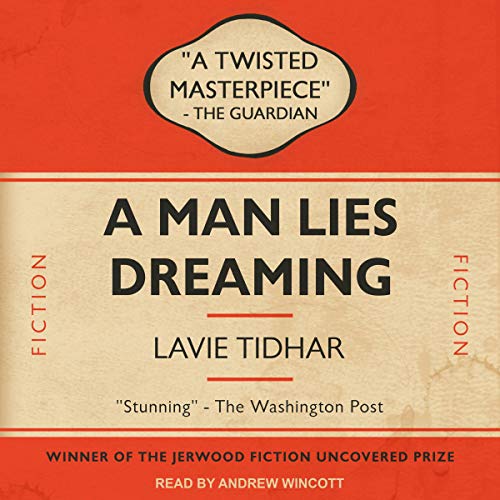 The Jerwood Fiction Uncovered Award-winning A MAN LIES DREAMING is published in North America by JABberwocky, and has been recently re-issued in the UK by Head of Zeus…
Since its original 2014 publication, A Man Lies Dreaming has been translated into multiple languages and gained a cult following for its dark humor, prescient politics, and powerful exploration of the impossibility of fantasy.
1939: Adolf Hitler, fallen from power, seeks refuge in a London engulfed in the throes of a very British Fascism. Now eking a miserable living as a down-at-heels private eye and calling himself Wolf, he has no choice but to take on the case of a glamorous Jewish heiress whose sister went missing.
It's a decision Wolf will very shortly regret.
For in another time and place a man lies dreaming: Shomer, once a Yiddish pulp writer, who dreams lurid tales of revenge in the hell that is Auschwitz.
Prescient, darkly funny, and wholly original, the award-winning A Man Lies Dreaming is a modern fable for our time that comes "crashing through the door of literature like Sam Spade with a .38 in his hand" (Guardian).
'Wild, noir-infused alternative history from genre-bender Tidhar… A wholly original Holocaust story: as outlandish as it is poignant.' — Kirkus (Starred Review)
'…savagely funny… A MAN LIES DREAMING, by the Israeli-born novelist Lavie Tidhar, has not been published with the fanfare bestowed on Martin Amis's The Zone of Interest or Howard Jacobson's J, but it is their equal for savage humour… Those who enjoy laughter in the dark will relish Tidhar's parade of mordant ironies… This novel is weird, upsetting, unmissable.' 5* — Telegraph
'No one can accuse Lavie Tidhar of being risk-averse… Tidhar reveals – as he did earlier in OSAMA and to some extent in THE VIOLENT CENTURY – that he's really less interested in the mechanistic ''what-ifs'' of conventional alternate history than he is in the interpenetration of real and in­vented histories, or perhaps more grandiosely in the interpenetration of art and life – even the often-demeaned art of sensational fiction or (as in the case of THE VIOLENT CENTURY) comic books. This is what makes him such an interesting writer, and what makes A MAN LIES DREAMING quite a bit more complex than it at first appears… the novel is not without a fair amount of humor, and that might well be the boldest risk Tidhar is taking here…' — Locus
'The best book I read last year is A MAN LIES DREAMING by Lavie Tidhar, a form of fictional historiography based on a' what if 'principle. I love that, if it is done well and intelligently… It sounds ridiculous and it has certainly been written down with a great sense of irony, but at the same time it is so cleverly constructed and such a spectacular conclusion unfolds that you are going to take it all very seriously.' — Sting (yes, that one) to Volksrant