We're delighted to announce that two of Ian McDonald's backlist series and a short story collection are in the process of being released as eBooks in the US market. Produced through the JABberwocky eBook Program, the novels will be available through digital platforms in the USA (Amazon, iBooks, Kobo, etc.). Below are the titles, covers and information for the six books in question…
CHAGA, KIRINYA, and TENDELEO'S STORY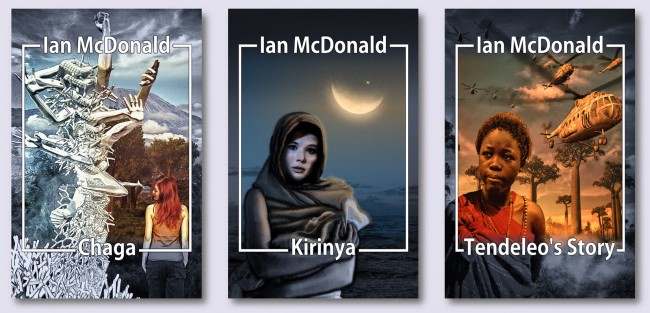 Here's the synopsis for CHAGA…
On the trail of the mystery of Saturn's disappearing moons, network journalist Gaby McAslan finds herself in Africa researching the Kilimanjaro Event: a meteor-strike in Kenya which caused the stunning African landscape to give way to something equally beautiful – and indescribably alien. Dubbed the 'Chaga', the alien flora destroys all man-made materials, and moulds human flesh, bone and spirit to its own designs. But when Gaby finds the first man to survive the Chaga's changes, she realizes it has its own plans for humankind…
Against the backdrop of Mount Kilimanjaro, McDonald weaves a staggering tale of keen human observation and speculation, as the Kilimanjaro Event changes the course of the human race by exposure to something beyond its imagination.
DESOLATION ROAD and ARES EXPRESS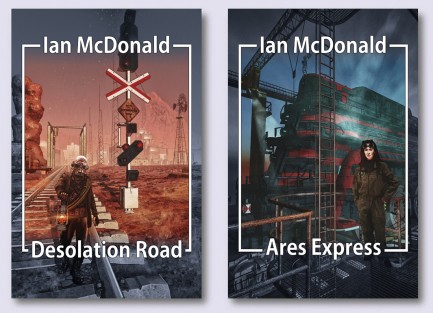 Here's the synopsis for DESOLATION ROAD…
It all began thirty years ago on Mars, with a greenperson. But by the time it all finished, the town of Desolation Road had experienced every conceivable abnormality; from Adam Black's Wonderful Travelling Chautauqua and Educational 'Stravaganza (complete with its very own captive angel), to the Astounding Tatterdemalion Air Bazaar. Its inhabitants ranged from Dr. Alimantando, the town's founder and resident genius, to the Babooshka, a barren grandmother who just wants her own child – grown in a fruit jar; from Rajendra Das, mechanical hobo who has a mystical way with machines to the Gallacelli brothers, identical triplets who fell in love with – and married – the same woman.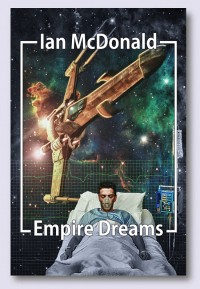 And last, but by no means least, the EMPIRE DREAMS collection…
Published simultaneously as Desolation Road, the Empire Dreams collection was intended to exploit the author's nomination for the John W. Campbell Award for Best New Writer in 1985. It collects the following stories:
Vivaldi Visits to Remarkable Cities
Unfinished Portrait of the King of Pain by Van Gogh
Scenes from a Shadowplay Radio Marrakech
King of Morning, Queen of Day
The Island of the Dead
Empire Dreams (Ground Control to Major Tom)
Christian The Catharine Wheel (Our Lady of Tharsis)