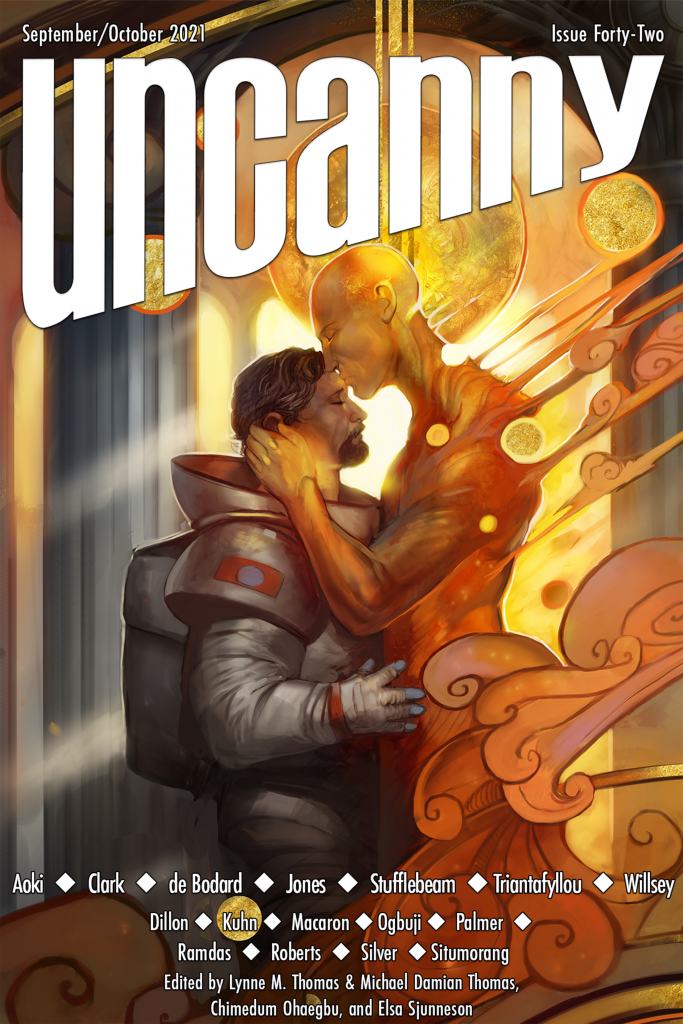 Today we have two great pieces of Aliette de Bodard news! First up, there's a new short story set in the author's acclaimed Xuya series: MULBERRY AND OWL is published in the September/October 2021 issue of Uncanny Magazine! (You can also read the story online now!)
Year of the Âm Dragon, fifth year of the Peaceful Harmony Empress, Great Mulberry Nebula
Thuỷ stood in her cabin in The Goby in the Well, her bots arrayed on her shoulders and clinging to her wrists, and watched the heart of the nebula.
There was absolutely nothing remarkable about it: the Great Mulberry Nebula was large, sparsely dotted with nascent stars, and so remote that getting there, even via deep spaces, had required a three month journey. On the overlay in Thuỷ's cabin — a thin sliver like a screen, showing her the merged data of all The Goby in the Well's sensors — there was very little to see, either: a darkness that seemed to spread absolute from the centre of the overlay, and a corresponding gravity spike for the trapping of the light…
Aliette's Xuya fiction is published in the UK by JABberwocky, and in North America by Subterranean Press.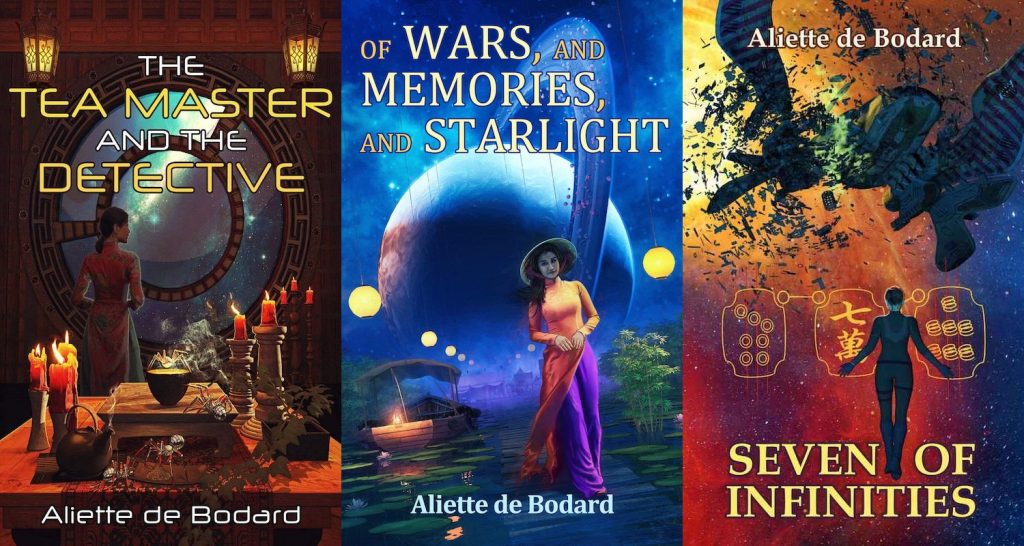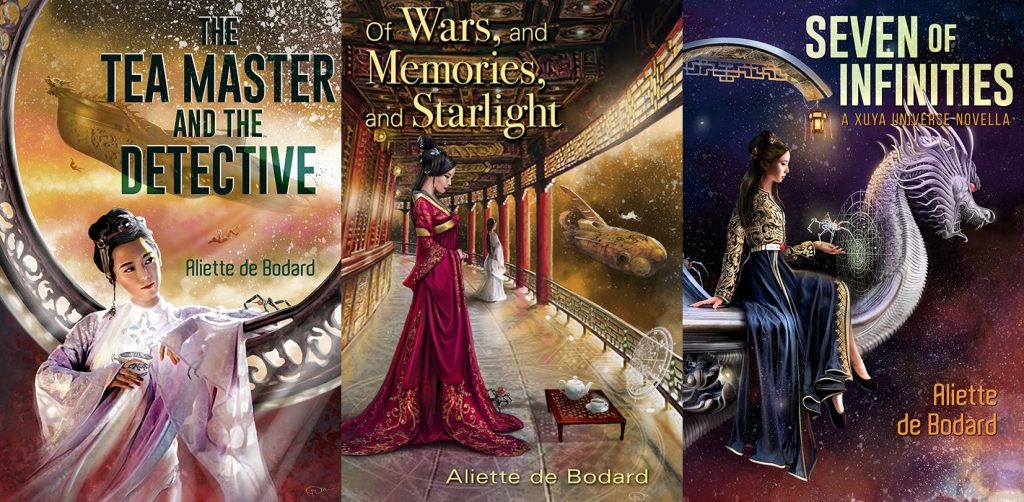 'De Bodard's worldbuilding is precise and glittering, elegant and atmospheric… writing is always full of empathy and personality… a lovely little character-focused mystery, and everything about it delights…' — Tor.com (Hugo Award Novella Spotlight)
We're also happy to report that Aliette's Dominion of the Fallen series is a finalist for Best Series in this year's Subjective Chaos Kind of Awards! The series includes the novels THE HOUSE OF SHATTERED WINGS, THE HOUSE OF BINDING THORNS, and THE HOUSE OF SUNDERING FLAMES — published in the UK by Gollancz, and in North America by Roc Books (#1-2) and JABberwocky (#3). The series also includes the novella OF DRAGONS, FEASTS, AND MURDERS, published by JABberwocky.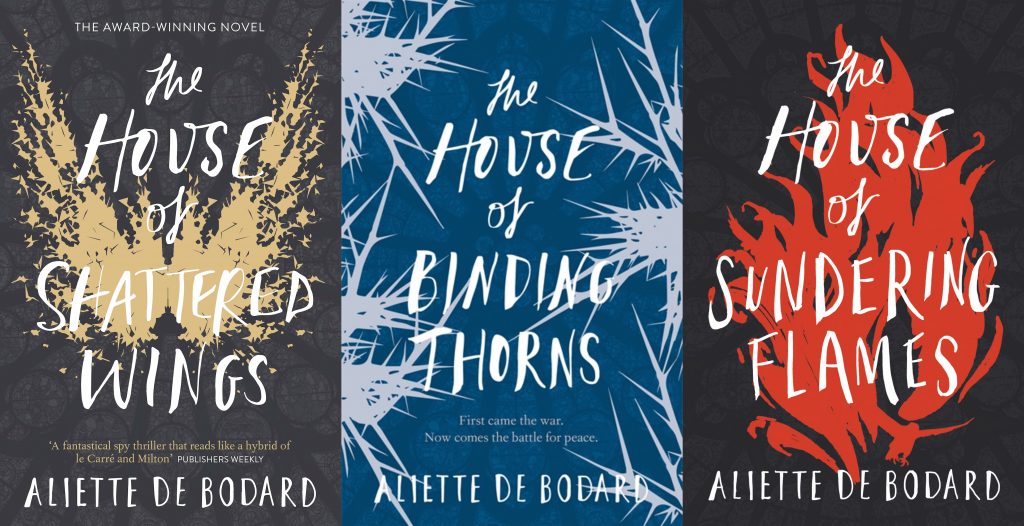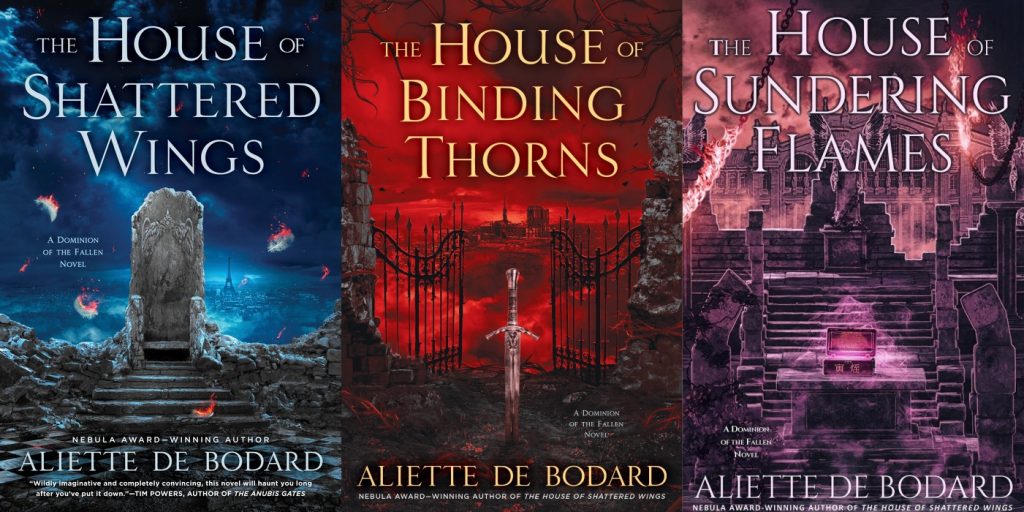 'Will grab readers and force them to pay attention to the amazing writing and the phenomenal characters. de Bodard will sweep you up into the dark and dirty world Paris has become. The characters are very vivid and will stay with you until long after the last page, as each of them is fighting and longing for something. The writing style rendered the characters' feelings and emotional turmoil beautifully. Watching Philippe and Isabelle work through their "connection" is fascinating and lovely. There's so much going on, and every character has their own past, their own tragic history. It's a whirlwind, it's heartbreaking and it's one of the best fantasy novels of 2015.' — RT Book Reviews (Top Pick August 2015)
'A gripping tragedy of forlorn individuals caught up in an angelic version of the Cold War… The story holds up well as a standalone, with clear possibilities but no pressing need for a sequel. De Bodard aptly mixes moral conflicts and the desperate need to survive in a fantastical spy thriller that reads like a hybrid of le Carré and Milton, all tinged with the melancholy of golden ages lost.' — Publishers Weekly (Starred Review)
'De Bodard… has spun a fascinating Paris of decay and cruelty. ­Phillippe is a marvel of a character, unreliable as a narrator but compelling in his flaws and his deep well of homesickness.' — Library Journal (Starred Review)
'A beautifully crafted novel full of complex characters, set in a post apocalyptic Paris – the image of which is truly haunting… vivid and fast-paced battles and intense political manoeuvrings… with carefully crafted characters both with layers and depth, De Bodard reflects the best and worst of human nature in her novel… an intriguing mystery, elegantly written… Something any avid fantasy reader with an open mind will devour!' — Guardian
Aliette's latest book is the acclaimed novella FIREHEART TIGER, published by Tor.com.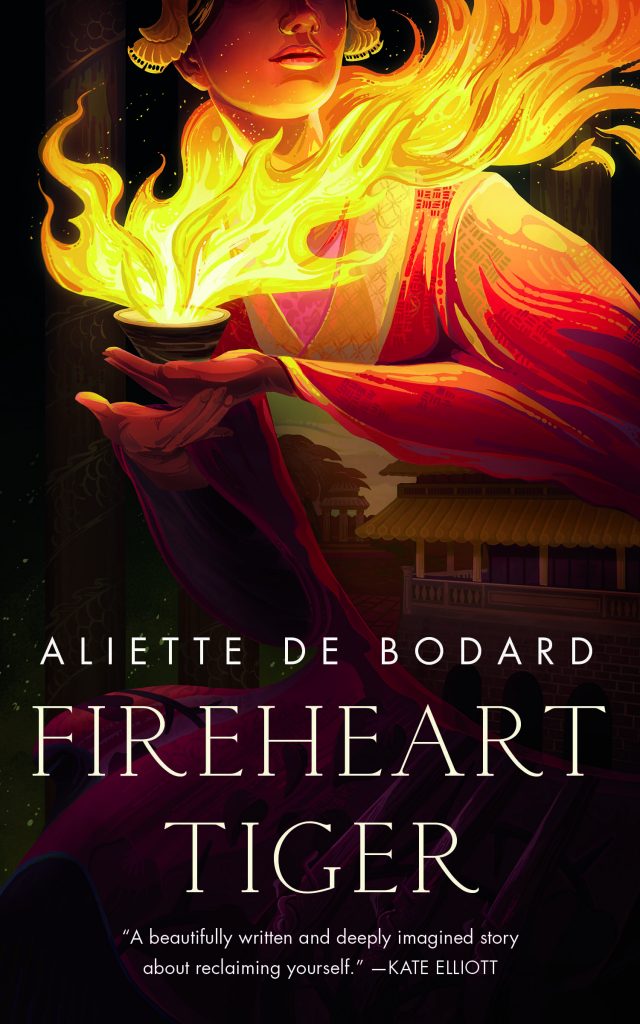 'FIREHEART TIGER… is a delicate novella with threads of imperial politics, magical beings, queer romance and the psychology of trauma. It's a bit of a miracle to feel as if you've read a six-book fantasy series in so few pages. This book is elegant and hypnotic as the flame of a candle, and I'll be thinking for some time about the shadows it throws into relief.' — New York Times Book Review
'A fascinating story filled with strong female characters and lush prose, the relationships woven around Thanh evolve into themes of reclaiming the self and recognizing that love can hide the truth about people… a story of love, power, and what burns within. Highly recommended.' — Library Journal (Starred Review)
'De Bodard…, as she so often does, packs the world-building and emotional punch of an epic into a shockingly slim novella. This touching romance with the delicate negotiations of a small country's survival against an imperial adversary would be a lovely place to start with de Bodard's work, and fans will find more of what they've come to love about her stories.' — Booklist