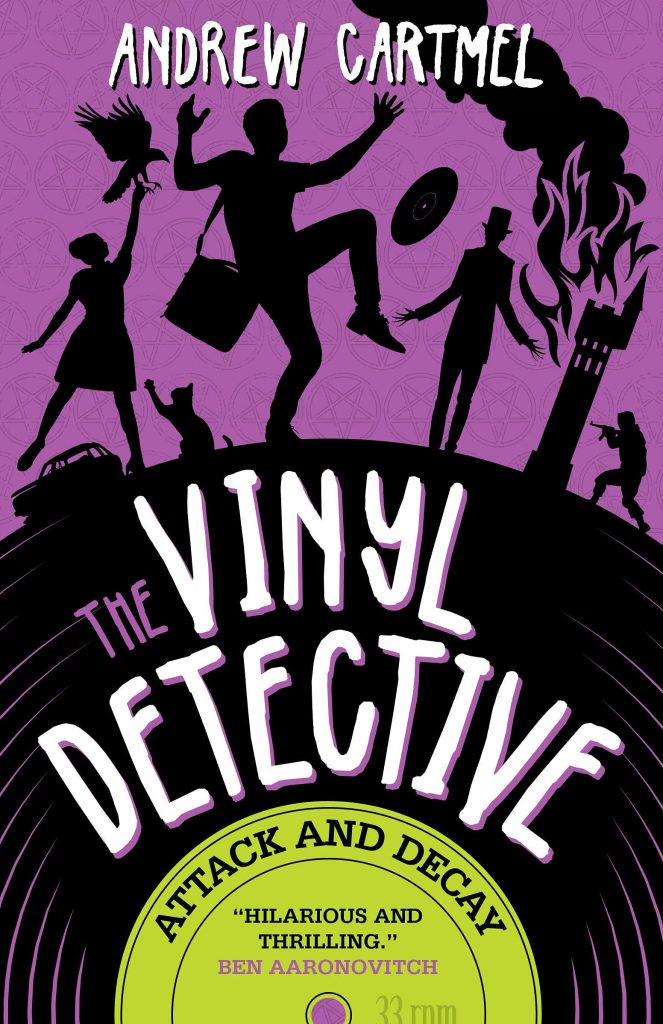 In May 2022, Titan Books is due to publish Andrew Cartmel's sixth Vinyl Detective mystery: ATTACK AND DECAY! Today, we wanted to share with you the recently-unveiled cover and also the synopsis…
The Vinyl Detective plunges into the world of death metal in his sixth adventure. Expect laughs, LPs, cats and the return of fan favourites, Nevada, Tinkler, Stinky Stanmer and more.
The Vinyl Detective goes Scandi noir in his sixth adventure. Disfigured corpse. Check. Grotesque snowman. Check. Headless animals. Check. But in fact the killer is taking their cue not from Scandi noir fiction but another popular Scandinavian export – death metal.
Titan Books publishes the first five novels in the series, and we think fans are really going to love this latest instalment!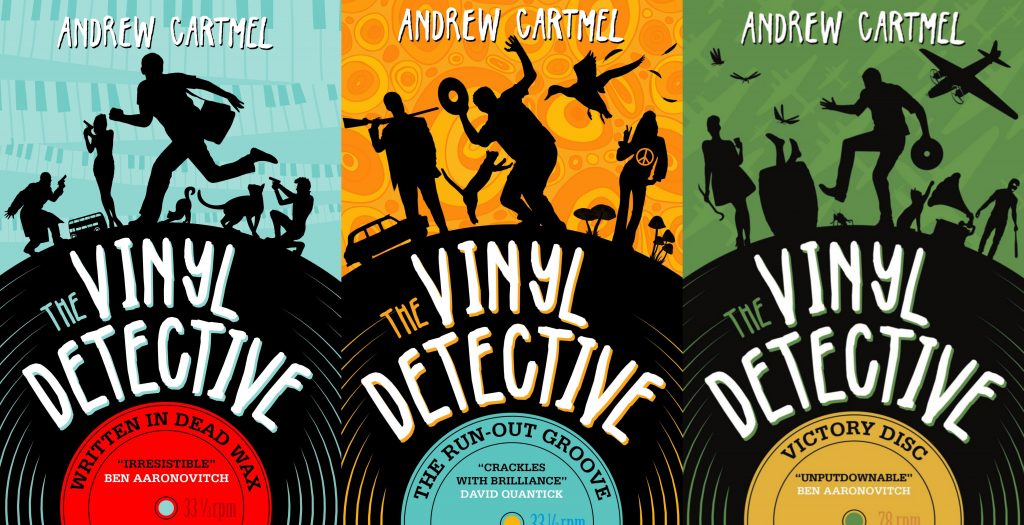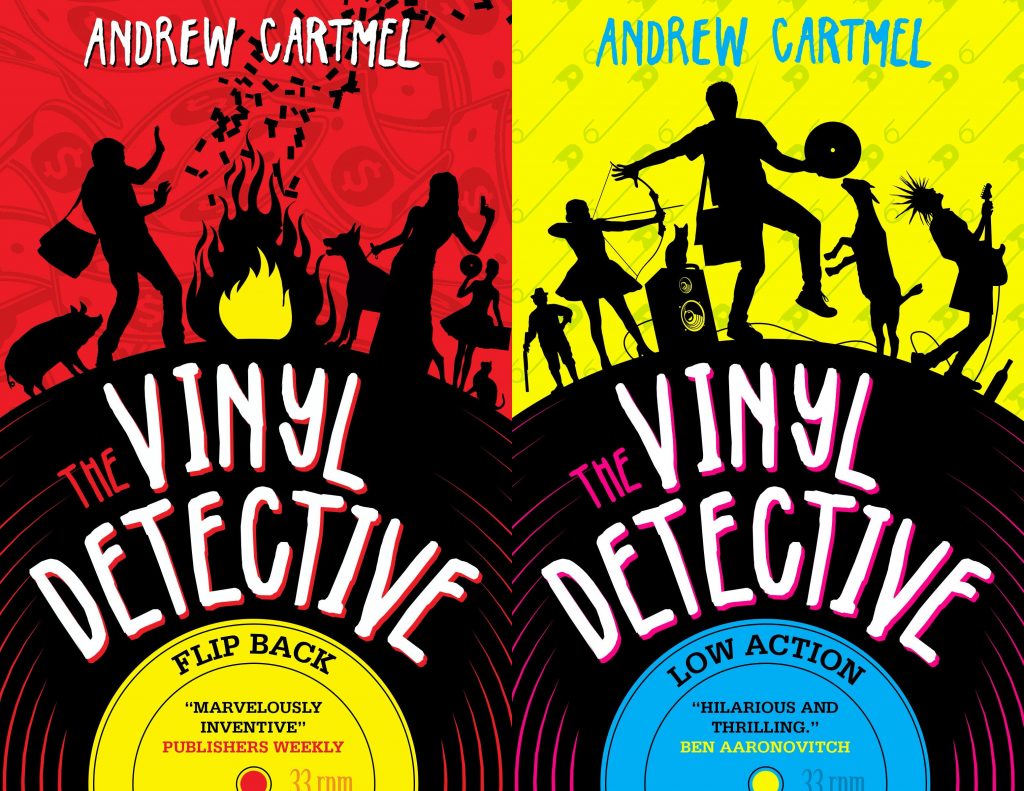 In case you haven't read any of the novels yet, here are just a few of the great reviews they've received so far…
'This charming mystery feels as companionable as a leisurely afternoon trawling the vintage shops with a good friend.' — Kirkus on WRITTEN IN DEAD WAX
'… fast-paced, lighthearted adventure… marvelously inventive and endlessly fascinating…' — Publishers Weekly on WRITTEN IN DEAD WAX
'Author Cartmel has combined the tropes of the several genres into a surprising, refreshing story centered around old-fashioned records… the story delivers multiple chuckles per chapter… Based on this volume, the series will be a hit.' — New York Journal of Books on WRITTEN IN DEAD WAX
'Part of the fun of the series is the obsessiveness of record collectors, the contradictions between the mundane places in which they hunt their treasures — charity shops, church bazaars — and the sophisticated sound systems they have set up to play what they find… the Vinyl Detective is proving to be a very amenable companion to have on a treasure hunt. This is one vinyl nerd you won't mind spending time with.' — Kirkus on RUN-OUT GROOVE
'… entertaining second record-spinning mystery… Cartmel treats music and records seriously, plays his strange characters for laughs, and provides a bit of danger and some unexpected twists in this affectionate nod to the vagaries of rock stardom.' — Publishers Weekly on RUN-OUT GROOVE
'THE RUN-OUT GROOVE does a fantastic job of making its fictional history of music so fascinating and authentic that you'll forget it isn't all true… This a follow-up every bit the equal of its highly memorable predecessor, presenting a mystery you'll be eager to solve and characters whose company you won't want to leave. Written with infectious charm, the Vinyl Detective has more than proven he's no one-hit-wonder.' (9/10) — Alternative Magazine Online
'Polished, fast-paced and a ton of fun, this is a fantastic read that is easy to get lost in… more polished… keeps the story rolling forward at an incredible speed – and also makes it very hard to put down… Cartmel has created an intoxicating mix of adventure, humour and mystery to lose yourself in… a truly engaging and enjoyable read. THE RUN-OUT GROOVE surpasses even the opening novel in the series for polish and fun.' — The Crime Review
'… effectively integrates the lead's unusual specialty of searching out rare records into an intricately constructed plot… the clever resolution of the story lines is impressive. Fair-play fans, even those without an interest in music, will be pleased.' — Publishers Weekly on VICTORY DISC
'VICTORY DISC works beautifully both as a sequel and as a standalone novel… The story is splendid, continuing the fine tradition of the series to date of weaving fascinating fact with thrilling fiction… Andrew Cartmel is a fine mystery (and comedy) writer, keeping his readers smiling while never letting the elements of humour obfuscate the more serious moments… if you enjoyed the first two books, you'll undoubtedly enjoy this one too. The unsolved murder mystery is highly intriguing, the characters introduced throughout are fully formed and a delight to uncover more about, and the chemistry between the Vinyl Detective and his friends is absolutely spot on. In short, VICTORY DISC is beautifully orchestrated and well worth taking for a spin this summer.' — Alternative Magazine Online
'… an interesting and intriguing history for the series' latest MacGuffin… the writing is sharp, funny and engaging throughout, and the main characters have never been more likeable… it's wonderful; it's a book filled with warmth and good humour – despite a touch of murder – that often feels like reacquainting yourself with old friends… The latest Vinyl Detective novel continues the series' fine tradition of telling fictional stories that seem entirely plausible. There hasn't been a dud note in the Vinyl Detective's oeuvre to date and FLIP BACK is no exception; in fact, it might just be his greatest whodunnit yet.' 9/10 — Alternative Magazine Online
'Let yourself get carried away by this one. You'll find quirky characters, adorable cats, lots of great libations (Nevada knows her wines), and of course, music… Highly recommended!' — Art in Fiction on FLIP BACK