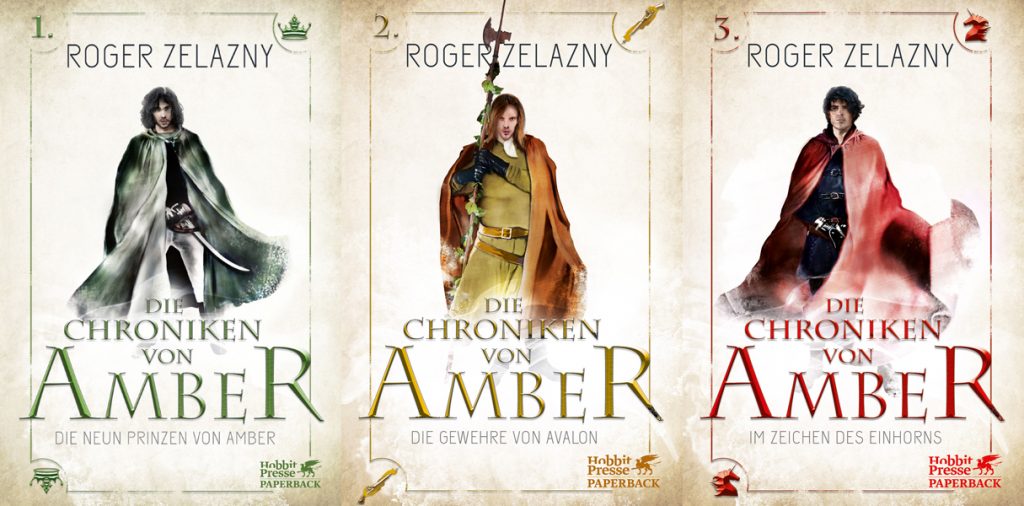 Starting in October, Klett-Cotta will begin releasing Roger Zelazny's classic, beloved Chronicles of Amber series in Germany! The first five novels will be published one-per-month until February 2018:
NINE PRINCES OF AMBER — DIE NEUN PRINZEN VON AMBER (October 14th)
THE GUNS OF AVALON — DIE GEWEHRE VON AVALON (November 11th)
SIGN OF THE UNICORN — IM ZEICHEN DES EINHORNS (December 9th)
THE HAND OF OBERON — DIE HAND OBERONS (January 13th)
THE COURTS OF CHAOS — DIE BURGEN DES CHAOS (February 10th)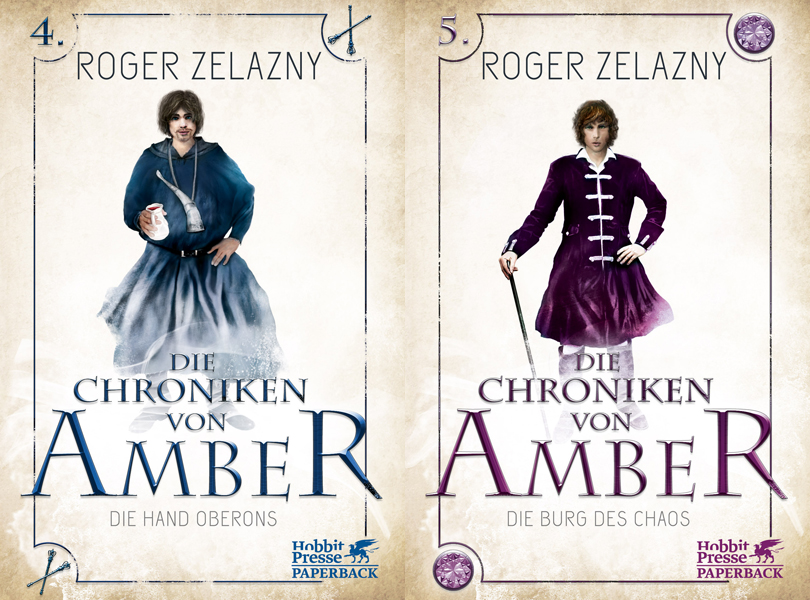 Here is the synopsis for the first novel, DIE NEUN PRINZEN VON AMBER…
Nach einem Autounfall wacht Corwin, seiner Erinnerungen beraubt, in einer obskuren Klinik im Staate New York auf – er ist auf der Erde gestrandet, die zu den Schattenwelten gehört. Schnell findet Corwin heraus, dass er Teil der großen Königsfamilie von Amber ist, und er unternimmt alles, um in sein Reich zurückzukehren und seinen Bruder Eric vom Thron zu stürzen.
Prinz Corwin lebte nach einem Gedächtnisverlust über Jahrhunderte auf der Erde, ohne zu wissen, wer er ist. Als eines Tages ein Mitglied seiner Familie versucht, ihn zu töten, beginnt er, nach seiner Vergangenheit zu forschen.
Und so setzt er alles daran, in das Königreich Amber zurückzukehren. Bald schon erfährt er, dass seine Verwandtschaft über einige sehr ungewöhnliche Kräfte verfügt. Alle Nachfahren des Königshauses können zwischen Amber, den Schattenwelten und dem Chaos hin- und herreisen, indem sie die Realität manipulieren. Sie benutzen magische Spielkarten, um zu kommunizieren und sich an andere Orte zu versetzen. Aber vor allem sind sie alle in einen erbarmungslosen Kampf um den Thron verstrickt. Und nicht zuletzt muss das Geheimnis um das Verschwinden ihres königlichen Vaters Oberon aufgedeckt werden.
First published in 1970, here's the English-language synopsis for NINE PRINCE IN AMBER…
Awakening in an Earth hospital unable to remember who he is or where he came from, Corwin is amazed to learn that he is one of the sons of Oberon, King of Amber, and is the rightful successor to the crown in a parallel world
Amber, the one real world, wherein all others, including our own Earth, are but Shadows. Amber burns in Corwin's blood. Exiled on Shadow Earth for centuries, the prince is about to return to Amber to make a mad and desperate rush upon the throne.
From Arden to the blood-slippery Stairway into the Sea, the air is electrified with the powers of Eric, Random, Bleys, Caine, and all the princes of Amber whom Corwin must overcome. Yet, his savage path is blocked and guarded by eerie structures beyond imagining; impossible realities forged by demonic assassins and staggering horrors to challenge the might of Corwin's superhuman fury.
Zeno represents Roger Zelazny in translation, on behalf of the Zelazny Estate.