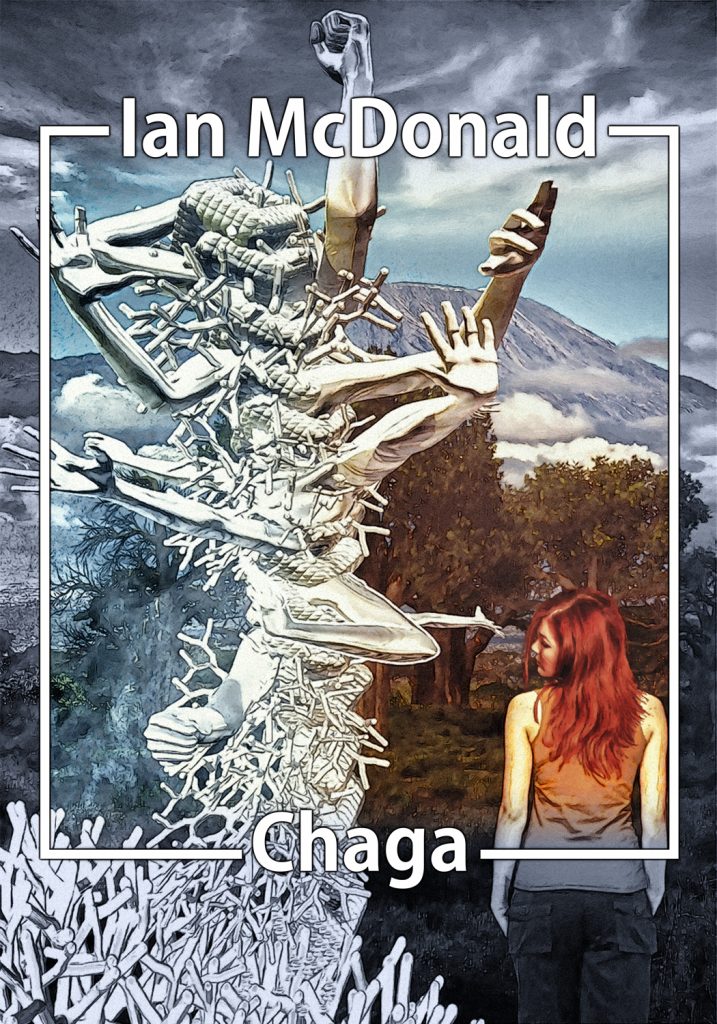 CHAGA, the first novel in the eponymous series by Ian McDonald is a Kindle Monthly Deal in the US! First published in 1995, it is now published by JAbberwocky. Here's the synopsis…
On the trail of the mystery of Saturn's disappearing moons, network journalist Gaby McAslan finds herself in Africa researching the Kilimanjaro Event: a meteor-strike in Kenya which caused the stunning African landscape to give way to something equally beautiful – and indescribably alien. Dubbed the 'Chaga', the alien flora destroys all man-made materials, and moulds human flesh, bone and spirit to its own designs. But when Gaby finds the first man to survive the Chaga's changes, she realizes it has its own plans for humankind… Against the backdrop of Mount Kilimanjaro, McDonald weaves a staggering tale of keen human observation and speculation, as the Kilimanjaro Event changes the course of the human race by exposure to something beyond its imagination.
Here are some of the reviews the novel has received…
'McDonald… consistently explores new territory with his breathtaking images and incisive language. Both form and substance blend fortuitously in a work that features strong characters, a suspenseful story, and a profound message of hope and transformation. A priority purchase for SF collections.' — Library Journal
'One of the finest writers of his generation, who chooses to write science fiction because that is how he can best illuminate the world.' — New Statesman
'Optimistic near-future alien-contact yarn… McDonald's tale is also inventive and challenging… a dense, complex, rather weighty, often fascinating piece of speculation.' — Kirkus
The other two novels in the trilogy — and — are also published by JABberwocky.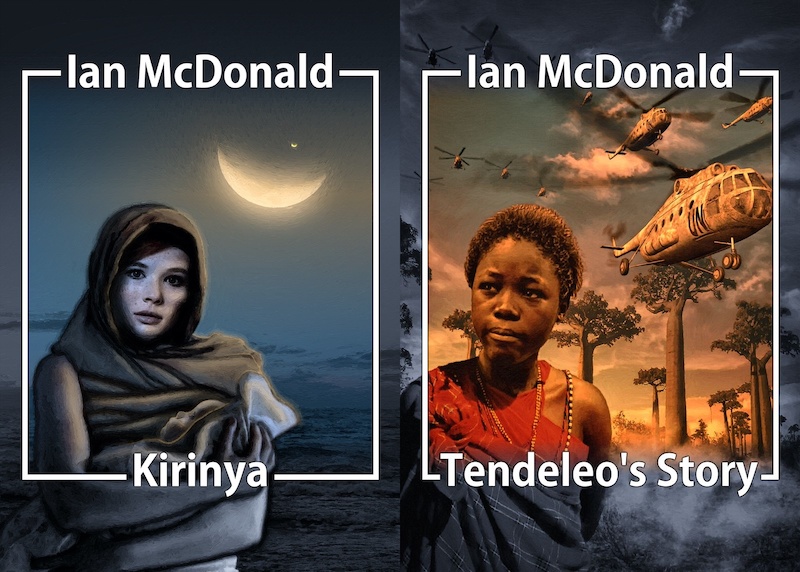 All three of the novels are also available as audiobooks, published by Audible.
'This is a huge and ambitious novel, the work of a supremely talented writer approaching the top of his game.' — SFX on KIRINYA
'So outstanding a writer that he deserves reading beyond the science-fantasy market … He has such marvellous talent, so vivid an imagination. His prose sings and zings – simultaneously.' — The Times on KIRINYA
'[An] excellent original novella… gazes boldly into the heart of darkness, and finds there a great and galvanising hope.' — Infinity Plus on TENDELEO'S STORY
'… the Chaga sequence [is] Ian McDonald's marvellous panorama of Third World plights and possibilities.' — SF Site on TENDELEO'S STORY
Ian's latest series is Luna — which includes the prequel novella THE MENACE FROM FARSIDE (Tor.com), and the novels NEW MOON, WOLF MOON, and MOON RISING (Tor Books).