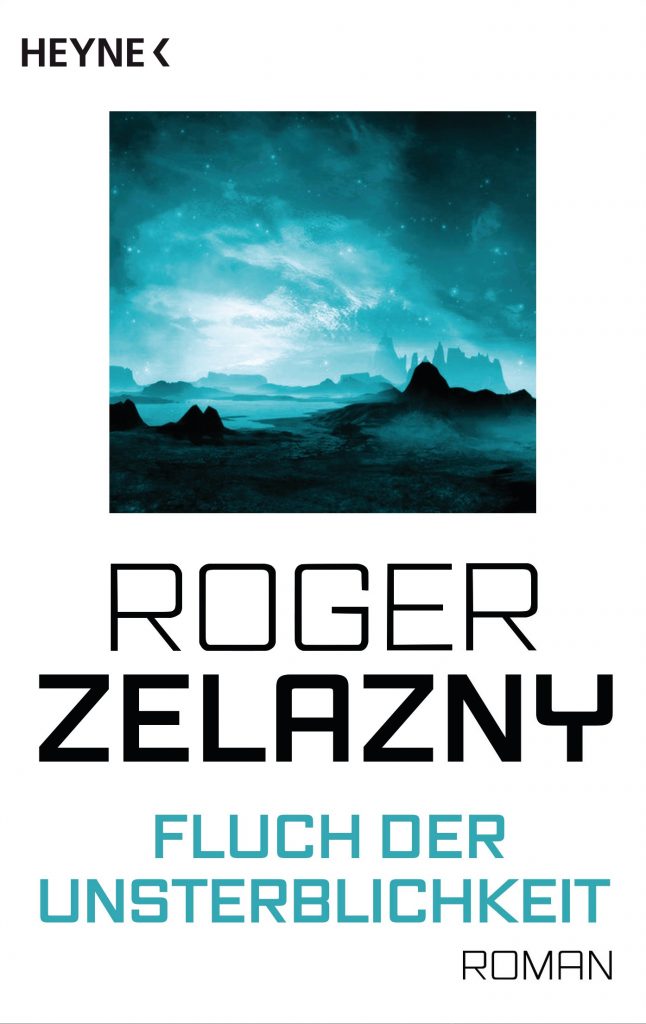 In case you missed them, we wanted to draw your attention to six of Roger Zelazny's novels that available in Germany! Published by Heyne, here are the details for each of these classics (they deserve individual spotlights, so bear with us).
Let us begin with FLUCH DER UNSTERBLICHKEIT (pictured above)…
… nenne mich Conrad
Nach einem verheerenden Atomkrieg leben auf der Erde jede Menge gefährlicher Mutanten und nur noch knapp vier Millionen Menschen – die als Attraktionen für Besucher von der Wega herhalten müssen. Conrad Nomikos arbeitet als Touristenführer und soll einen einflussreichen Weganer alle Sehenswürdigkeiten der alten Erde zeigen. Als er dahinterkommt, dass die Wega plant, die im Unterhalt ziemlich kostspielige Erde zu vernichten, beginnt für ihn ein Wettlauf gegen die Zeit – und gegen eine Rebellengruppe, die nach dem Leben des außerirdischen Besuchers trachtet…
First published as THIS IMMORTAL in 1966, it won the Hugo Award for Best Novel. Here's the English-language synopsis…
Conrad Nomikos has a long, rich personal history that he'd rather not talk about. And, as Arts Commissioner, he's been given a job he'd rather not do. Escorting an alien grandee on a guided tour of the shattered remains of Earth is not something he relishes — especially when it is apparent that this places him at the center high-level intrigue that has some bearing on the future of Earth itself.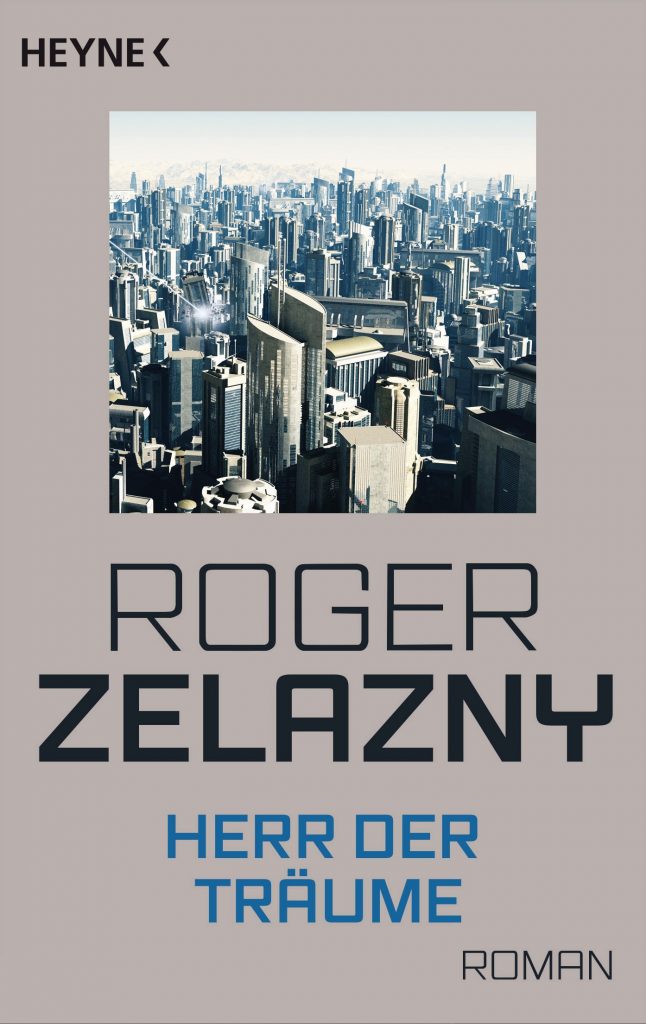 THE DREAM MASTER, first published in 1966, is available in Germany as HERR DER TRÄUME…
Das Inferno in uns
Charles Render ist einer der wenigen Psychiater, die imstande sind, sich der sogenannten Neuro-Partizipations-Therapie zu bedienen. Dabei dringen sie in das Innerste der Psyche ihrer Patienten ein und können sie formen, umgestalten und so geistige Schäden beheben. Deswegen nennt man Render auch den "Schöpfer". Doch diese Arbeit ist gefährlich: Selbst ein starker Geist bietet nicht immer ausreichenden Schutz vor dem Chaos, das in den Tiefen der menschlichen Seele herrscht…
Here's the English-language synopsis…
His name is Charles Render, and he is a psychoanalyst, and a mechanic of dreams. A Shaper. In a warm womb of metal, his patients dream their neuroses, while Render, intricately connected to their brains, dreams with them, makes delicate adjustments, and ultimately explains and heals. Her name is Eileen Shallot, a resident in psychiatry. She wants desperately to become a Shaper, though she has been blind from birth. Together, they will explore the depths of the human mind — and the terrors that lurk therein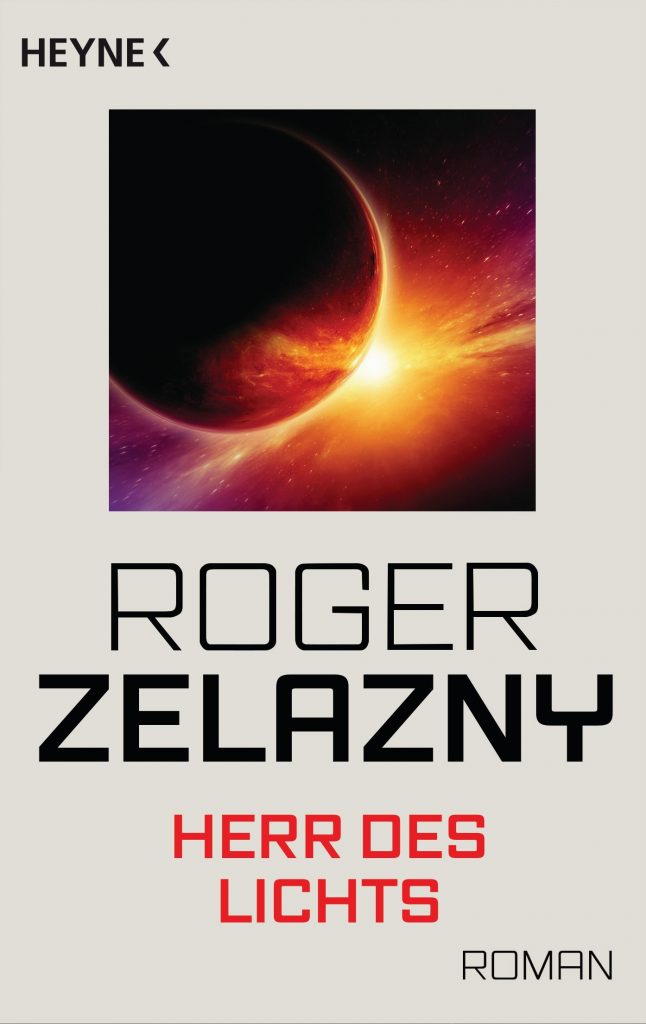 Winner of the Hugo Award for Best Novel, and nominated for the Nebula Award for Best Novel, LORD OF LIGHT is HERR DES LICHTS in Germany…
Menschen wie Götter
In ferner Zukunft haben die Menschen einen fernen Planeten besiedelt und sich durch gezielte Mutationen weiterentwickelt. Jetzt herrschen die "Ersten", die bereits mutiert auf dem Planeten ankamen, über die Sterblichen wie die Götter des hinduistischen Pantheons. Sie unterdrücken jeden Fortschritt, rotten jeden Widerstand aus und halten ihre Nachfahren auf dem Niveau von Barbaren, um ihre Macht nicht zu gefährden. Doch eines Tages kehrt Mahasamatman, der Herr des Lichts, von seiner Festung im Himmel auf die Erde zurück – und stellt sich auf die Seite der Unterdrückten…
LORD OF LIGHT was first published in 1967. Here's the English-language synopsis…
Earth is long since dead. On a colony planet, a band of men has gained control of technology, made themselves immortal, and now rule their world as the gods of the Hindu pantheon. Only one dares oppose them: he who was once Siddhartha and is now Mahasamatman. Binder of Demons, Lord of Light.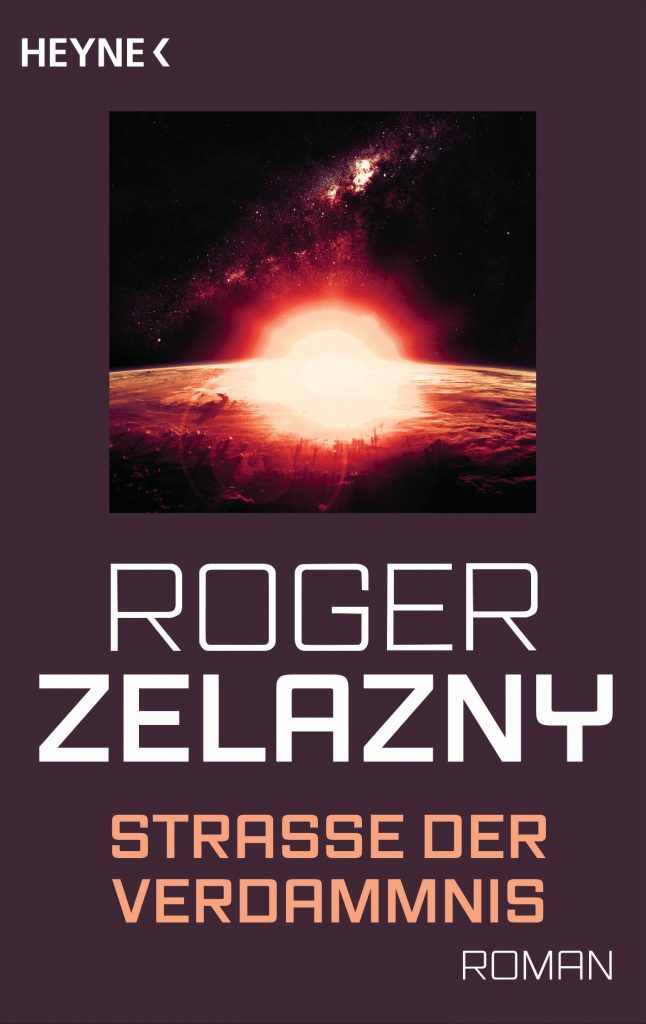 Here's the synopsis for STRASSE DER VERDAMMNIS…
Ein Höllenritt durch einen Albtraum
Südkalifornien in einer düsteren Zukunft: Die Vereinigten Staaten gibt es nach einem Atomkrieg nicht mehr, das Gebiet ist in einzelne Polizeistaaten zerfallen. Gewaltige Stürme machen jede Form von Luftfahrt unmöglich, und auch zu Land sind Reisen dank verstrahlten Gebieten und monströsen Mutationen nicht ungefährlich. Hier einen Alltag zu bestreiten ist jeden Tag die Hölle. Hell Tanner, ein inhaftierter Mörder, bekommt die Chance auf eine Begnadigung, wenn er einen Laster mit Medikamente von LA nach Boston schafft – einmal quer durch die USA auf der Straße der Verdammnis. Natürlich nimmt er an…
DAMNATION ALLEY was first published in 1968, and here's the English-synopsis…
Hell Tanner isn't the sort of guy you'd mistake for a hero: he's a fast-driving car thief, a smuggler, and a stone-cold killer. He's also expendable — at least in the eyes of the Secretary of Traffic for the Nation of California. Tanner doesn't care much for those eyes. You'd also never mistake Hell Tanner for a humanitarian. Facing life in prison for his various crimes, he's given a choice; rot away his remaining years in a tiny jail cell, or drive cross-country and deliver a case of antiserum to the plague-ridden people of Boston, Massachusetts…if anyone is still alive there to receive it, that is. The chance of a full pardon does wonders for getting his attention. And don't mistake this mission of mercy for any kind of normal road trip – not when there are radioactive storms, hordes of carniverous beasts, and giant, mutated scorpions to be found along every deadly mile between Los Angeles and the East Coast. But then, this is no normal part of America, you see. This is DAMNATION ALLEY…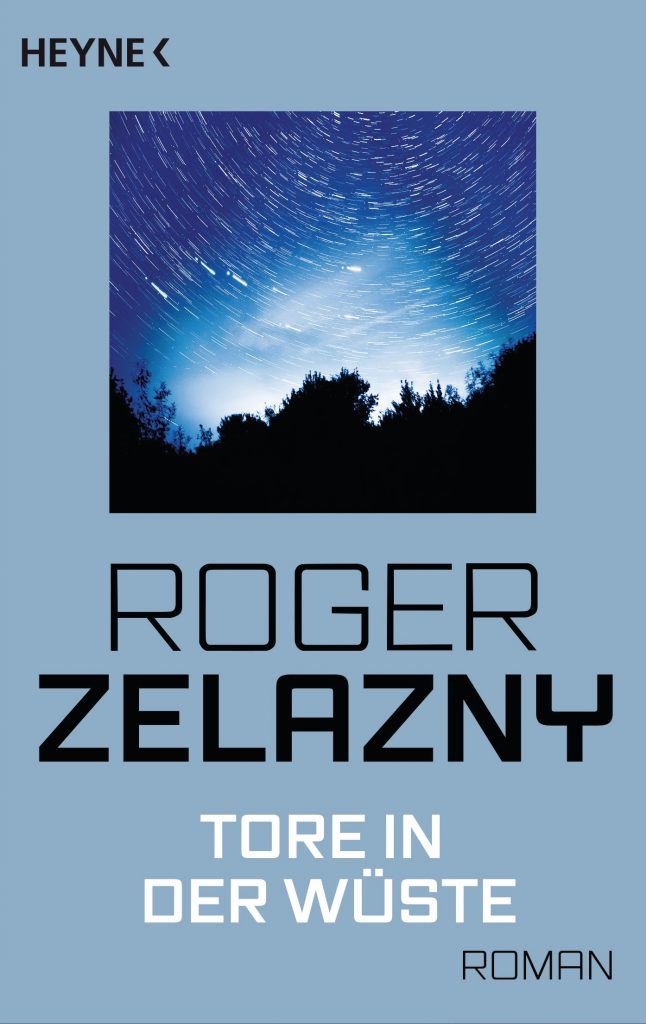 Here's the synopsis for TORE IN DER WÜSTE…
Zusammenprall der Kulturen
Im Rahmen eines intergalaktischen Kulturaustausches erhalten die Menschen von Aliens symbolische Artefakte, die Rhennius-Maschine und den Sternstein, im Tausch gegen die Kronjuwelen des britischen Königshauses und die Mona Lisa. Doch der Sternstein geht verloren, und der Langzeitstudent Fred Cassidy ist der letzte Mensch, der ihn gesehen hat. Verschiedene Kräfte – legale und illegale, irdische und nicht-irdische – versuchen, den Verbleib des Steins aus Fred heraus zu bekommen, mit ihren eigenen Methoden, die nicht immer menschenfreundlich sind. Fred begibt sich schließlich selbst auf die Suche nach dem Sternstein – und tritt damit eine Reise an, deren Ausgang nicht abzusehen ist…
DOORWAYS IN THE SAND was widely praised at the time of its release (1976), and was nominated for Best Novel Hugo, Nebula and Locus Awards.
Humanity is not alone in the cosmos. The aliens have given a precious relic to the people of Earth: star-stone. The harmony of the galaxy is at stake when they discover the disappearance of their star-stone.
Likeable Fred Cassidy is an eternal undergraduate. All he thinks he knows about the star-stone is that it came to Earth in an interplanetary trade for the Mona Lisa and the British Crown jewels.
Then Fred is accused of stealing the cosmic artifact, and he is pursued from Australia to Greenwich Village and beyond, by telepathic psychologists, extraterrestrial hoodlums and galactic police in disguise; as he enters multiple realities, flipping in and out of alien perspectives, through doorways in the sand.
And last, but by no means least, we have STRASSE NACH ÜBERALLHIN…
Jenseits der Zeit
Ein weitverzweigtes Straßennetz, das nur den Eingeweihten zugänglich ist, verbindet Raum und Zeit miteinander. Wer diese Straßen befährt, dem stehen alle Epochen der Geschichte offen. Und wer einmal gelernt hat, sich auf diesen Straßen zu bewegen, der kann nie wieder zurück: Er ist zu einem Zeitlosen geworden und Teil einer eigenen, extratemporalen Gesellschaft. Doch die ist alles andere als eine eingeschworene Gemeinschaft, im Gegenteil: Immer wieder kommt es zu Feindschaften unter den Zeitreisenden. Red Dorakeen ist mit seinem Laster auf den Zeitstraßen unterwegs, um den Griechen Waffen für die Schlacht bei Marathon gegen die Perser zu liefern. Plötzlich wird er angegriffen und entgeht nur knapp dem Tod. Sein Gegner hat eine Schwarze Zehn über ihn verhängt: Zehn Berufskiller, die an den Rändern der Straßen nach überallhin auf ihn lauern…
First published in 1979, here's the synopsis for ROADMARKS…
The Road runs from the unimaginable past to the far future, and those who travel it have access to the turnoffs leading to all times and places — even to the alternate time-streams of histories that never happened. Why the Dragons of Bel'kwinith made the Road — or who they are — no one knows. But the Road has always been there and for those who know how to find it, it always will be!
That's all we have for you today, but keep checking back — we should have news about more translated editions of Roger Zelazny's classic, beloved novels over the next few months.
Zeno represents Roger Zelazny in translation, on behalf of the Zelazny Estate.