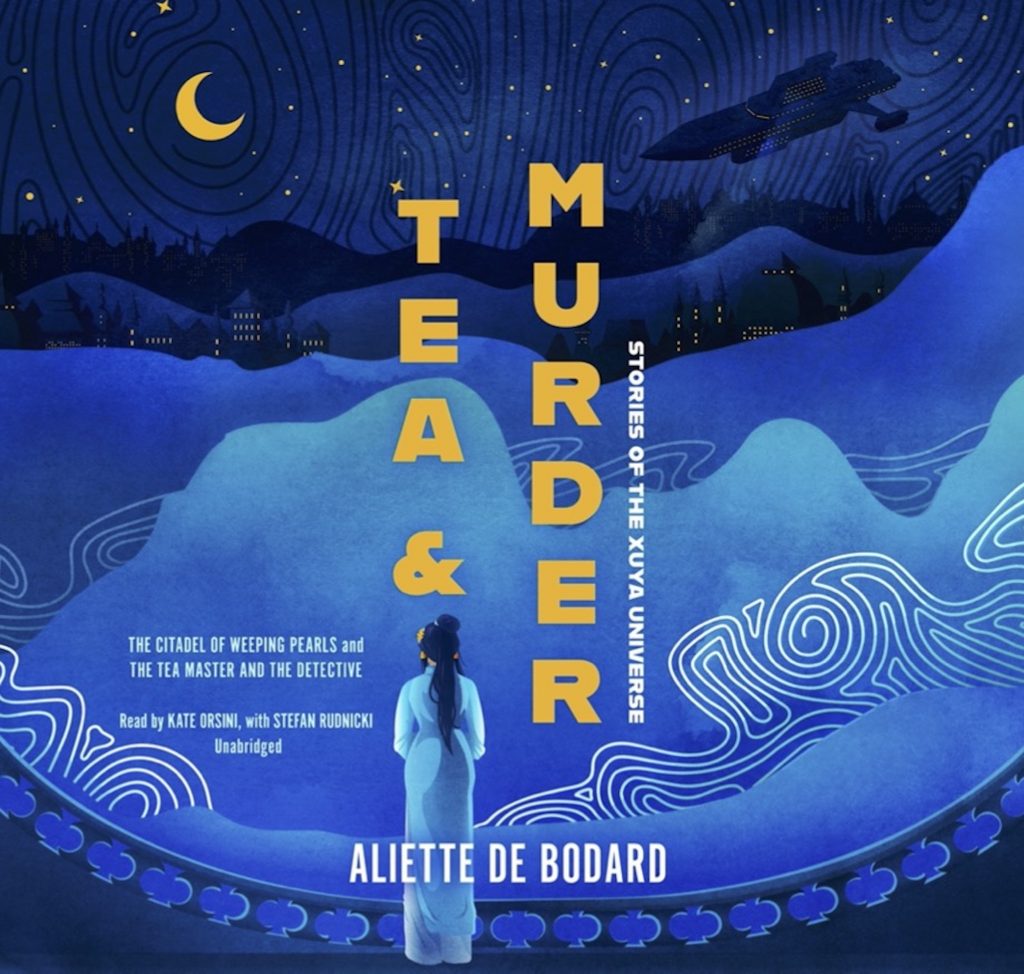 TEA AND MURDER — the audio omnibus of Aliette de Bodard's THE CITADEL OF WEEPING PEARLS and THE TEA MASTER AND THE DETECTIVE — is out now in North America! Published by Skyboat Media, here's the synopsis…
Two novellas set in Aliette de Bodard's award-winning, critically acclaimed Xuya universe, a timeline where Asia became dominant, and where the space age has Confucian galactic empires of Vietnamese and Chinese inspiration
THE CITADEL OF WEEPING PEARLS
The Citadel of Weeping Pearls was a great wonder; a perfect meld between cutting-edge technology and esoteric sciences—its inhabitants capable of teleporting themselves anywhere, its weapons small and undetectable and deadly. Thirty years ago, threatened by an invading fleet from the Dai Viet Empire, the Citadel disappeared and was never seen again. But now the empire itself is under siege, on the verge of a war against an enemy that turns their own mindships against them; and the Empress, who once gave the order to raze the Citadel, is in desperate need of its weapons.
Meanwhile, on a small isolated space station, an engineer obsessed with the past works on a machine that will send her thirty years back, to the height of the Citadel's power. But the Citadel's disappearance still extends chains of grief and regret all the way into the fraught atmosphere of the Imperial Court; and this casual summoning of the past might have world-shattering consequences.
THE TEA MASTER AND THE DETECTIVE
Welcome to the Scattered Pearls Belt, a collection of ring habitats and orbitals ruled by exiled human scholars and powerful families, and held together by living mindships who carry people and freight between the stars. In this fluid society, human and mindship avatars mingle in corridors and in function rooms, and physical and virtual realities overlap, the appearance of environments easily modified and adapted to interlocutors or current mood.
A transport ship discharged from military service after a traumatic injury, The Shadow's Child now ekes out a precarious living as a brewer of mind-altering drugs for the comfort of space-travellers. Meanwhile, abrasive and eccentric scholar Long Chau wants to find a corpse for a scientific study. When Long Chau walks into her office, The Shadow's Child expects an unpleasant but easy assignment. When the corpse turns out to have been murdered, Long Chau feels compelled to investigate, dragging The Shadow's Child with her.
As they dig deep into the victim's past, The Shadow's Child realises that the investigation points to Long Chau's own murky past—and, ultimately, to the dark and unbearable void that lies between the stars.
TEA AND MURDER is also available in the UK, also published by Skyboat. THE CITADEL OF WEEPING PEARLS is published in print and eBook by JABberwocky; THE TEA MASTER AND THE DETECTIVE is available in print and eBook via Subterranean Press (North America) and JABberwocky (UK).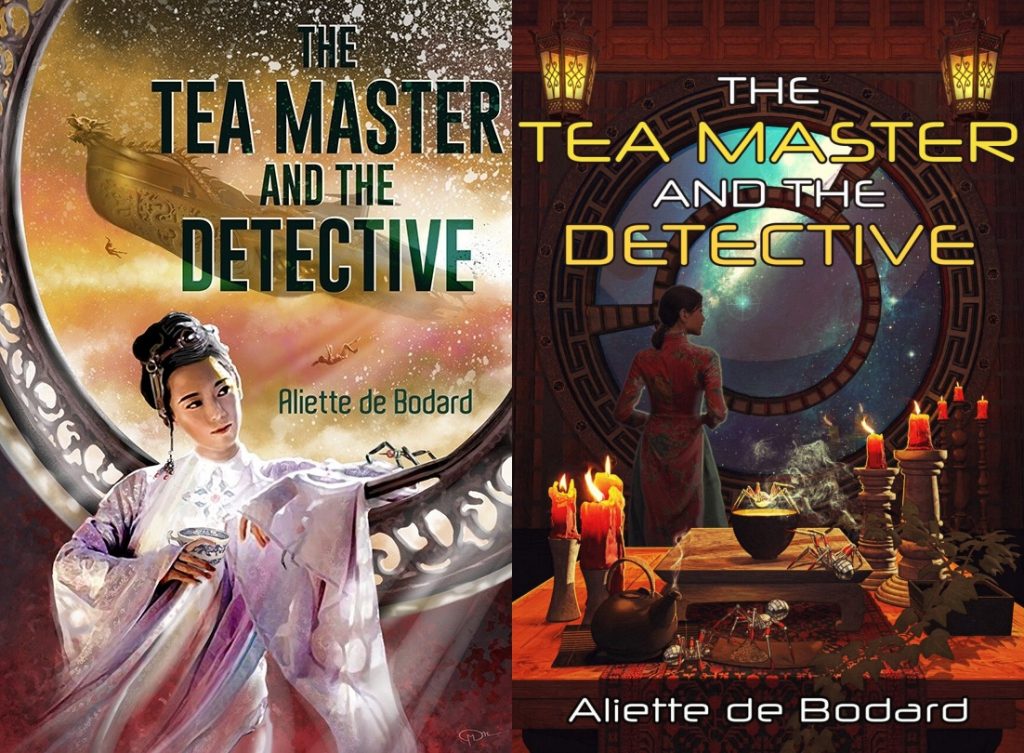 Here are just a few reviews that the books have received so far…
'A beautifully written, bittersweet mystery in a wonderfully imaginative space setting.' — Fantasy Literature on THE CITADEL OF WEEPING PEARLS
'This slim volume packs a visceral punch. Absorbing prose takes the reader in the dark, frigid space between the stars, where ships can fail, physically and emotionally, as well as people… An imaginative read.' — Library Journal (starred review) on THE TEA MASTER AND THE DETECTIVE
'A science-fictional ode to Arthur Conan Doyle's Sherlock Holmes, where the Holmes figure is a sharp and biting disgraced aristocratic scholar with a solid core of empathy, and the Watson-figure is a mindship with post-traumatic stress disorder from her war experiences… This is a measured, almost stately story, right up until a conclusion that explodes in fast-paced tension. It preserves the empathy and the intensity of the original Sherlockian stories, while being told in de Bodard's sharp prose and modern style. The worldbuilding… sparkles. The characters have presence: they're individual and compelling. And it ends it a way that recalls the original Holmes and Watson, while being perfectly appropriate to itself.' — Tor.com
'De Bodard revisits her far-future Xuya universe setting with this gripping novella about damaged characters driven to search for the truth… De Bodard constructs a convincingly gritty setting and a pair of unique characters with provocative histories and compelling motivations. The story works as well as both science fiction and murder mystery, exploring a future where pride, guilt, and mercy are not solely the province of humans.' — Publishers Weekly
'As a classical blend of far-future SF and traditional murder mystery, THE TEA MASTER AND THE DETECTIVE should satisfy readers unfamiliar with the Xuya universe, but at the same time it's an intriguing introduction to that universe, much of which seems to lie just outside the borders of this entertaining tale.' — Locus (Gary K. Wolfe)
'[A] well-imagined alternate future history… I've read several linked Xuya Universe stories over the years and I've enjoyed them all. Not only are they an imaginative vision of a possible future, but the stories often resonate on a human level. How could those stories possibly get any better? De Bodard found a way: by fusing this culturally rich future with a Sherlock Holmes detective story… This futuristic Holmes and Watson story is as compelling as the finely detailed universe in which it unfolds, but the novella's real triumph is that it makes the reader crave more even before setting the stage for further mysteries.' — Kirkus