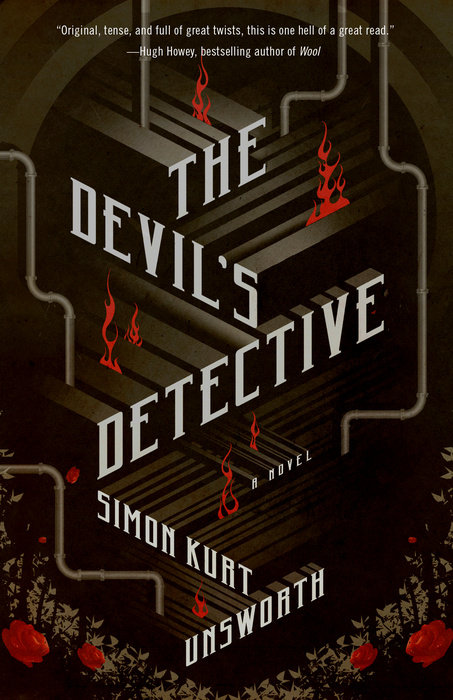 THE DEVIL'S DETECTIVE, Simon Kurt Unsworth's critically-acclaimed latest novel, is currently on sale as an eBook in the US. The book is priced at only $1.99, from multiple e-retailers until the end of the weekend. Here's the synopsis…
A sea change is coming to Hell… and a man named Thomas Fool is caught in the middle.
Thomas Fool is an Information Man, an investigator tasked with cataloging and filing reports on the endless stream of violence and brutality that flows through Hell. His job holds no reward or satisfaction, because Hell has rules but no justice. Each new crime is stamped "Do Not Investigate" and dutifully filed away in the depths of the Bureaucracy. But when an important political delegation arrives and a human is found murdered in a horrific manner — extravagant even by Hell's standards — everything changes. The murders escalate, and their severity points to the kind of killer not seen for many generations. Something is challenging the rules and order of Hell, so the Bureaucracy sends Fool to identify and track down the killer… But how do you investigate murder in a place where death is common currency? Or when your main suspect pool is a legion of demons? With no memory of his past and only an irresistible need for justice, Fool will piece together clues and follow a trail that leads directly into the heart of a dark and chaotic conspiracy. A revolution is brewing in Hell… and nothing is what it seems.
The Devil's Detective is an audacious, highly suspenseful thriller set against a nightmarish and wildly vivid world. Simon Kurt Unsworth has created a phantasmagoric thrill ride filled with stunning set pieces and characters that spring from our deepest nightmares. It will have readers of both thrillers and horror hanging on by their fingernails until the final word. In Hell, hope is your worst enemy.
THE DEVIL'S DETECTIVE is published in the US by Doubleday/Anchor, and in the UK by Del Rey. The sequel, THE DEVIL'S EVIDENCE, is due to be published in July in the US, and October in the UK.
Here is just a small sample of the aforementioned critical acclaim the novel has received…
'Unsworth's care in constructing an imaginary world enables him to make the most of his debut's challenging concept: a hard-boiled detective novel set in Hell itself… Unsworth offers intriguing variations on traditional themes and some memorably hair-raising prose…' — Publishers Weekly
'With wit, ingenuity and prodigious timing, first-time British novelist Unsworth imagines an unsettling afterlife that at times feels uncomfortably close to some of the more unbearable regions of our waking dreams. The whodunit aspects of this novel may, in the end, be less interesting than the phantasmagorical details surrounding it. But that's far less a complaint than a compliment of the author's visionary gifts. A grand, nightmarish page-turner that will have you riveted.' — Kirkus
'Hell as the setting for a noir investigation turns out to be as fun as it sounds in THE DEVIL'S DETECTIVE. Inventive and pacy, Simon Kurt Unsworth has created a world – underworld? – distinctly his own.' — Andrew Pyper
'There is much to love with THE DEVIL'S DETECTIVE. The depiction of Hell is original, with it being less of a torture chamber and more of a place for continued hard work for the unworthy, and the world building is great… The novel is dark and full of twists and originality, and it's suitable for anyone wanting to get into fantasy with a supernatural element.' — Starburst