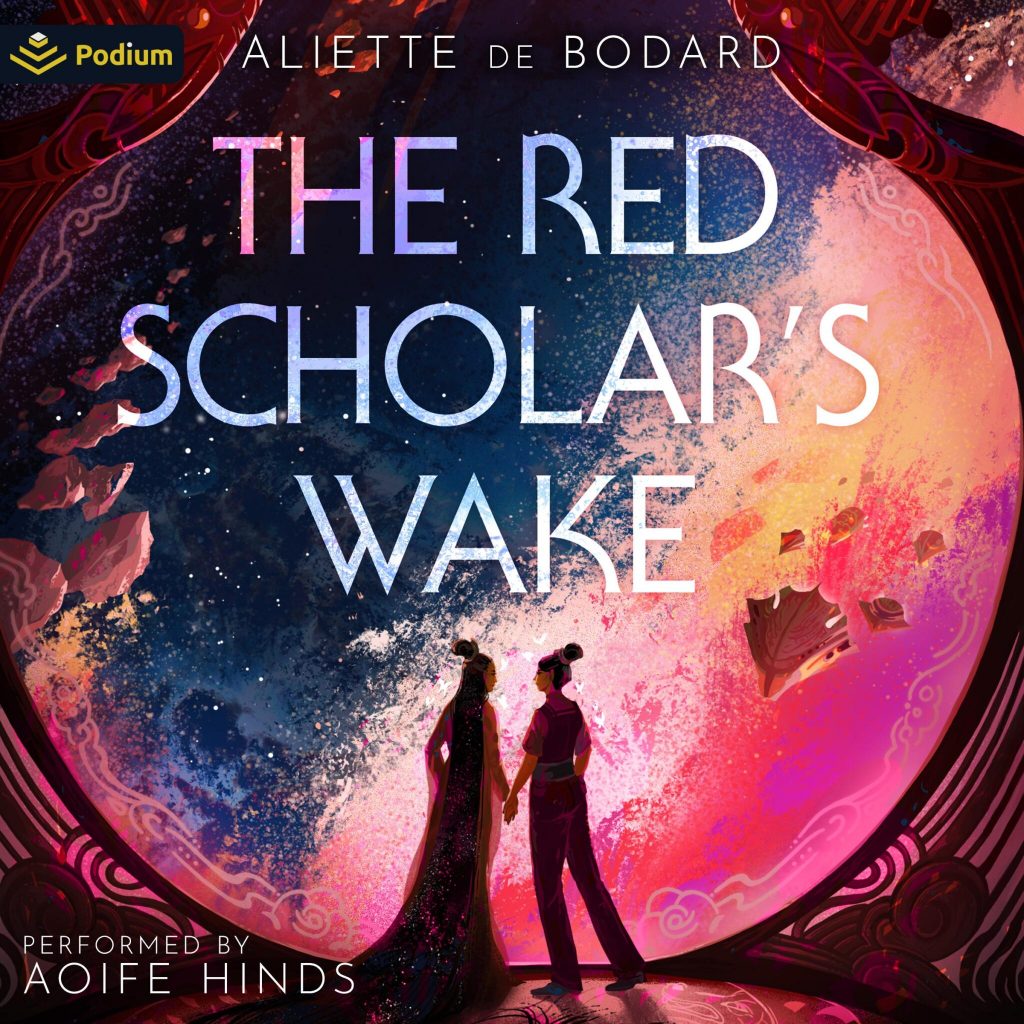 The North American audiobook edition of Aliette de Bodard's critically-acclaimed and award-nominated THE RED SCHOLAR'S WAKE is out tomorrow! Narrated by Aoife Hinds and published by Podium Audio, here's the synopsis…
When tech scavenger Xích Si is captured and imprisoned by the infamous pirates of the Red Banner, she expects to be tortured or killed. Instead, their leader, Rice Fish, makes Xích Si an utterly incredible proposition: an offer of marriage.
Both have their reasons for this arrangement: Xích Si needs protection; Rice Fish, a sentient spaceship, needs a technical expert to investigate the death of her first wife, the Red Scholar. That's all there is to it.
But as the interstellar war against piracy rages on and their own investigation reaches a dire conclusion, the two of them discover that their arrangement has evolved into something much less business-focused and more personal…and tender. And maybe the best thing that's ever happened to either of them—but only if they can find a way to survive together.
A rich space opera and an intensely soft romance from an exceptional SF author.
The print and eBook editions of THE RED SCHOLAR'S WAKE are published in North America by JABberwocky, and in the UK by Gollancz (who also publish the audiobook edition in the UK — also narrated by Aoife Hinds).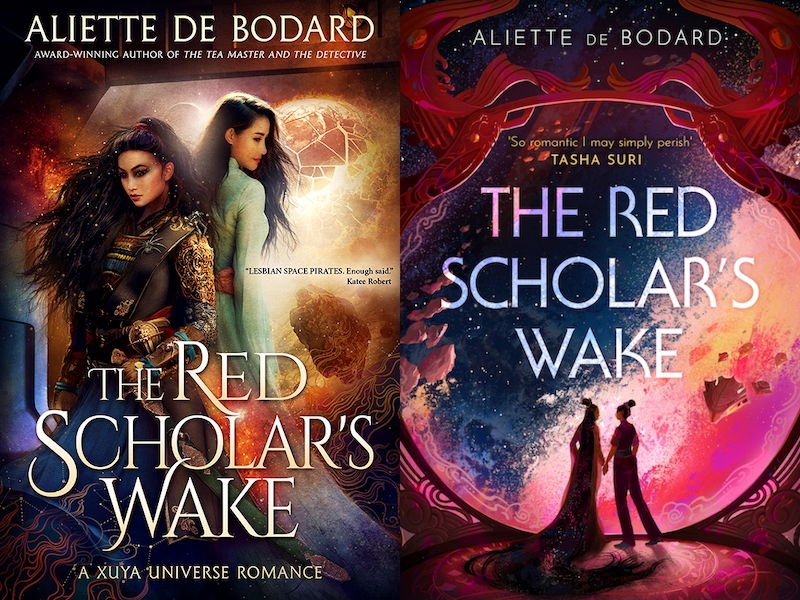 THE RED SCHOLAR'S WAKE has been shortlisted for the 2023 BSFA Award for Best Novel and the 2023 Arthur C. Clarke Award!
Here are just a few of the many great reviews the novel has received so far…
'With a unique world, a thought-provoking plot and a fragile, achingly believable relationship forming against the odds in the midst of rampant inequality and ever-present danger, this is a perfect novel for readers wanting emotional complexity, warmth and heartache in their space opera.' — British Fantasy Society
'Aliette's prose is outstanding. It is descriptive and evocative without being overwrought, it is witty and full of emotion. Every character, every scene comes to life immediately and plastically, drawing the reader into this world of space pirates, family biological and found and relationships of all sorts….I could not recommend THE RED SCHOLAR'S WAKE more.' — Grimdark Magazine
'While bringing together two such unlikely lovers seems to be one of the most common conventions of romance, de Bodard places the melodrama against the backdrop of flat-out space opera, which she excels at.' — Locus Magazine
'But beyond the romance, THE RED SCHOLAR'S WAKE also shines both when it comes to the action packed mystery of unravelling the Red Scholar's death, and in the wider implications about piracy, freedom and emancipation which that plot entails.' — Nerds of a Feather
'A top-notch science fiction romance… THE RED SCHOLAR'S WAKE spins a thrilling yarn about pirate rivalries and epic battles, while proving a more-than-worthy addition to the canon of post-human space opera. And the romance is really, really hot. You'll want to read this one twice: First to hold your breath as these two wives discover each other. And second to soak up all the clever ideas and lovely moment that feel totally human, even in this star-spanning context.' — Washington Post
'Aliette de Bodard summons the spirit of HG Wells… in some far-flung future galaxy, love blossoms between two lesbian space pirates, one human, the other a sentient ship… Soon the pair are navigating the tricky waters of mutual attraction and virtual sex but must also deal with shifting allegiances among the pirate clans and rescue Xich Si's daughter Khanh from slavery.' — Financial Times (Best New Science Fiction Novels, January 2023)
Aliette's next highly-anticipated new novel is A FIRE BORN OF EXILE, due to be published by Gollancz in October.