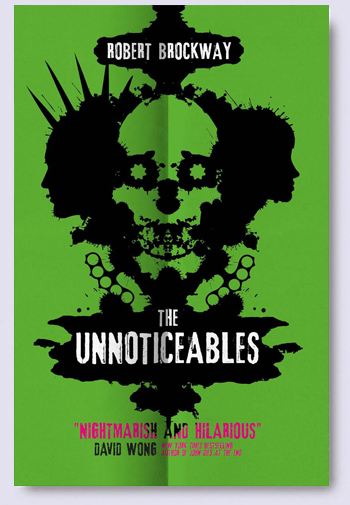 Tomorrow, Titan Books will publish Robert Brockway's 'nightmarish and hilarious' debut novel, THE UNNOTICEABLES. Here's the synopsis…
There are angels, and they are not beneficent or loving. But they do watch over us. They watch our lives unfold, analyzing us for repeating patterns and redundancies. When they find them, the angels simplify those patterns, they remove the redundancies, and the problem that is you gets solved.
Carey doesn't much like that idea. As a punk living in New York City, 1977, Carey is sick and tired of watching the strange kids with the unnoticeable faces abduct his friends. He doesn't care about the rumors of tarmonsters in the sewers, or unkillable psychopaths invading the punk scene—all he wants is drink cheap beer and dispense asskickings.
Kaitlyn isn't sure what she's doing with her life. She came to Hollywood in 2013 to be a stunt woman, but last night a former teen heartthrob tried to eat her, her best friend has just gone missing, and there's an angel outside her apartment.
Whatever she plans on doing with her life, it should probably happen in the few remaining minutes she has left of it.
There are angels. There are demons. They are the same thing. It's up to Carey and Kaitlyn to stop them. The survival of the human race is in their hands.
We are, all of us, well and truly screwed.
Here's some early praise for the novel…
'This is an off-kilter, offbeat piece of work…[The characters'] threads finally come together in an adrenaline-fueled climax that reads like Hunter S. Thompson went drinking with Stephen King. Brockway's style is raw and over the top, at times too clever and convoluted for its own good, but strangely readable, with unexpected depths.' — Publishers Weekly
'Whatever those guys are smoking over at Cracked.com is working…Just kick back and enjoy the wild ride… [a] nasty, freaky, and haphazardly funny horror story.' — Kirkus
'Lean, mean, and perfectly balanced… manages to genuinely terrify and excite in equal measure. It's twisted, and original… an essential read for the fantasy lover looking for a story with a little more bite.' — Barnes & Noble Sci-Fi & Fantasy
THE UNNOTICEABLES is also published tomorrow in the US, by Tor Books.
Zeno represents Robert Brockway in the UK and Commonwealth, on behalf of the JABberwocky Literary Agency in New York.