On Friday June 5th, Edward Cox is the British Fantasy Society's guest author for their BFS Open Night. The event takes place at The Blacksmith & The Toffeemaker in London, from 7-11pm. Details for the night, and the address of the venue can be found here.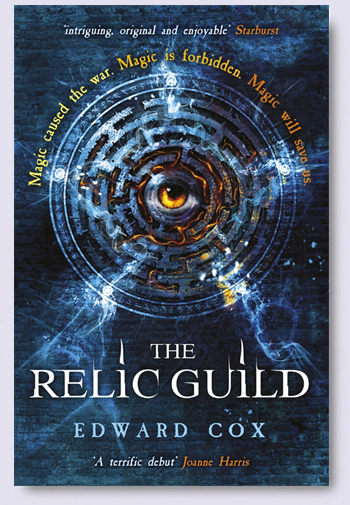 Edward is the author of the critically-acclaimed THE RELIC GUILD, which is published in the UK by Gollancz (paperback due out July 9th). Here's the synopsis…
In the sealed Labyrinth, a young woman must find a way to control her magic and escape her prison in this remarkable debut fantasy.
Magic caused the war. Magic is forbidden. Magic will save us.
It was said the Labyrinth had once been the great meeting place, a sprawling city at the heart of an endless maze where a million humans hosted the Houses of the Aelfir. The Aelfir who had brought trade and riches, and a future full of promise. But when the Thaumaturgists, overlords of human and Aelfir alike, went to war, everything was ruined and the Labyrinth became an abandoned forbidden zone, where humans were trapped behind boundary walls 100 feet high.
Now the Aelfir are a distant memory and the Thaumaturgists have faded into myth. Young Clara struggles to survive in a dangerous and dysfunctional city, where eyes are keen, nights are long, and the use of magic is punishable by death. She hides in the shadows, fearful that someone will discover she is touched by magic. She knows her days are numbered. But when a strange man named Fabian Moor returns to the Labyrinth, Clara learns that magic serves a higher purpose and that some myths are much more deadly in the flesh.
The only people Clara can trust are the Relic Guild, a secret band of magickers sworn to protect the Labyrinth. But the Relic Guild are now too few. To truly defeat their old nemesis Moor, mightier help will be required. To save the Labyrinth – and the lives of one million humans – Clara and the Relic Guild must find a way to contact the worlds beyond their walls.
Gollancz are also due to publish the sequel, THE CATHEDRAL OF KNOWN THINGS, on October 15th, 2015. Here are just a handful of great reviews THE RELIC GUILD has received so far…
'A terrific debut novel, with plenty of scope for expansion and some really good world-building. Most importantly, lots of fun. Looking forward to the next one.' — Joanne Harris
'Very enjoyable epic fantasy in a noir-ish dystopian setting, emcompassing two time lines and dashes of vampirism and zombies – all neatly balanced despite it being a debut, with likeable characters and a fresh setting…' — Tom Lloyd (author of Twilight Reign series)
'All kinds of magic: alchemy, illusion, lycanthropy, necromancy, sorcery and thaumaturgy; this book has magic in its DNA… no figure lacks colour, no scene lacks substance and no twist lacks spice — the author takes the opportunity to invest everything with something. Stylistically it is a rich brew… a high concept fantasy packed with ideas, weird and wonderful characters and a mix of styles, at times evoking noir, urban fantasy, flavours of steampunk … Thought you knew where modern fantasy was at? THE RELIC GUILD will challenge your assumptions.'  —  British Fantasy Society
'THE RELIC GUILD is an intriguing, original and enjoyable book, a daring mix of genres …' — Starburst
'THE RELIC GUILD is a formidable debut from an author with huge potential, and I will be one of the first clamouring for a copy of the sequel.' — Fantasy Faction