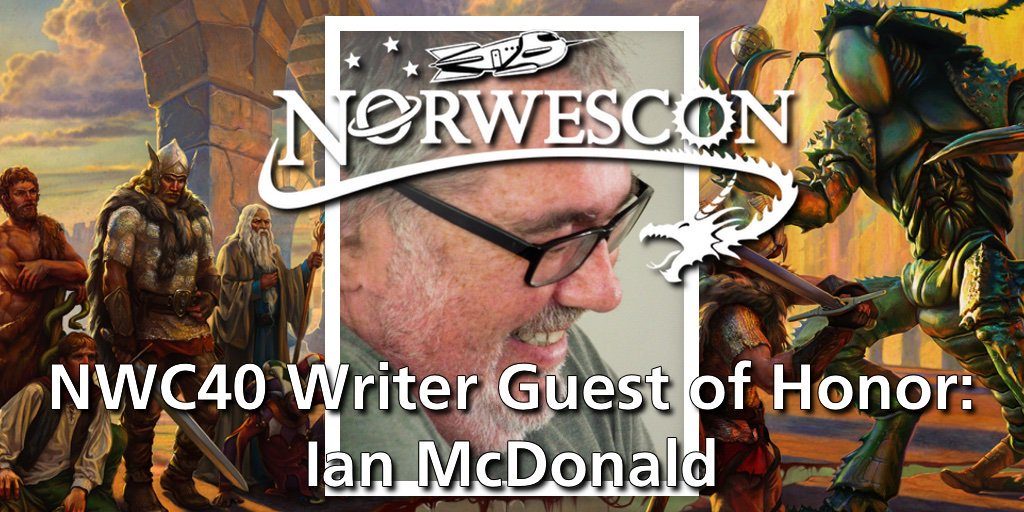 This weekend, best-selling author Ian McDonald is a Guest of Honour at Norwescon! Here's his con schedule…
Thursday, 13th
5:00-6:30pm — Guest of Honour Banquet (Grand 2)
7:00-8:00pm — Opening Ceremonies (Grand 3)
Friday, 14th
11:00am-noon — Guest of Honour Reading (Grand 2)
Saturday, 15th
noon-1:00pm — Interview and Q&A with Ian McDonald (Evergreen 1&2)
2:00-3:00pm — autographing session 1 (Grand 2)
3:00-4:00pm — autographing session 2 (Grand 2)
Sunday, 16th
4:00-5:00pm — closing ceremonies (Evergreen 3&4)
Ian's latest series is the critically-acclaimed Luna series: NEW MOON and WOLF MOON. The series is published by Gollancz in the UK and Tor Books in the US. The series has also been published in a number of other languages (more on the way!). Here's the synopsis for the first novel…
A corporate SF thriller and the deepest evocation yet of the terrors and rigours of life on the moon.
Luna is a gripping thriller about five corporate families caught in a bitter battle for supremacy in the harsh environment of the moon. It's very easy to die on the moon, but with its vast mineral wealth it's also easy to make your fortune.
Following the fortunes of a handful of disparate characters, from one of the lowliest workers on the moon to the heads of one of the most powerful families, LUNA provides a vast mosaic of life on this airless and terrifying new home for humanity.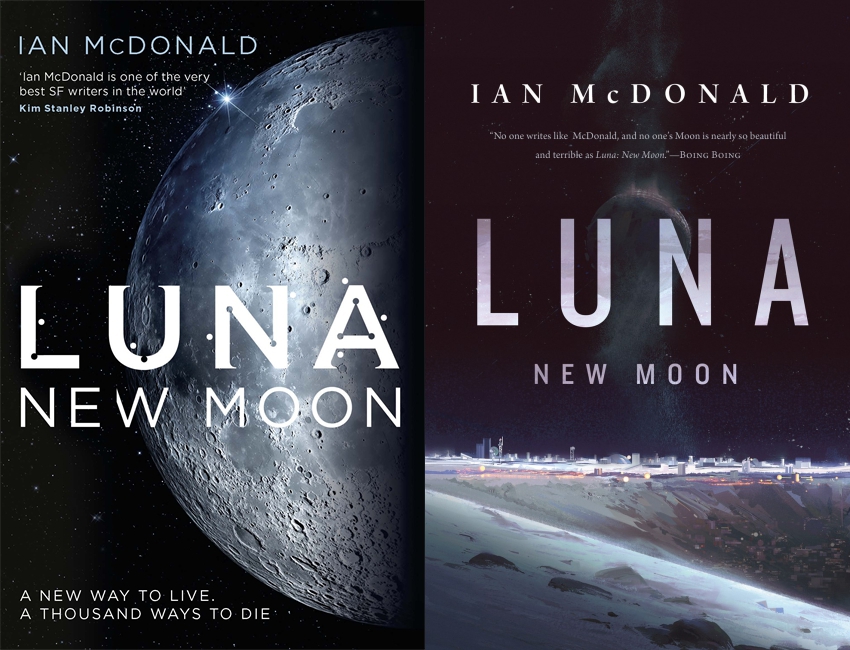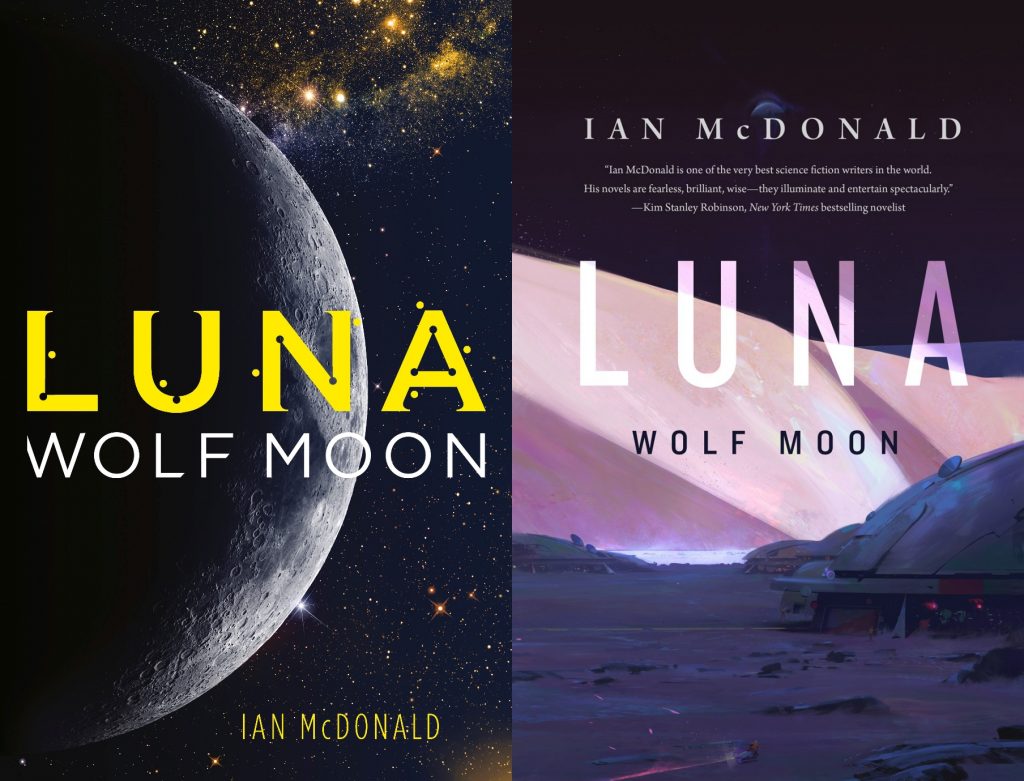 'Smart, funny, passionate and at times quite dark, McDonald brings the touch we've seen in RIVER OF GODS and DERVISH HOUSE to an entirely new culture as it evolves in a distant hostile place where business or family rules all… it's terrific. My only complaint: it leaves you wanting the second book right now!' — Jonathan Strahan on LUNA: NEW MOON
'Superb near-future series… scintillating, violent, and decadent world. McDonald creates a complex and fascinating civilization featuring believable technology, and the characters are fully developed, with individually gripping stories. Watch for this brilliantly constructed family saga on next year's award ballots.' — Publishers Weekly (Starred Review) on LUNA: NEW MOON
'Mafia-style mining families clash in a compelling fantasy that offers up all the pleasures of a cut-throat soap opera in space… That McDonald is able to spin a compelling story from this unforgiving set-up is testament to his skill as a writer… One thing Luna does exceptionally well is to puncture Old Heinlein's assumption that a frontier society based on the primacy of the family and a disregard of conventional laws would end up like idealised smalltown America. Luna argues that any realistic future colonisation of the moon will be much more The Sopranos than The Waltons. LUNA is as gripping as it is colourful, and as colourful as it is nasty.' — Guardian on LUNA: NEW MOON
'No one writes like Ian McDonald, and no one's Moon is nearly so beautiful and terrible… Ian McDonald's never written a bad novel, but this is a great Ian McDonald novel… McDonald has ten details for every detail proffered by other sf writers. Not gratuitous details, either: gracious ones. The fashion sense of William Gibson, the design sense of Bruce Sterling, the eye for family drama of Connie Willis, the poesie of Bradbury, and the dirty sex of Kathe Koja and Samuel Delany… McDonald's moon is omnisexual, kinky, violent, passionate, beautiful, awful, vibrant and crushing. As the family saga of the Cortas unravels, we meet a self-sexual ninja lawyer, a werewolf who loses his mind in the Full Earth, a family tyrant whose ruthlessness is matched only by his crepulance, and a panoply of great passions and low desires. LUNA: NEW MOON is the first book of a two-book cycle. Now I'm all a-quiver for the next one.' — BoingBoing
'Powerful sequel… compelling throughout. Each of McDonald's viewpoint characters is made human in fascinating and occasionally disturbing detail, and the solar system of the 22nd century is wonderfully delineated. Fans of the first volume will love this one and eagerly look forward to the next.' — Publishers Weekly on LUNA: WOLF MOON
'NEW MOON was one of the most interesting sci-fi novels of 2015, with smart ideas on humanity and economies matched by street smarts, political brawls and murder in the streets. LUNA: WOLF MOON turns that up to eleven – it's a fascinating story, which is also a tense, enthralling read.' — Sci-Fi & Fantasy Review
'A Howling Good Read… No one builds a world like Ian McDonald does… There are no wasted moves, nothing that isn't vital because, in the end, everything is vital. Everything matters… it is fascinating, all of it… McDonald's corporate war is a gorgeous thing, fought with every tool available… McDonald is able to wrap the biggest events in constellations of the smallest so that a cocktail party here, a discussion of '80s retro fashion (all mall-hair and WHAM! T-shirts), a love story and a day at work for a guy who cleans solar panels all build and coalesce to form the background radiation of life in this unstable future. Every moment with his characters makes them precious, real and alive.' — NPR on LUNA: WOLF MOON