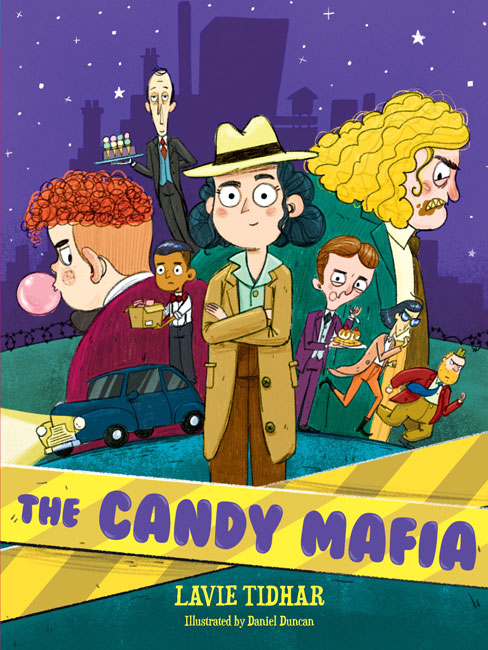 Lavie Tidhar's acclaimed first novel for younger readers, CANDY, is due to be published in North America in three weeks! Peachtree Publishing will release the novel as THE CANDY MAFIA, with illustrations by Daniel Duncan, on September 1st. Here's the synopsis…
In a city where candy is a crime and sugar is scandalous, Nelle Faulker is a 12-year-old private detective looking for her next client.
When notorious candy gangster Eddie de Menthe asks for her help to find a missing teddy bear, Nelle Faulkner is on the case. But as soon as the teddy turns up, Eddie himself goes missing! As a seemingly innocent investigation unravels into something more sinister, Nelle and her friends quickly find themselves swept up in a shady underworld of sweets smugglers, back alley deals, and storefront firebombs.
If Nelle has any hope of tracking down her missing client, first she'll have to unmask the true faces behind the smuggling ring. Can Nelle and her friends find a way to take the cake? Or will they come to a sticky end…?
Charlie and the Chocolate Factory meets Bugsy Malone in this page-turning mystery from World Fantasy Award-winning author Lavie Tidhar. With moody spot illustrations by Daniel Duncan, readers will be sucked into the action-packed narrative as Nelle pulls the curtain back on the black market candy rings.
The novel is published in the UK by Scholastic (with illustrations by Mark Beech), and has also been translated into German, French, Czech, Polish and Italian.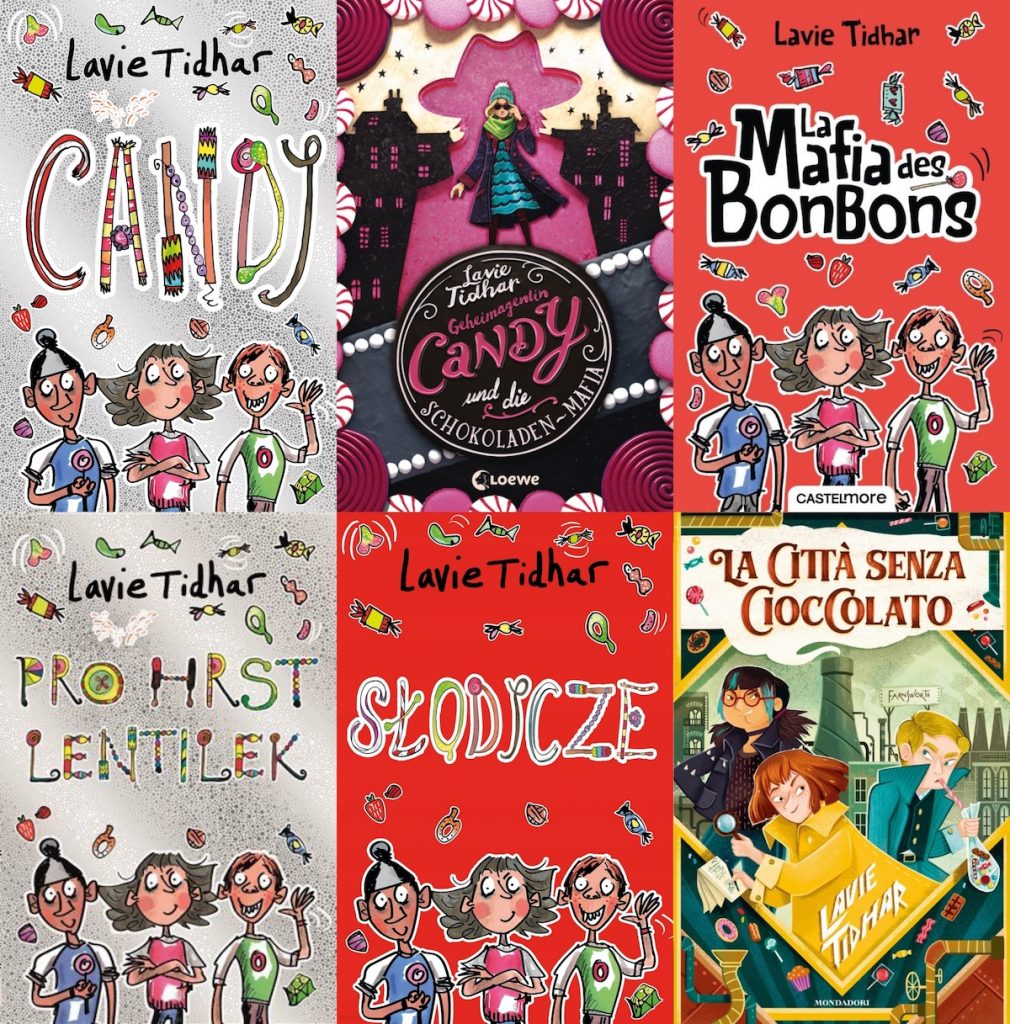 Here are just a few of the reviews the novel has received so far…
'In his first book for younger readers, he creates perhaps his most chilling vision yet: a city where sweets are forbidden under a prohibition act… The tone is as hard-boiled as a cough drop. The jokes sizzle like Space Dust. CANDY is a treat, the kind of confection Roald Dahl and Raymond Chandler might have come up with after an all-night bonbon bender.' — Financial Times
'A perfectly pitched noir take on Charlie and the Chocolate Factory… delightful premise… as with Tidhar's earlier work, his playful approach to genre is in service to the story's hidden depths. He uses the trappings of noir detective tales to tell a subversive children's story about corruption, the exploitation of vulnerable communities, and the limits of justice. The end result is a novel that for all its joyous sense of fun still packs a surprising emotional and philosophical punch… The whole thing is tied together by Tidhar's wonderful character work and his excellent prose… engages in some beautiful, chocolate and candy themed descriptions which perfectly capture the playground noir aesthetic. Tidhar's characters are drawn with surprising depth and sympathy, with only a few key scenes and interactions he is able to penetrate to the core of loneliness and desperation for belonging that inspires so many of his candy thugs and bullies, giving them believable humanising moments. Most importantly, we never lose sight of the characters as children, which is necessary for the novel to carry off its conceit.' — Fantasy Faction
'Like a mini Miss Marple meets Maynards… this mouthful of mystery will leave every reader feeling like a child in a sweetshop; just craving to read more from Lavie!' — Reader Teacher
'Candy is one of those books that do not take children and teenagers for fools. The story is able to change shifts, thanks to lot of humour, to more serious subjects. Of course, we can enjoy it at any age. If possible, the book should be served in place of dessert.' — Geektest (France)
'Due to the wonderfully fluent writing style, the pleasantly short chapters and the rousing plot, I devoured the book in record time. For girls and boys from the age of 10, who like to read exciting, funny, imaginative detective stories, "Secret Agent Candy" is just perfect. I really hope that this is a start of a series and we will soon be able to solve their second, tricky case together with Nelle… Exciting, funny, bizarre and just awesome!' — Die Bücherwelt von CorniHolmes (Germany)
'CANDY is the case when a children's book can actually be interesting at any age. Children will appreciate the plot and humour, adults – a lot of references scattered throughout the text and how unexpectedly and funny elements of the classic "cool" and noir detective story are refracted, if you put them in the context of a children's literature. Fun, playful and exciting.' — Fantalab (Russia)