Lavie Tidhar's critically-acclaimed THE VIOLENT CENTURY has been nominated for the 2016 Seiun Award for Best Translated Novel in Japan! Published as 完璧な夏の日 by Tokyo Sogensha (東京創元社) in Japan (in two parts), here's the synopsis…
第二次世界大戦の直前、世界各地に突如現れた異能力者たちは各国の情報機関や軍に徴集され、死闘を繰りひろげた。そして現在。イギリスの情報機関を辞して久しい異能力者のひとりフォッグは、かつての相棒と上司に呼び出され、過去を回想する。突然の能力発現、仲間との初めての出会い、終わりなき闘いの日々…
THE VIOLENT CENTURY is published in the UK by Hodder, and in the US by Thomas Dunne Books. PS Publishing have also released a limited edition. Here's the English-language synopsis…
For seventy years they guarded the British Empire. Oblivion and Fogg, inseparable friends, bound together by a shared fate. Until one night in Berlin, in the aftermath of the Second World War, and a secret that tore them apart.
But there must always be an account… and the past has a habit of catching up to the present.
Now, recalled to the Retirement Bureau from which no one can retire, Fogg and Oblivion must face up to a past of terrible war and unacknowledged heroism — a life of dusty corridors and secret rooms, of furtive meetings and blood-stained fields — to answer one last, impossible question: What makes a hero?
Here is just a small selection from the many great reviews the novel's received…
'THE VIOLENT CENTURY… may be his best yet: a blistering alt-historical retelling of a 20th century lousy with superheroes.' — The Guardian, Best SFF of 2013
'Lavie Tidhar's latest is at once a love story, a tragedy, a spy novel, a memoir of a friendship, an exposé of the horrors of war, and a very serious study of the superhero: the origins of the concept as well as its relative relevance. THE VIOLENT CENTURY is a difficult text, yes, but one that gives as good as it gets.' — Tor.com
'[A] new masterpiece… a tremendous, unforgettable read… This study in heroism, love, revenge and violence will be in demand by lovers of complex, intelligent sf and alternative history. Anyone who enjoys stories of people with supernatural abilities will thrive reading Tidhar's world.' — Library Journal
'THE VIOLENT CENTURY is about legacy and how heroics play into it, a deeper message than defining what heroics mean: The actions of Fogg and Oblivion have lasting consequences, while at the same time, we can see the weight of the world they've helped to build grow on their shoulders. By the end of the book, it's clear that their own journeys are defined by the actions which they've undertaken because it's what they felt was right, rather than what their orders were.' — io9.com
'At the centre of this is the question, 'What makes a hero?' The supermen of Tidhar's novel are forced to commit terrible acts in the name of the greater good, and stand by and watch as terrible acts are committed for the same reason. As well as being a wonderfully drawn and detailed historical espionage tale, THE VIOLENT CENTURY is ultimately a very human story. It's gripping, imaginative and, finally, moving.'  —  SciFi Now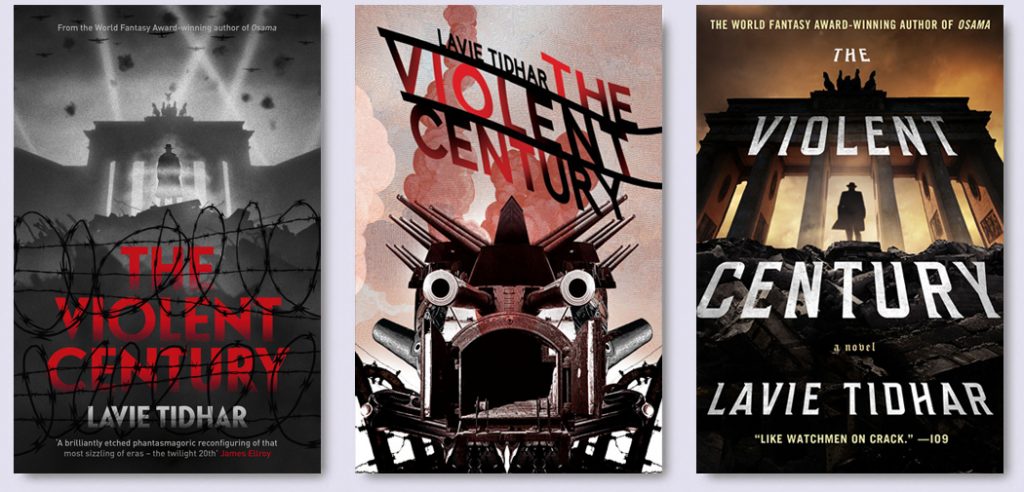 (UK, Ltd., US)