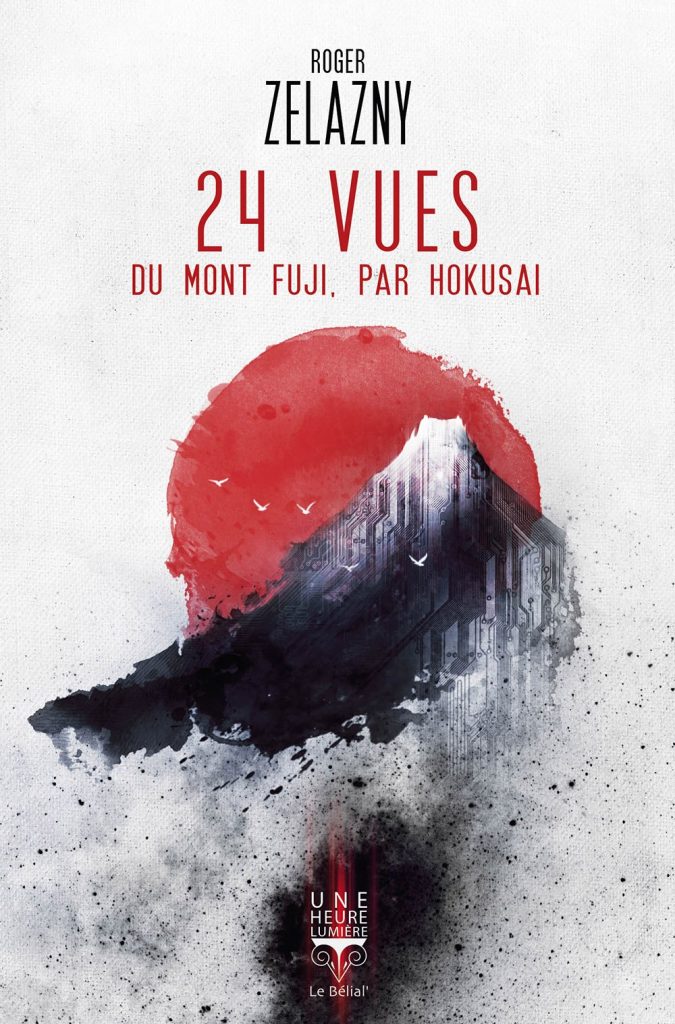 Tomorrow, Bélial are due to publish Roger Zelazny's classic short novel 24 VIEWS OF MT. FUJI, BY HOKUSAI. Published in French as 24 VUES DU MONT FUJI, PAR HOKUSAI, here's the synopsis…
Son époux est mort. Ou disons qu'en tout cas, il n'est plus en vie… Pour Mari, le temps du deuil est venu. Un double deuil… Armée d'un livre, Les Vues du mont Fuji, par Hokusai, elle se met dans les traces du célèbre peintre japonais afin de retrouver vingt-quatre des emplacements depuis lesquels l'artiste a représenté le volcan emblématique — autant de tableaux reproduits dans l'ouvrage. Un pèlerinage immersif, contemplatif, au cœur des ressorts symboliques de cette culture si particulière, un retour sur soi et son passé. Car il lui faut comprendre… et se préparer. Comprendre comment tout cela est arrivé. Se préparer à l'ultime confrontation. Car si son époux n'est plus en vie, il n'en est pourtant pas moins présent… Là. Quelque part. Dans un ailleurs digital. Omnipotent. Infrangible. Divin, pour ainsi dire…
The novella, first published in Asimov's in July 1985, won the Hugo Award for Best Novella, and was nominated for the Nebula and Locus Best Novella Awards.
A widow makes a pilgrimage in Japan to some of the locations of Hokusai's views of Mt. Fuji, ultimately attempting to confront her former husband who had become a nearly all-powerful digital being.
Zeno represents Roger Zelazny in translation, on behalf of the Zelazny Estate.