Charlaine Harris's new novel MIDNIGHT CROSSROAD is due to be published in the UK next week by Gollancz, who produced the above trailer to mark the occasion. The novel is published in the US by Ace Books.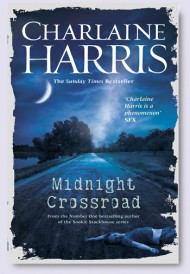 The novel is the first in a new series from the author of the mega-popular and successful Sookie Stackhouse/True Blood urban fantasy series. Along with that trailer, MIDNIGHT CROSSROAD has received some great advance praise…
'A gently paced mystery with a supernatural slant, populated by endearing, varied and well-constructed characters… Definitely recommend.'  —  Civilian Reader
'I enjoy this kind of story, a mystery/crime/thriller/urban fantasy novel, there is something for everyone here and enough loose ends to keep you intrigued to find out what could happen next. If you have read anything by Charlaine Harris I can guarantee you won't be disappointed. If you haven't read anything by Charlaine Harris, then MIDNIGHT CROSSROAD might be the book to get you started.'  —  Fantasy Book Review
'MIDNIGHT CROSSROAD is a strong opener of the new series and often feels like a love letter from Charlaine to her faithful readers. This gentle mystery shows an author confident in her writing and perhaps heralds the arrival of the best stage of her work – one where she writes primarily because of the sheer love for writing. An excellent read.'  —  Upcoming4.Me
'I can see many nights being lost to the wonder of Midnight. 4/5'  —  Backwards Compatible
'A slow burning novel which successfully juggles setting the scene for an ongoing series with a self-contained story. 7/10'  —  SciFi Bulletin
'Fans might be sad to say good-bye to Sookie, but they'll be so intrigued by the denizens of Midnight they won't have time to mourn.'  —  A Knife & A Quill
'MIDNIGHT CROSSROAD is another compelling book by Charlaine Harris. I love her storytelling style and the wonderful characters she creates.'  —  Following the Nerd
'I was blown away by Midnight Crossroad. It's a wholly immersive, stunningly written adventure that I couldn't put down. The characters are spot on and unforgettable, the plot is exciting – the only negative thing is that I have to (very impatiently) wait for book two!!!'  —  Carly Bennett
'The inclusion of a mystery that starts simply and then winds out of control so that no one can be trusted makes this is a blast to read. Everyone is your friend in Midnight, but you don't know everything about anyone. I can't wait for Midnight to come again. Overall grade: A'  —  SciFi Pulse
In one additional piece of news, Audible UK are currently running a fantastic promotion for the whole of Charlaine's mega-successful Sookie Stackhouse series! The audiobooks are just £4.99 each. This offer will end at 10am on May 2nd.
Zeno represents Charlaine Harris in the UK and Commonwealth, on behalf of the JABberwocky Literary Agency in New York.