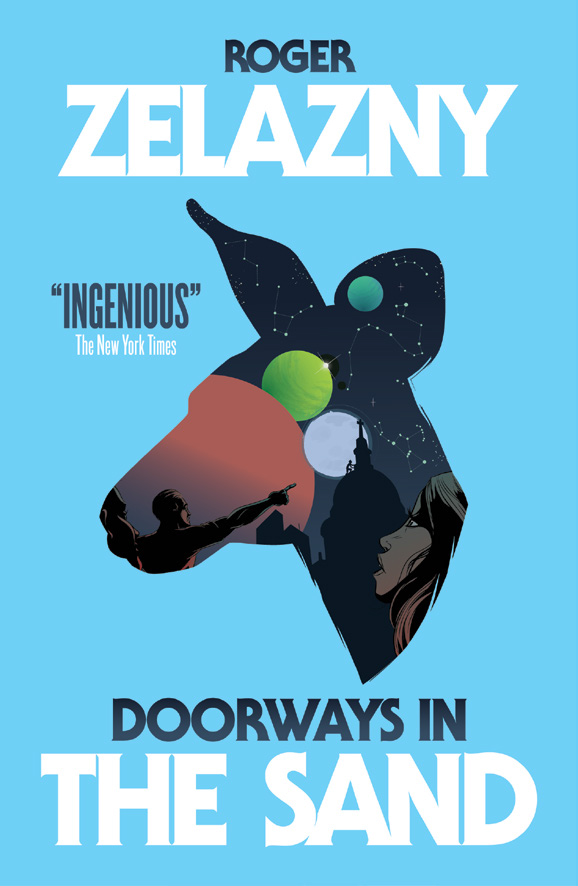 This month, Farrago will publish two of Roger Zelazny's classic novels in the UK!
Let's start with DOORWAYS IN THE SAND, which was first published in 1976. This novel was nominated for the Hugo, Nebula and Locus Awards for Best Novel. The striking new cover is above, and here's the synopsis…
The most humorous – and arguably the finest – novel by the master of inventive science fiction.
Humanity is not alone in the cosmos. The aliens have given a precious relic to the people of Earth: star-stone. But the harmony of the galaxy is endangered when they discover that the star-stone has disappeared.
Likeable Fred Cassidy is an eternal undergraduate. All he thinks he knows about the star-stone is that it came to Earth in an interplanetary trade for the Mona Lisa and the British Crown jewels.
When Fred is accused of stealing the cosmic artefact, he is pursued from Australia to Greenwich Village and beyond, by telepathic psychologists, extra-terrestrial hoodlums and galactic police in disguise. Follow him on his adventures as he enters multiple realities, flipping in and out of alien perspectives, through doorways in the sand.
The print edition of DOORWAYS IN THE SAND will be available on September 26th, and the eBook on 28th.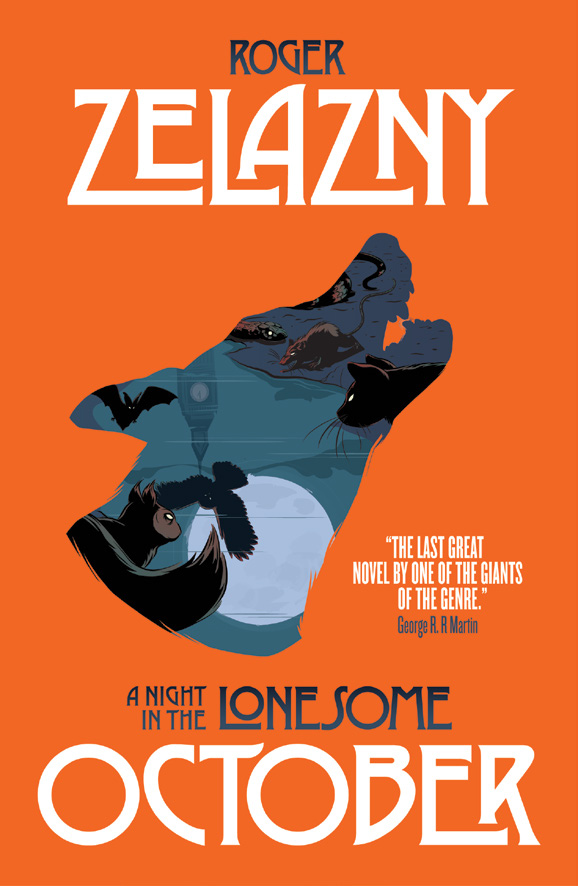 A NIGHT IN THE LONESOME OCTOBER, already available as an eBook, will also be available in paperback (cover reveal soon). Described by George R.R. Martin as 'last great novel by one of the giants of the genre', and nominated for the Nebula Award for best novel, it was first published in 1993. Here's the synopsis…
All is not what it seems…
In the murky London gloom, a knife-wielding gentleman named Jack prowls the midnight streets with his faithful watchdog Snuff – gathering together the grisly ingredients they will need for an upcoming ancient and unearthly rite. For soon after the death of the moon, black magic will summon the Elder Gods back into the world. And all manner of Players, both human and undead, are preparing to participate.
Some have come to open the gates. Some have come to slam them shut.
And now the dread night approaches – so let the Game begin.
Zeno represents Roger Zelazny in translation, on behalf of the Zelazny Estate.