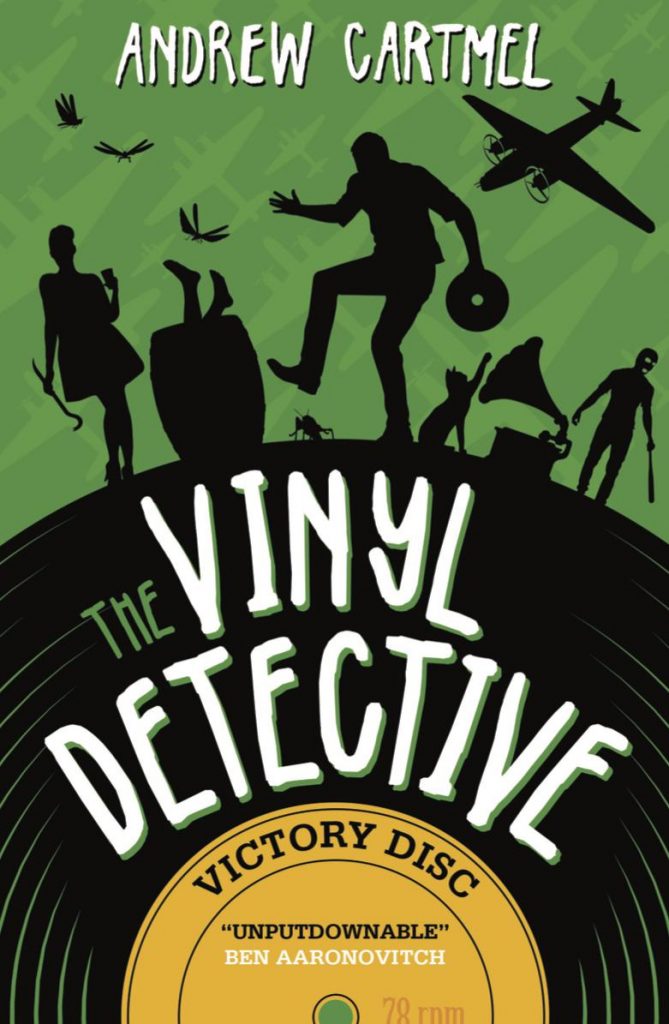 The mass market paperback edition of Andrew Cartmel's VICTORY DISC is due out tomorrow! The third novel in the acclaimed Vinyl Detective series, it's published by Titan Books. Here's the synopsis…
This time the search for a rare record ensnares our hero in a mystery with its roots stretching back seven decades, to the Second World War.
Three young RAF airmen played in a legendary band called the Flare Path Orchestra. When a precious 78rpm record of their music turns up in the most unexpected place the Vinyl Detective finds himself hired to track down the rest of their highly sought-after recordings.
But, as he does so, he finds that the battles of the last World War aren't over yet—and can still prove lethal.
While fighting for his life, our hero unearths dark secrets of treason and murder, and puts right a tragic miscarriage of justice.
If all this sounds simple, it's only because we haven't mentioned drive-by shootings, murderous neo-Nazis, or that body in the beer barrel.
Titan Books has published the first four novels in the series: WRITTEN IN DEAD WAX, THE RUN-OUT GROOVE, VICTORY DISC, and FLIP BACK. The fifth novel, LOW ACTION, is due to be published in May 2020.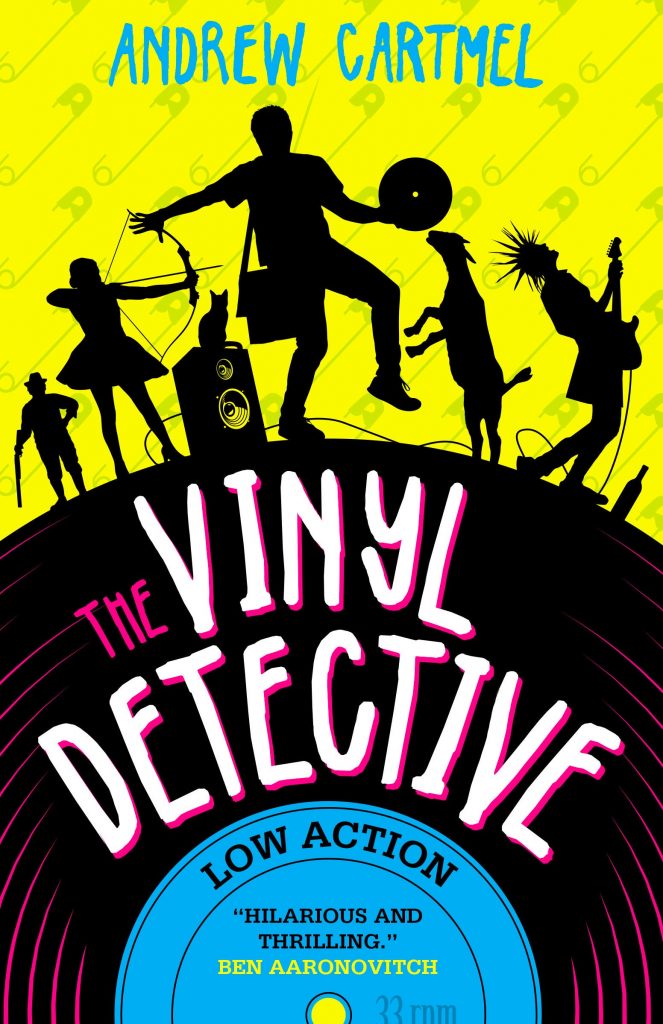 Here are just a few of the great reviews the series has received so far…
'This charming mystery feels as companionable as a leisurely afternoon trawling the vintage shops with a good friend.' — Kirkus on WRITTEN IN DEAD WAX
'… fast-paced, lighthearted adventure… marvelously inventive and endlessly fascinating…' — Publishers Weekly on WRITTEN IN DEAD WAX
'Author Cartmel has combined the tropes of the several genres into a surprising, refreshing story centered around old-fashioned records… the story delivers multiple chuckles per chapter… Based on this volume, the series will be a hit.' — New York Journal of Books on WRITTEN IN DEAD WAX
'Part of the fun of the series is the obsessiveness of record collectors, the contradictions between the mundane places in which they hunt their treasures — charity shops, church bazaars — and the sophisticated sound systems they have set up to play what they find… the Vinyl Detective is proving to be a very amenable companion to have on a treasure hunt. This is one vinyl nerd you won't mind spending time with.' — Kirkus on THE RUN-OUT GROOVE
'… entertaining second record-spinning mystery… Cartmel treats music and records seriously, plays his strange characters for laughs, and provides a bit of danger and some unexpected twists in this affectionate nod to the vagaries of rock stardom.' — Publishers Weekly on THE RUN-OUT GROOVE
'… effectively integrates the lead's unusual specialty of searching out rare records into an intricately constructed plot… the clever resolution of the story lines is impressive. Fair-play fans, even those without an interest in music, will be pleased.' — Publishers Weekly on VICTORY DISC
'VICTORY DISC works beautifully both as a sequel and as a standalone novel… The story is splendid, continuing the fine tradition of the series to date of weaving fascinating fact with thrilling fiction… Andrew Cartmel is a fine mystery (and comedy) writer, keeping his readers smiling while never letting the elements of humour obfuscate the more serious moments… if you enjoyed the first two books, you'll undoubtedly enjoy this one too. The unsolved murder mystery is highly intriguing, the characters introduced throughout are fully formed and a delight to uncover more about, and the chemistry between the Vinyl Detective and his friends is absolutely spot on. In short, VICTORY DISC is beautifully orchestrated and well worth taking for a spin this summer.' — Alternative Magazine Online