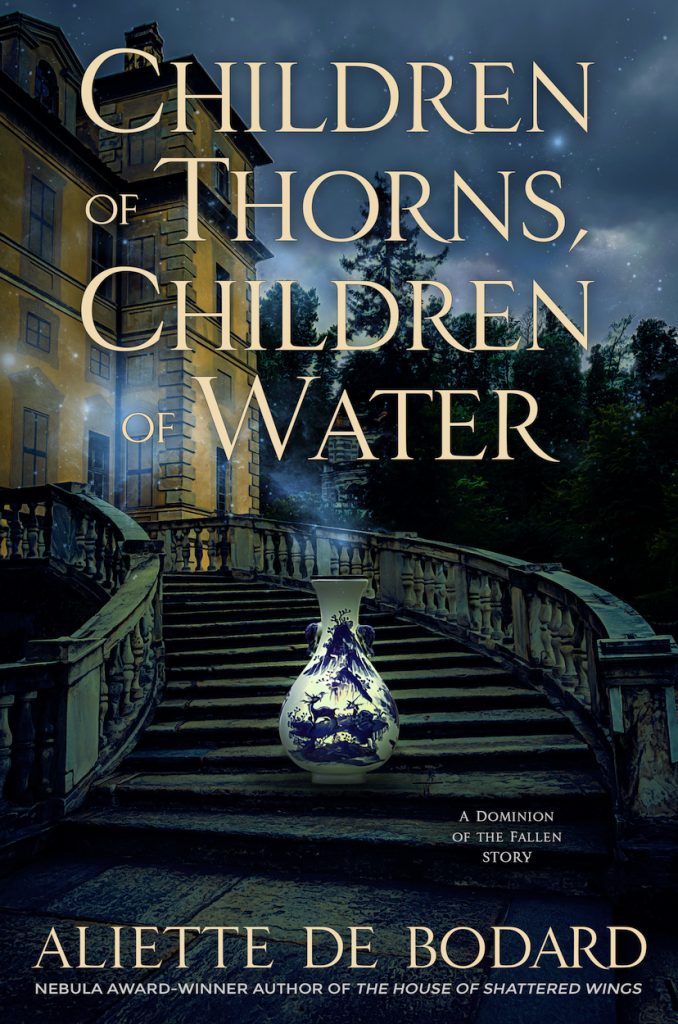 Above you can see the striking cover for Aliette de Bodard's CHILDREN OF THORNS, CHILDREN OF WATER. It's a prequel novella to THE HOUSE OF BINDING THORNS. Here's the synopsis…
In a Paris that never was, a city of magicians, alchemists and Fallen angels struggling to recover from a devastating magical war…
Once each year, the House of Hawthorn tests the Houseless: for those chosen, success means the difference between a safe life and the devastation of the streets. However, for Thuan and his friend Kim Cuc, — dragons in human shapes and envoys from the dying underwater kingdom of the Seine — the stakes are entirely different. Charged with infiltrating a House that keeps encroaching on the Seine, if they are caught, they face a painful death.
Worse, mysterious children of thorns stalk the candidates through Hawthorn's corridors. Will Thuan and Kim Cuc survive and succeed?
Gollancz are offering the novella free, if you pre-order THE HOUSE OF BINDING THORNS. You can find details on how, as well as a piece by Aliette on the design of the cover, here.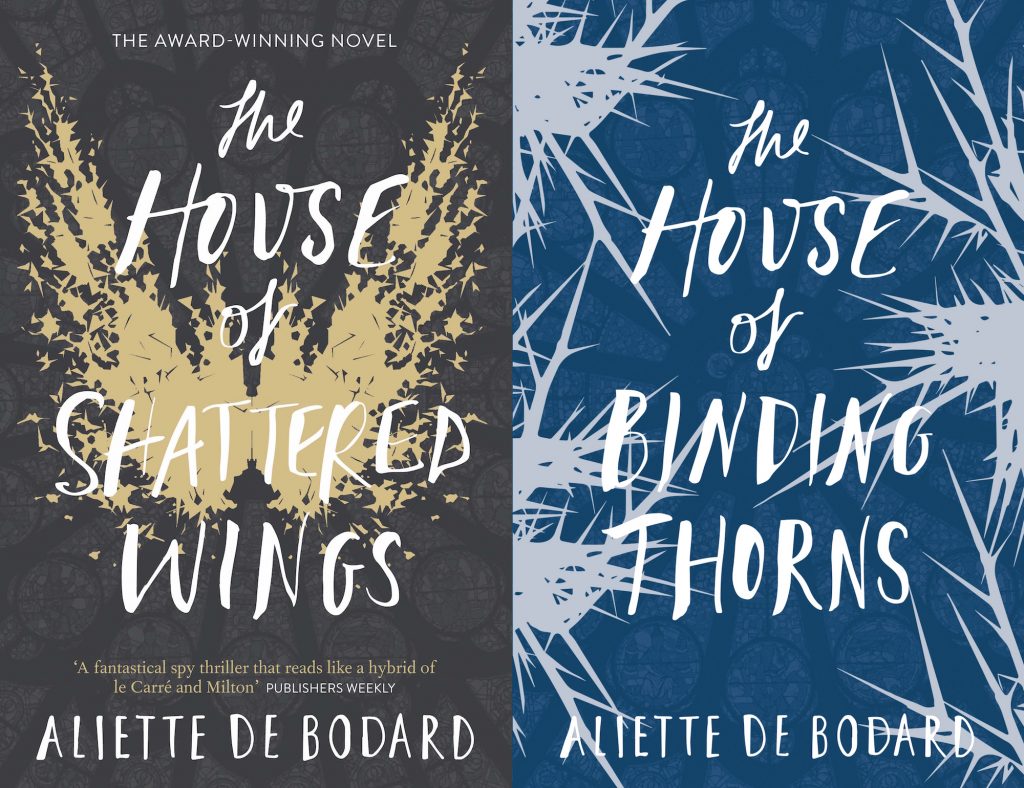 The first novel in the series, THE HOUSE OF SHATTERED WINGS is published by Gollancz in the UK, and Roc Books in the US. THE HOUSE OF SHATTERED WINGS will be published in the UK on April 6th, 2017; and in the US on April 4th, 2017.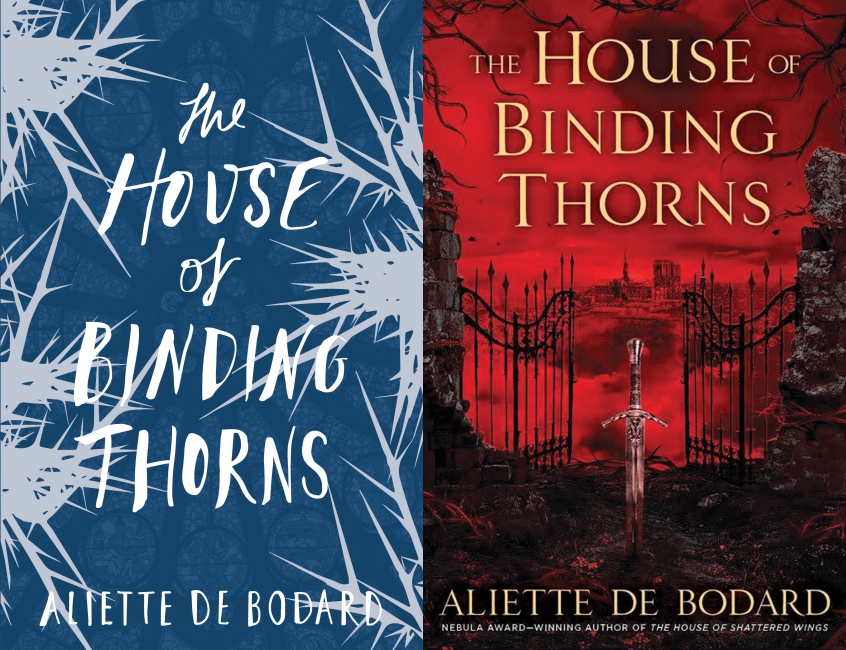 The second novel has already started to receive praise, including this Starred review from Publishers Weekly…
'Meddling gleefully in the affairs of devils and dragons, this affective sequel to 2015's THE HOUSE OF SHATTERED WINGS touches the heart as often as it cuts throats… Having fully crafted her world, de Bodard is now completely in control: she can move swiftly from gentle poetic touches to bloody Grand Guignol gestures, and she sure-handedly holds the reader by exposing the vulnerabilities and needs that drive even the seemingly all-powerful figures of rebel angels and ancient serpents to surrender to a higher collective power. In this world lacking signs of heaven, redemptions are painful but possible.'
We expect many more great reviews in the very near future. THE HOUSE OF SHATTERED WINGS was also showered in praise. Here's a small selection…
'Will grab readers and force them to pay attention to the amazing writing and the phenomenal characters. de Bodard will sweep you up into the dark and dirty world Paris has become… It's a whirlwind, it's heartbreaking and it's one of the best fantasy novels of 2015.' — RT Book Reviews (Top Pick August 2015)
'A gripping tragedy of forlorn individuals caught up in an angelic version of the Cold War… The story holds up well as a standalone, with clear possibilities but no pressing need for a sequel. De Bodard aptly mixes moral conflicts and the desperate need to survive in a fantastical spy thriller that reads like a hybrid of le Carré and Milton, all tinged with the melancholy of golden ages lost.' — Publishers Weekly (Starred Review)
'De Bodard… has spun a fascinating Paris of decay and cruelty. ­Phillippe is a marvel of a character, unreliable as a narrator but compelling in his flaws and his deep well of homesickness.' — Library Journal (Starred Review)
'A beautifully crafted novel full of complex characters, set in a post apocalyptic Paris – the image of which is truly haunting… vivid and fast-paced battles and intense political manoeuvrings… with carefully crafted characters both with layers and depth, De Bodard reflects the best and worst of human nature in her novel… an intriguing mystery, elegantly written… Something any avid fantasy reader with an open mind will devour!' — Guardian
'… strikingly original… heavily character-driven… remarkably evocative use of setting… an urban fantasy in the original and quite literal sense of that term… In the end, de Bodard manages to weave together the backstories and fates of the various characters (of whom the most appealing is Isabelle, as she learns to cope with a life among the Fallen) into a novel that is both haunting and original, its sense of loss almost palpable, and its setting not quite like anything else in modern fantasy.' — Locus (Gary K. Wolfe)